Elevate Your Bathroom with Elegance: The Gold Bathroom Faucet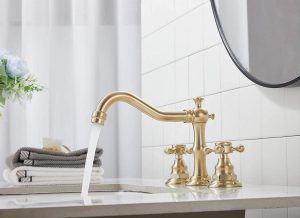 When it comes to bathroom design, every detail matters. From the tiles to the fixtures, each element plays a crucial role in creating a space that reflects your style and sophistication. One often-overlooked but essential fixture in any bathroom is the faucet. The right faucet can not only enhance the functionality of your bathroom but also elevate its aesthetics. If you're looking to add a touch of luxury and elegance to your bathroom, the iVIGA Gold Bathroom Faucet might just be the perfect choice.
The bathroom is a sanctuary in our homes, a place of relaxation and rejuvenation. When it comes to bathroom design, every detail matters, and one detail that has consistently stood the test of time is the use of gold faucets. Gold faucets in bathroom exude timeless elegance and luxury, creating a space that feels opulent and inviting. In this article, we'll explore the allure of gold faucets in bathroom design, their versatility, and why they continue to be a popular choice among homeowners and interior designers.
The Beauty of Gold
Gold has long been associated with opulence, wealth, and luxury. Its timeless appeal makes it a favorite choice for those seeking to create a bathroom that exudes sophistication and style. The warm and inviting tones of gold can transform an ordinary bathroom into a lavish sanctuary, and the iVIGA Gold Bathroom Faucet is a shining example of this transformation.
Gold has long been associated with luxury, wealth, and opulence. It's a color that instantly elevates the aesthetics of any space, and when used in bathroom faucets, it adds a touch of grandeur to the room. Whether you opt for a brushed gold, polished gold, or matte gold finish, the result is a bathroom that exudes luxury.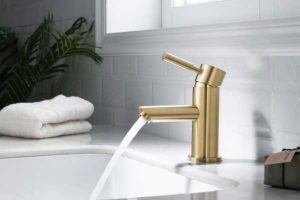 iVIGA: A Brand You Can Trust
Before we dive into the exquisite details of the iVIGA Bathroom Faucet, it's important to introduce the brand behind this masterpiece. iVIGA is a renowned brand in the world of bathroom fixtures, known for its commitment to quality, innovation, and design excellence. With years of experience in crafting faucets that marry form and function, iVIGA has earned the trust of homeowners and designers alike.
The iVIGA Gold Bathroom Faucet: A Work of Art
Impeccable Craftsmanship: The iVIGA Bathroom Faucet is a testament to the brand's dedication to craftsmanship. Each faucet is meticulously crafted using the finest materials, ensuring durability and longevity. The gold finish is not only beautiful but also resistant to tarnishing and corrosion, making it a practical choice for a bathroom environment. Gold faucets offer tremendous versatility in bathroom design. They can serve as the centerpiece of a bathroom, drawing attention to the sink area, or they can be used in conjunction with other gold accents, such as cabinet hardware or mirrors, to create a cohesive look. Gold pairs beautifully with a range of colors, from soft pastels to deep jewel tones, allowing for endless design possibilities.
Timeless Design: One of the standout features of the iVIGA Gold Bathroom Faucet is its timeless design. Its sleek and elegant lines complement a variety of bathroom styles, from classic to contemporary. The single-handle design offers effortless control over water temperature and flow, making it both functional and visually pleasing. One of the most remarkable qualities of gold faucets in bathroom is their timeless elegance. Unlike trendy design elements that may come and go, gold faucets have maintained their appeal throughout the years. They seamlessly blend with various design styles, from classic and traditional to modern and contemporary. This versatility makes them an excellent choice for homeowners who want a bathroom that transcends time.
Water-Efficient: In today's eco-conscious world, water efficiency is a top priority. The iVIGA Bathroom Faucet is designed with this in mind, featuring a high-performance aerator that reduces water consumption without compromising on water pressure. This not only helps you save on water bills but also minimizes your environmental footprint.
Easy Installation: Installing the iVIGA Gold Bathroom Faucet is a breeze, thanks to its user-friendly design and clear instructions. Whether you're a seasoned DIY enthusiast or hiring a professional, you'll appreciate the hassle-free installation process.
Versatility: This gold faucet is not limited to a particular bathroom style. It effortlessly fits into various design themes, whether you're going for a classic, vintage look or a modern, minimalist vibe. Its versatility makes it an excellent choice for bathrooms of all sizes and aesthetics.
Superior Performance: Beyond its stunning appearance, the iVIGA Gold Bathroom Faucet offers superior performance. The ceramic disc cartridge ensures smooth and drip-free operation, while the solid brass construction guarantees reliability for years to come. This faucet is not just a showpiece; it's built to withstand the rigors of daily use.
Customer Satisfaction: iVIGA takes pride in its commitment to customer satisfaction. Each faucet is backed by a comprehensive warranty, giving you peace of mind knowing that your investment is protected. The brand's customer support team is readily available to assist with any questions or concerns you may have.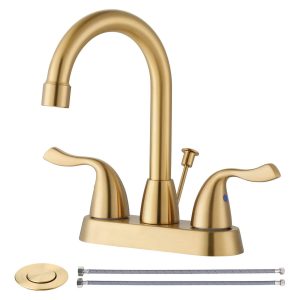 Conclusion
Your bathroom should be a place of relaxation and rejuvenation, and the iVIGA Gold Bathroom Faucet can help you achieve just that. With its timeless design, impeccable craftsmanship, water efficiency, and ease of installation, it's more than just a faucet—it's a statement piece that elevates your bathroom to new heights of luxury.
When you choose the iVIGA Bathroom Faucet, you're not just investing in a fixture; you're investing in the ambiance and overall experience of your bathroom. Make a bold statement, embrace the elegance of gold, and let iVIGA be your trusted partner in creating a bathroom that's truly exceptional. Elevate your bathroom with the iVIGA Gold Bathroom Faucet and turn your daily routines into moments of indulgence.
Gold faucets in bathroom are a design choice that transcends trends and continues to be a symbol of luxury and elegance. Their timeless appeal, versatility in design, and ability to create warmth and ambiance make them a popular choice among homeowners and interior designers. Whether you're embarking on a bathroom renovation or simply looking to upgrade your faucet, consider the allure of gold faucets. They have the power to transform your bathroom into a space that radiates opulence and timeless beauty, elevating your daily rituals and enhancing your overall bathing experience.