Best Faucet Brands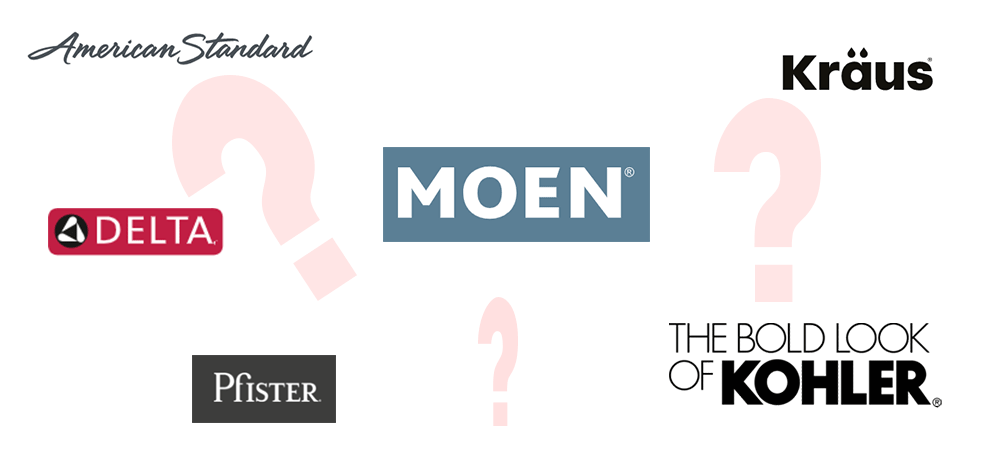 In the scope of a major home renovation, and complete room overhaul, or even building a new home, faucets may seem like minor details compared to layouts and paint colors. When all is said and done, though, they play a vital role in both the functionality and aesthetics of your kitchen or bathroom.
To find a beautiful faucet that fits your style, gives you the functions and features you need, and lasts for years, it all begins with narrowing down your top brands. That's why we're breaking down all the top faucet brands, from the best brands overall to the best brands for specific purposes and goals.
Top Brands Overall
While every major faucet brand has its pros and cons, there are a few that stand out from the pack. They have quality, features, and aesthetics on their site. We've ranked the best overall faucet brands for various budgets and needs.
When it comes to the best of the best, look no further than Delta Faucets. This brand's reputation for long-lasting quality and reliability is known the world over, especially because of its unique diamond seals to prevent leaks. From cutting-edge innovations and new features to a blend of classic and modern designs, Delta Faucets should be your go-to for faucets throughout your home.
Much like Delta Faucets, Moen has been known for quality for generations – more than 70 years, to be exact. The brand specializes in high-end styles across a range of looks, from traditional to contemporary to modern. With a limited lifetime warranty on all their products, Moen appeals to the luxury consumer who wants their faucet to last.
For general use around the house, American Standard is a top-notch faucet brand that won't steer you wrong. The brand is known not only for its long-lasting quality but for its filtered faucets as well that make it easy to keep your family healthy. If you're looking for simple and classic faucets with great quality behind them, American Standard is your top choice.
Most faucet brands focus primarily on residential faucets, and while Kraus has an extensive residential collection, the brand offers a broad range of commercial-style faucets as well. With dozens of models each with a variety of features and finish options, you're sure to find what you need for your business.
There's something to be said for brand recognition when it comes to home hardware and appliances, and that includes faucets. For a truly designer faucet for your kitchen or bathroom, Kohler is the name you want to see. The brand is known for its cutting-edge designs and it was among the earliest brands to offer touchless faucets, a powerful way to prevent illnesses.
If you love the idea of having your pick from as many options as you could possibly want, Pfister is the brand for you. With over 230 faucet models between kitchen and bathroom faucets, Pfister features styles that fit any home's decor.
Top Brands for Budget-Friendly Faucets
You don't have to spend top dollar to get a faucet that operates and lasts like a top-of-the-line model. If you're shopping for your new faucets on a budget, these brands will give you the most for your money.
Kraus
Kraus faucets generally cost about one-third or a quarter of the cost of luxury brands, so the savings are instantly obvious. When you install a Kraus faucet, though, you truly begin to see the value they bring to the table. They still offer many of the key features you want like an aerated water stream but at a reasonable cost.
American Standard
American Standard is a unique brand because its faucets span an extensive price range. Fortunately, though, their budget-friendly models still have the famous American Standard quality to back them up so you can rest assured that your faucet will last.
Moen
Much like Kraus, Moen provides commercial faucets in a broad range of price points, making them a fantastic brand for both economical and high-end kitchens. With the brand's bar faucets and prep faucets, it has everything your kitchen needs to run efficiently, and it's all backed by Moen's well-known quality.
American Standard
American Standard faucets have long been used for commercial purposes. In fact, the brands' bathroom faucets are highly common in public restrooms, especially its motion-activated faucets. American Standard even offers specialized ADA-compliant faucets in addition to its traditional commercial faucets for kitchens and bathrooms.
Best Faucet Brands for Reliability
It doesn't matter how beautiful your faucet is if it breaks down after a few months or if it leaks water every time you use it. For any faucet, you need stability and reliability. Look no further than these top brands you can trust.
Pfister
Pfister consistently scores high on customer reviews, and it's because of the brand's quality and reliability. Not only are the faucets long-lasting but they're backed by the brand's Pforever® Warranty and the brand is known for being highly responsive when parts do break and need to be replaced.
American Standard
All faucets from American Standard are supported by a limited lifetime warranty that the brand has a reputation for honoring smoothly and easily. The brand has been a leader in the industry for over 140 years, and it's because they deliver quality faucets and service that consumers trust.
Moen
If there's one word that describes Moen, it's "quality." The brand's faucets are known to be well-constructed and durable, and the brand's limited lifetime warranty ensures that you'll be getting your money's worth.
Choosing Your Ideal Faucet
Shopping for a faucet can be stressful because there's no way to truly know how the faucet will work or how it will look in your home until you buy it and install it. By sticking to the most trusted brands for your needs with the help of this guide, you can make the process easier and feel more confident that you're getting the perfect faucet for your home.
For more help with your faucet buying process, check out more of our buying guides and faucet shopping tips.