2023 Oil Rubbed Bronze vs Matte Black Faucets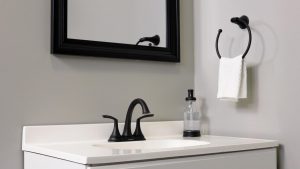 When it comes to choosing the right faucet finish for your kitchen or bathroom, you're often faced with a dilemma: oil rubbed bronze vs matte black? Both of these finishes offer unique aesthetics and can significantly impact the overall look and feel of your space. In this article, we'll delve into the world of faucets, focusing on the timeless elegance that iVIGA, a renowned brand in the industry, brings to these two distinct finishes.
Oil Rubbed Bronze – The Timeless Classic
Oil rubbed bronze vs matte black: Oil rubbed bronze is a finish that exudes classic elegance. It's a versatile choice that can complement various design styles, from traditional to rustic and even transitional. Here's what makes oil rubbed bronze faucets stand out:
Warmth and Depth: Oil rubbed bronze has a warm, deep brown hue with subtle copper undertones. This richness adds depth and character to your fixtures, creating a welcoming atmosphere in your kitchen or bathroom.
Timeless Appeal: Oil rubbed bronze has a timeless quality that never goes out of style. It can effortlessly blend into both contemporary and vintage settings, making it a versatile choice for those seeking longevity in their design.
Durability: iVIGA's oil rubbed bronze finishes are known for their durability. They are resistant to tarnishing and can withstand daily wear and tear, ensuring that your faucets maintain their lustrous appearance for years.
Matte Black – Sleek Modernity
Oil rubbed bronze vs matte black: Matte black, on the other hand, represents sleek modernity. It's a bold choice that adds a contemporary edge to your kitchen or bathroom. Here are the standout features of matte black faucets:
Minimalistic Aesthetics: Matte black faucets are known for their minimalistic, clean lines. They create a striking contrast against lighter surroundings, becoming a focal point in your design.
Versatility: While matte black is inherently modern, it can also blend well with various styles, including industrial and transitional. It's a statement piece that adapts to its surroundings.
Stain Resistance: iVIGA's matte black finishes are designed to be resistant to fingerprints and water spots, ensuring that your fixtures remain low-maintenance and pristine-looking.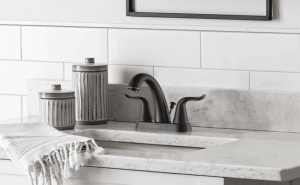 The iVIGA Difference
iVIGA, a brand synonymous with quality and innovation, brings its expertise to both oil rubbed bronze vs matte black finishes. Here's how iVIGA elevates these two finishes:
Attention to Detail: iVIGA's commitment to excellence is evident in the attention to detail that goes into crafting each faucet. Whether it's the intricate texture of oil rubbed bronze or the flawless matte finish of black, iVIGA ensures perfection in every aspect.
Advanced Technology: iVIGA faucets feature advanced technology that enhances functionality. From precision-engineered ceramic disc cartridges to temperature control mechanisms, every detail is designed with your convenience in mind.
Variety of Styles: iVIGA offers a wide range of faucet styles in both finishes, allowing you to choose the perfect fixture for your space. Whether you prefer a traditional oil rubbed bronze bridge faucet or a sleek matte black single-handle design, iVIGA has options to suit your taste.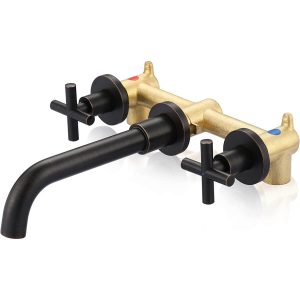 Choosing the Right Finish for Your Space
Deciding between oil rubbed bronze vs matte black faucets ultimately comes down to your personal style and the existing décor of your kitchen or bathroom. Here are some considerations to help you make the right choice:
Existing Color Scheme: Consider the color palette of your space. If you have warm tones and wood accents, oil rubbed bronze may harmonize better. For a modern, monochromatic look, matte black could be the ideal choice.
Design Style: Think about the overall design style you're aiming for. If you're going for a classic or rustic feel, oil rubbed bronze might be the way to go. For a contemporary or industrial look, matte black can enhance the modern aesthetics.
Maintenance: Consider your lifestyle and how much maintenance you're willing to undertake. Oil rubbed bronze may require occasional polishing to maintain its sheen, while matte black is generally easier to clean and keep looking spotless.
Personal Preference: Ultimately, your personal preference should guide your decision. Choose the finish that resonates with you and makes you feel most comfortable in your space.
Conclusion
Oil rubbed bronze vs matte black: Whether you opt for the timeless elegance of oil rubbed bronze or the sleek modernity of matte black, iVIGA's commitment to quality and design ensures that your faucet will be a standout feature in your kitchen or bathroom. With their attention to detail, advanced technology, and a wide variety of styles, iVIGA faucets in either finish are a testament to the brand's dedication to excellence. Your choice of finish is not just about aesthetics; it's a reflection of your style and a key element in creating a space that feels uniquely yours.