What Type of Sink is Best for The Kitchen: Pros and Cons
Views:240 ClassificationBlog
What Type of Sink is Best for The Kitchen: Pros and Cons
This question seems very confusing at first. However, it becomes more comfortable when you start thinking about it.
There are now dozens types of sink types. All of them have a specific purpose that makes them suitable for some kitchens. Now, how do you know what type of sink is best for your kitchen?
The answer depends on the requirements of your kitchen.
Therefore, this is the primary issue that we have to focus on. There will also be many other points to ensure your choice of the kitchen sink.
However, if you don't have time to invest here, then consider the following suggestions –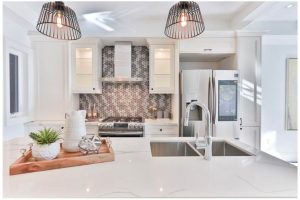 Best Kitchen Sinks In The Market
I've included this section for those of you who are tired of researching this topic. But if you haven't, please skip this paragraph and come back here after you finish reading this article. You'll see why we chose these sinks.
Reading this article and doing your research will certainly be very rewarding. However, if you're short on time, you can choose any of the five products listed above.
Now that we've taken the shortcut, let's get to the real deal.
 Each Type Of Sink On The Market
We have a completely different article dedicated to this topic. Just click on the title to view it.
Sinks can be differentiated based on many criteria. Here we will list them and their subcategories –
Installation Location
This criterion is important for convenience and style.
Undermount kitchen sinks
Top-mounted kitchen sinks
Undermount kitchen sinks
Integrated Sinks
Pedestal kitchen sinks
Wall-mounted kitchen sinks
Kitchen Island Sinks
In some cases, you may be bound to a specific type of sink installation.
Bowl Configuration
This is also important for the ease and effectiveness of kitchen sink activities.
Single bowl kitchen sink
Double bowl kitchen sink
Double bulkhead kitchen sink
Low bulkhead double bowl sink
If your budget is not a problem, be sure to choose multiple bowls.
Number Of Holes
This is the number of openings in the sink for mounting faucets and accessories. Generally, you will find up to four holes in the sink.
After the stove and the sink, the faucet is probably the most critical thing in the kitchen. You may also have accessories for extra convenience.
And some faucets even need more than one hole for the handle. So, when choosing a sink, you'd better pay attention to the number of holes.
Sink Materials
Sinks can be made from a range of materials. Here is a list of them-
Stainless steel kitchen sink
Granite composite kitchen sink
Cast iron kitchen sinks
Fireclay kitchen sinks
Quartz kitchen sinks
Bamboo kitchen sinks
Copper kitchen sinks
Porcelain kitchen sink
Acrylic kitchen sink
Stone kitchen sinks
Concrete kitchen sink
The choice of sink material will vary with your budget and the level of style you are looking for. Granite composite, quartz composite, stone, and acrylic sinks are some of the most qualified products in the industry.
But if you are looking for budget sinks, stainless steel, cast iron, porcelain, and copper are some of the best.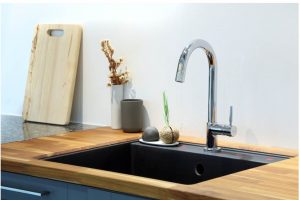 Some Special Types
There are some special varieties of kitchens that require special treatment. If yours is one of them, then you will also need a special kitchen sink.
Here is a list of these sinks-
Apron / Farmhouse kitchen sinks
Bar/prep kitchen sinks
Corner kitchen sinks
Drainboard kitchen sinks
These categories deserve a detailed description. Because they can work wonders in the right hands, and in the wrong hands, they can ruin your experience.
Farmhouse kitchens are long basin sinks that are designed for doing heavy work. They are made of incredibly durable materials like steel and cast iron. Don't confuse them with utility sinks. But they are also known as apron sinks.
The bar or kitchen prep sink is probably the most useful thing in your kitchen after the main sink. Yes, it is not your main sink, but a small sink next to the main kitchen sink. Low basin single bowl sinks are mainly used for prep work and are very busy during parties for making drinks.
Corner sinks are designed to be installed in the corner of the kitchen counter. These may not be conventional, but are very effective in small kitchens, mainly because you rarely need to open the bottom of the sink. The sink usually has two bowls and a drainboard on it.
Drainboards kitchen sinks are just those sinks that have a rough-textured space next to the sink basin, mainly to drain all the excess water from the dishes. This is a handy feature that is found in both budget and premium sinks.
Best Kitchen Sink Types Based On Your Requirements
Most of you may not even be aware that you have special requirements.
These requirements evolve with your lifestyle and environment. So, if you are confused about this, read this paragraph carefully.
You need to ask yourself the following questions to support your ideas ——
How often do you cook?
How many of you cook?
How much experimentation have you done with your cooking skills?
How often do you have to cook for guests?
Is the inside of your kitchen viewable from the outside?
Do you want to follow the current kitchen design trends?
In addition to these questions, you must understand your kitchen's personality. These personalities determine which sink is best for you. Here are some chefs from the average American home to make you more comfortable with the idea of personalities.
You Don't Like It, But You Have To Do It
If this is your condition, then you should look to your kitchen sink for the ultimate inconvenience. A double bowl, undermount kitchen sink should be good. Also, choose a sink that has multiple holes that can support faucet fittings and spray heads.
If you have a small budget, you may not have a good experience picking a sink.
Experts
If you're good with kitchens, you'll be able to make up for most of the remedies that come with a low budget.
But you may also want a highly functional kitchen to further polish those skills. So, you can choose a deep basin double bowl sink that can support multiple faucet accessories.
If You Have The Budget
A stainless steel sink is probably the best budget option. It's durable and gives you many other benefits. A cast iron sink with a porcelain layer may
also be a good-looking possibility. However, they tend to lose their charm over time. If you can go a little higher, then acrylic would be nice.
When Style Is Important
If this is your situation, then you have to get a good budget. Also, you don't want to have a gorgeous sink that doesn't work for us. So, it must also be effective. Then, style is the primary issue here.
Granite composite and quartz composite are probably the best in this category. You also have marble and all the other fancy stuff, but they're just too expensive. Not much marginal benefit either.
The maximum number of holes is not necessary because most of the time they spoil the look of the kitchen. And you have to take double bowls to maximize efficiency.
Picking The Accessories Of Your Kitchen Sink
When you ask what kind of sink is best for your kitchen, we can never leave accessories behind. Some of them are optional and without some, you can't go a day without them. So here's a list of accessories that must be considered when shopping for the best kitchen sink – pop-up strainers
Baskets and strainers
Nickel-chromium alloy
Sink grids
Soap dispensers
Waste disposal adapters
Multifunctional trays
Other sink-side accessories
For the true professional chef, this may not be enough. But for you, it will be completely overkilled.
Professional Kitchen Vs. Home Kitchen
While you can choose to have a semi-professional or fully professional kitchen in your home, a professional kitchen is completely different from a regular kitchen. And the sink in a professional kitchen is also very different from the sink in a home kitchen.
And when you're expecting a professional sink setup, you need to have attention to detail. Here are some of the little details you should be aware of-
Straight sides – efficient use of space
Flat bottom- increases the efficiency of space and movement inside the sink
Tight corners – Again, this maximizes the efficiency of the sink space.
Deep bowls – Bowls should be deep enough to store all your professional kitchen equipment.
Double Bowls- Multiple bowls, offset decks, and bar sinks add efficiency and versatility to your kitchen sink.
Easy to clean – You don't want to spend a lot of time in front of the sink.
Durable – As a professional style chef's prop, it needs to be able to handle a lot of banging
Minimal noise – This is just annoying and very unprofessional.
Undercounter- This style has many benefits
Appearance- If you want to make a culinary impression, it's best to have a stylish kitchen. And a sink is one of the ways to start that show.
In addition to these features, I can give you many aspects that make a regular kitchen sink different from a professional sink. And most of them are about custom features and accessories. But they can also be expensive, especially if you're looking for a sleek look. Consider using a stainless steel sink to keep costs down while still ensuring benefits.
Accessories are also an important part of building a professional kitchen. They are-
Sliding cutting boards
Stackable colander and wash bucket
Adjustable shelf shelves
These, and other accessories, should fit in the sink without a problem, and there should be plenty of room for them.
Final Words
I would like to point out again that the answer to what type of sink is best for your kitchen lies in your requirements and environment. So, this is your first step.
Here, we have listed all the possibilities that exist. You just have to find out which one is the best for you. If you are a professional, then you need to go for the biggest goal. We have a guide for that as well.
If you find your sink, you will find it here.