What Gauge Stainless Steel Sink is Best
Views:266 ClassificationBlog
What Gauge Stainless Steel Sink is Best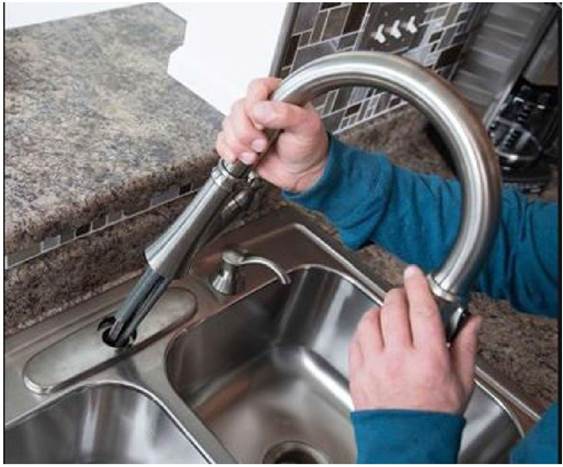 One of the most indispensable items in a modern kitchen is the sink, as it is used countless times when you are in the kitchen. A stainless steel sink is an ultimate choice because it is usually cheaper than other options on the market.
When buying, you must keep in mind whether it is durable and worth the price you pay for it. Quality depends on thickness, and a good quality sink is thicker and therefore more expensive than a substandard sink. Top-quality sinks are scratch and corrosion resistant and fade slowly.
The market is flooded with stainless steel sinks of various qualities and durability to meet every demand and need. So, if you want to know what specification of stainless steel sink is best for your kitchen, go through this article until the end.
What Are Specifications?
The thickness of a stainless steel sink is known as the specification.
The thickness of the sink is the most important factor that determines the durability and quality of the sink. If the gauge is not thick enough, the sink tends to make an annoying "pinging" sound.
The lower the gauge, the thicker the material. Cheap sinks come in 22 to 23 gauge thickness, while top-of-the-line, expensive sinks come in 18 to 19 gauge. Lower gauge sinks to ensure that the sink is strong and sturdy.
16 Gauge Vs. 18 Gauge Stainless Steel Sinks
The 16 gauge sink is 0.0625 inches thick, while the 18 gauge sink is 0.05 inches thick. Therefore, the 18 gauge is 20% thinner than the 16 gauge, while the 16 gauge is stronger.
If you come across two sinks that are similarly priced (16 gauge and 18 gauge), buy the 16 gauge because there is no perceptible difference between the two. At a similar cost, the 16 gauge sink is more promising because it is thicker, which means it is stronger.
However, if the 16 gauge is more expensive, buy the 18 gauge because even though the 18 gauge is thinner, it will be more cost-effective than the 16 gauge because there is almost no difference between them.
16 gauge wire is long-lasting because it is resistant to heat, stains, dents and scratches. It attenuates sound. Therefore, it doesn't cause much vibration when you throw garbage into it.
The 18 gauge is also very durable because it is also heat resistant, stain-resistant, dent-resistant, and scratch-resistant. It also doesn't cause a lot of noise and remains stable during disposal.
Is 16-Gauge Paper Right For You?
The answer to this question depends on your budget and how much renovation you want to do from your kitchen. If you are going to renovate your kitchen with high end and expensive plumbing, it is best to install 16 gauge. Having a less expensive kitchen sink is fine, but if you want to make it work with your elegant and Josh's kitchen, upgrade to 16 gauge.
On the flip side, it could be argued that a thicker gauge doesn't mean better quality, just because it's thicker. It is usually made thicker to cover up flaws in the manufacturing process, which raises questions about its standards. Therefore, it would be a poor choice for your kitchen.
My Top 4 List Of 16-Gauge Stainless Steel Sink
Ruvati 32 Inch Sink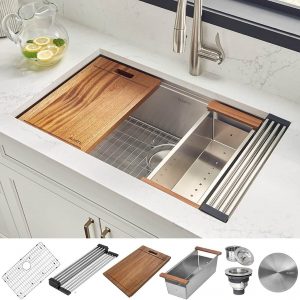 but is well received by many users. It's big, deep and looks great. So, if you are considering buying a new sink, it is definitely a good choice.
Pros
It won't get dirty or rusty because it is high-grade stainless steel.
It has a polished finish so it is easy to clean and is scratch-resistant and durable.
It comes with a fat rubber gasket that reduces sound and prevents condensation.
Disadvantages
Sarlai 33 Inch Sink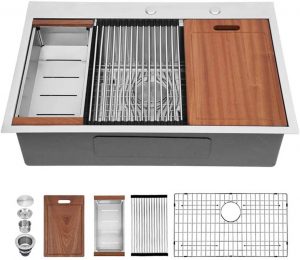 This is another great 16 gauge sink. We really like the design of it. Its sound deadening pad is excellent in reducing the noise when cleaning.
Pros
It is very durable and hard-wearing.
It won't get dirty or rusty.
It can be cleaned easily.
It allows water to drain thoroughly.
It has curved edges that provide an elegant look.
Disadvantages
The retaining clip is hard to put in
Ruvati 15 X 15-lnch Sink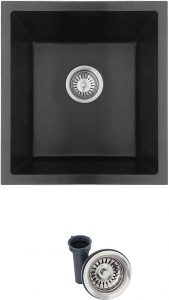 The Ruvati 15 x 15 inch sink is simple and well constructed. It is a bit small, so it is best suited for small kitchens.
Pros
It is designed for small kitchens.
It comes with a cutting board.
It can be cleaned easily and is long-lasting as its premium stainless steel design keeps it from staining or rusting.
Disadvantages
Zuhne 33 X 22-lnch Sink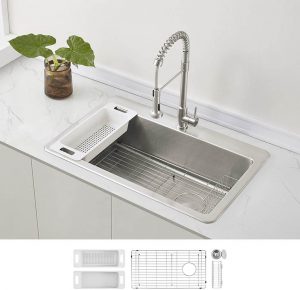 The Zuhne 33 x 22 inch sink from the award-winning company Zuhne. It has a proper size and solid build quality that gives it a place on this list.
Pros
It comes with a drying rail, an absorbent sponge and a brush holder.
It prevents scratches because it has a scratch-resistant grid.
It reduces noise due to the high quality insulation.
The corners are curved, so it can be cleaned easily.
Disadvantages
18 Gauge Vs 20 Gauge Stainless Steel Sink
The 18 gauge wire is thicker than the 20 gauge wire, which is 0.0375 inches thick, 40% thinner than the 16 gauge wire.
The 20 gauge, due to its ultra-thinness, creates noise and rattling during handling and use, such as cleaning. If you have heavy and large cookware, 20 gauge is not the ideal choice and 18 gauge, with its perfect thickness, is the ultimate choice.
The 18 gauge can withstand the dents and bumps caused by movement during cleaning and other activities. 18 gauge is more durable and wears better. 20 gauge is not cost-effective because it is not economical to spend money on it by ignoring its shortcomings.
Is The 18 Pin Right For You?
It is made of premium top-quality steel to ensure durability and quality. It is only 5% less thick than the 16 gauge. It can withstand any cookware you put on the sink. It can be said that it is better constructed than the cabinets and countertops that support the sink.
It offers better value for money because if you find similarly priced 18 and 20 gauge sinks, it is better to buy the 18 gauge sink because it is thicker and more sturdy.
So of all the sizes of sinks mentioned in this article, this would be a good choice to buy.
My Top 3 18 Gauge Stainless Steel Sink List
Kraus 25 Inch Sink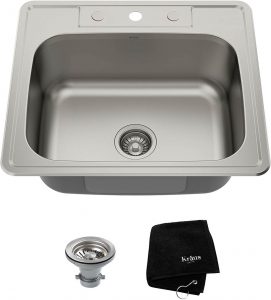 Kraus is one of the top companies selling kitchenware. Therefore, you can expect quality from their Kraus 25-inch sink, which is an Amazon bestseller.
Pros
It is made of top-notch and highly durable stainless steel
It resists dents and scratches and will not be damaged by daily use.
Disadvantages
However, it has a satin finish that is not suitable for your kitchen environment.
It has a limited lifetime warranty.
Kraus KBU29 32 Inch Sink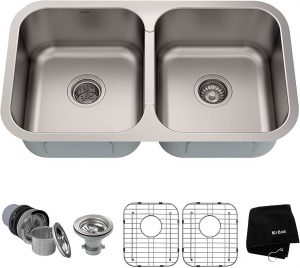 Klaus is a two-room kitchen sink that is great for multitasking.
Pros
It is equipped with a basket strainer, anti-scratch screen, drainage system, kitchen towels and hanging mechanism.
It is dent-proof, durable, and fully insulated to absorb annoying sounds.
Disadvantages
It has a satin finish and a limited warranty.
APPASO 28-Inch Sink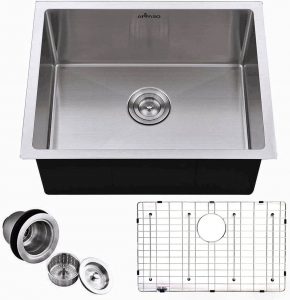 Apasso 28 inch sink is a good sized sink with great durability and excellent design. You will surely be pleased with its build quality.
Advantages
It is very heavy and wear-resistant because it is made up of 25% more steel than ordinary sinks.
It will not be deformed by use.
The rubber pad that covers 80% of the sink absorbs the noise from friction.
Disadvantages
20 Gauge Vs 22 Gauge Stainless Steel Sink
The 22 gauge wire is 0.0312 inches thick, which is 50% thinner than the 16 gauge wire.
It dents and warps easily because it is so thin and light. It vibrates easily and can't handle garbage disposals. They have really thin edges, which makes them useless for supporting heavy cookware and faucets.
However, the 20 gauge is neither dent-proof as it is also very light. But it's a good value for money because you get thicker material without the higher price tag.
Is 20 Gauge Right For You?
It's very inexpensive because it's fine, ultra-thin and lightweight. It is the ultimate sink for small kitchens because you don't need to worry about huge and heavy utensils lying on top and warping them. However, it dents too easily. It fades and corrodes easily over time. It rocks with the garbage disposal.
My Top 2 List Of 20 Gauge Stainless Steel Sink
US1030T Top Mount Sink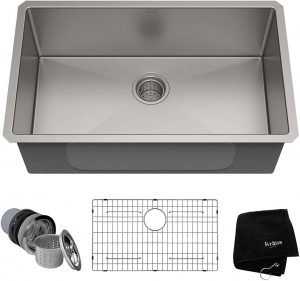 This is a good quality kitchen sink with a sound deadening design. It allows you to have less noise while doing kitchen work.
Pros
Despite its thickness, it is shockingly durable.
It has sound-absorbing pads underneath it to reduce unwanted noise.
It can be cleaned easily.
It is very wide and has a sloping edge.
It has a large bowl which makes it highly functional as you can do a lot of cleaning.
Disadvantages
It has a satin finish which is not suitable for kitchen use.
MSDP3322SB 33 X 22 Inch Sink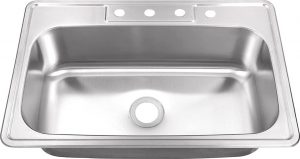 This is a large kitchen sink with a great design. It is best suited for kitchens with a lot of space.
Pros
It has a smooth design.
The edges have gentle curves, so it is easy to clean.
The brushed finish ensures durability and gloss.
It is stain and scratch-resistant.
Disadvantages
However, it is only suitable for home use.
22 Gauge Vs 24 Gauge Stainless Steel Sink
The 24 gauge is only 0.025 inches thick, 60% thinner than the 16 gauge.
It is so thin that it cannot absorb unwanted sound. It is not scratch-resistant. They are suitable for small kitchens. They are much cheaper than the thicker gauge sinks on the market. They are not suitable for heavy utensils such as cast iron pots and pans.
A size 2 sink is a better deal because it is cheaper and relatively less prone to warping and can absorb noise better.
Is Size 22 Right For You?
They are suitable for small kitchens or places where they are not normally used. They are cheap and lightweight. They are easily deformed and do not absorb sound smoothly. They are difficult to install. They may even fall off the kitchen counter. They are easily discolored and worn.
As a result, they are hardly a strong counterpart to all other sizes of sinks.
My Top 2 List Of #22 Stainless Steel Sinks
Moen G222133 2200 Series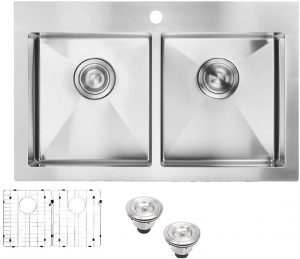 Moen is an industry leader in kitchen appliances. Therefore, you can expect nothing but the best from this sink.
Pros
The double bowl makes it very practical.
The bottom coating softens the noise.
It has 3 holes that work well with various faucets.
It can withstand heavy use.
Disadvantages
Moen G222173 2200 Series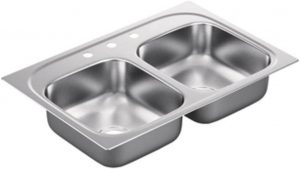 Here we have another product from Moen. It also has two bowls, making it a particularly useful multi-tasking kitchen sink.
Pros
It has a double bowl which makes cleaning easy.
It absorbs extra sound.
It has 3 holes to refill various faucets.
Disadvantages
Buying Guide
Thickness, Insulation And Sound Absorption
The greater the thickness, the lower the specification and therefore the higher the price. However, this is a rough guide, as top-quality thinner gutters may be more expensive than inferior thicker gutters. Thicker gauge sinks have more insulation and provide greater noise absorption.
Affordability
Keep in mind that you want the best product for your kitchen at an affordable price. If you want a sink to complement your chic and unique kitchen space, you may want to spend more, but you must always remember to make a luxurious but worthwhile purchase at a reasonable (read less expensive) price.
Price
The 16 gauge sink costs around $215 and if you are looking for a high-end sink, you should be prepared to spend $370 or more.
The 18 gauge sink costs around $170 and can cost more than $250 for a high-end one.
The #20 sink costs about $118, but there isn't much variation around that price.
The lowest price for a #22 sink is $95, and it won't go much higher.
Please note that if you have an average income, then the higher end is not easy on your wallet.
Frequently Asked Questions
Why Does My Sink Have To Be Undercoated And Have An Insulating Pad On The Bottom?
Answer: Sinks must have an insulating pad on the bottom. The pad absorbs the unwanted "pinging" noise created by a garbage disposal, washing and water from the faucet hitting the sink. Sinks need undercoating to prevent water from condensing on the bottom of the sink.
Is Buying A 22 Gauge Sink A Good Choice?
Answer: They are really thin because of their high gauge value, so they bend, dent and warp easily. As a result, installing them becomes difficult. They can easily fall off the kitchen counter. They can also cause "pinging" sounds. They are only suitable for infrequent use.
Is A Thicker Sink Always Better?
Answer: Not always. Not always. They are a perfect choice when you consider their strength and sound absorption capabilities. However, there are some other factors that you should keep in mind, such as straightness, insulation pads, surface finish, etc.
Conclusion ( What Gauge Stainless Steel Sink Is The Best? )
Specs of stainless steel are the most popular kitchen sink material nowadays, and they are becoming more and more popular every day. I hope this guide will help you decide what gauge stainless steel sink is best for you in terms of functionality, quality, durability and affordability.