Waterstone 3100-ORB Towson Pot Filler Faucet Reviews
Views:228 ClassificationBlog
Waterstone 3100-ORB Towson Wall Mount Pot Filler Faucet Reviews
Pot fillers are important nowadays and people all over the world use them for convenience while cooking. These faucets are basically installed above your stove or burner to fill your water pan instantly. If you use a pot filler, you don't have to carry a pot full of water from the sink to the stove. This reduces your stress and workloads a lot.
Now, finding the best pot filler in your budget is pretty tough and there are a lot of pot fillers available at the market. In this article, we're going to review the Waterstone 3100-0RB Towson Wall Mount Pot Filler Faucet. This is one of the best pot fillers available on the market right now in its price range. We'll be sharing its pros and cons too!
Let's start from here!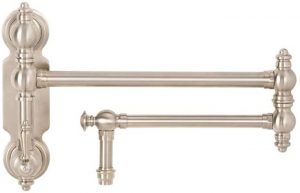 The Pros
The long reach of 22 inches
Good quality check valves
Prevents any kind of dripping
Easy to operate metal handle
The maximum flow rate of 2.2 gallons per minute Solid metal construction
Tempting warranty feature
Easy clean and easy installation
The Cons
Doesn't come with an installation kit
Our Verdict
The Waterstone pot filler faucet comes up with everything you need on a short budget. If you're looking for the best budget-friendly pot filler, this can be the smartest choice for you. You're getting corrosion-resistant stainless steel construction, what more do you need? Go for this one undoubtedly.
In this Waterstone 3100-0RB Towson Wall Mount Pot Filler Faucet Review article, we've tried to share the features along with their pros and cons. To read more articles like this, visit our website.