Pull Down VS Pull Out Kitchen Faucet: Easy to Pick
Views:268 ClassificationBlog
Pull Down VS Pull Out Kitchen Faucet: Easy to Pick
It can seem indecisive when it comes to 'choice' and perhaps even more confusing when the choice is between two items. Therefore, in this conflict, you need the right information so that you can easily choose the option that best suits your kitchen.
There are pull down and pull up faucet on the market, which come in different shapes, sizes and designs, and they also have features that are important to consumers with different preferences. So let's discuss all aspects of pull down vs pull out kitchen faucet so you can better decide on the glory of your kitchen.
Pull Down Kitchen faucet
A pull down kitchen faucet is a high-necked, curved unit, so named because you can pull the spray head near the sink when you are washing dishes.
Pull down kitchen faucet usually dominate the market and are used more often than other contemporary designs. If you're looking for a handsome design, their high neck arc could be a chic topper for your kitchen.
If you want to opt for the rush in pull down kitchen faucet, you can choose from my top 3 choices below.
Delta Faucet Leland Brushed Nickel Kitchen Faucet, Kitchen Faucets with Pull Down Sprayer, Kitchen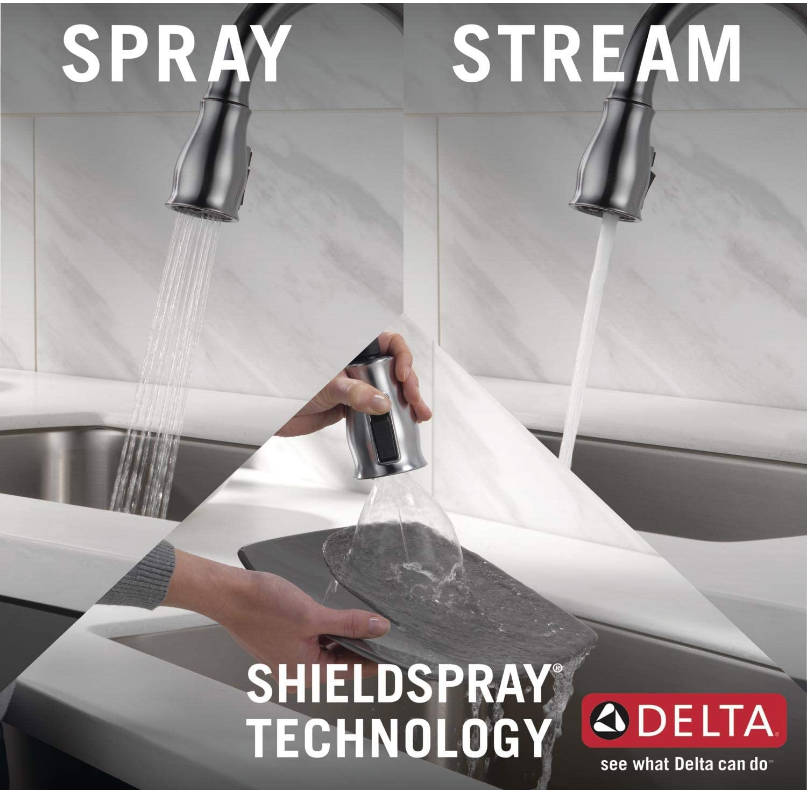 Moen 7594SRS Arbor Single Handle Pull Down Kitchen Faucet with Power Lift and Reflex, Spot Resistant.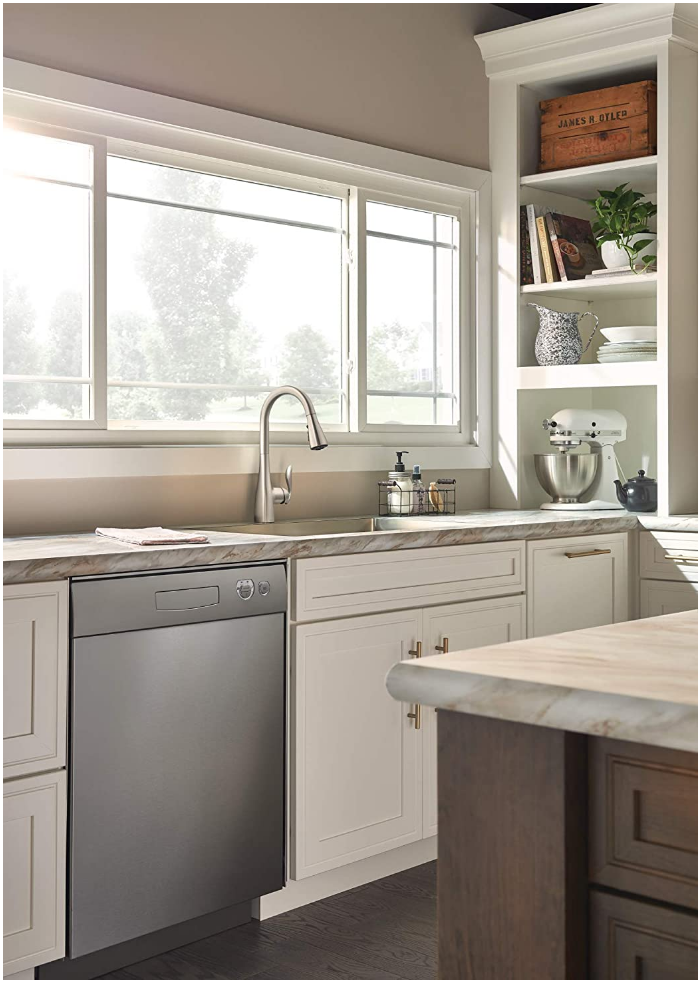 Advantages
Pull down kitchen faucet are best when filling tall vases, jugs, or basins, as they can be inconvenient when using a pull-out tap. Another noteworthy factor maybe its user-friendly design, as it is oriented towards the sink, where the most frequent work must be done, rather than pressing the hose here and there.
In addition, this type of tap usually has more spray options and a larger catalog than the pull-down type.
Disadvantages
The main disadvantage of this type of installation is that it tends to take up more overhead space, which can be a conclusive statement for those with limited space above the sink. The shorter length of hose on the pull-down tap allows it to simply be pulled down to perform the job under the cupboard rather than outside the sink area. The small disadvantages though maybe splashing when the pressure is high and the water pressure can be a little slow due to the large curvature.
Pull Out Kitchen Faucet
The pull out kitchen faucet is a smart, compact, and neat tap unit that has a spray handle extension rather than a spray head. As the name suggests, it has a handle that pulls out from the extension and can be managed to reach where it is needed, even the countertop if required.
You may find it a quirky design for your kitchen because of its clever size and functionality. For those with a small sink and limited space around it, it is a top priority.
Let's compare it with the previous mate to have some clear opinions.
If you want to go for a quick pull-out kitchen tap, you can choose from my top 3 options below.
Delta Faucet Cassidy Single-Handle Kitchen Sink Faucet with Pull Out Sprayer and Magnetic Docking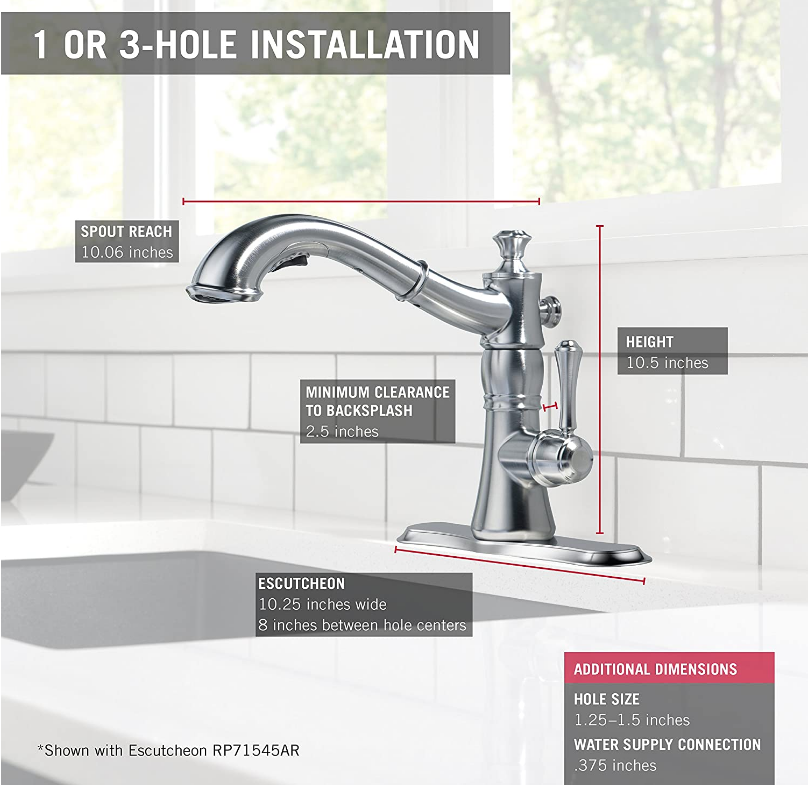 KOHLER K-10433-VS Forte Single Control Pull out Kitchen Sink Faucet, Single Lever Handle, 1-hole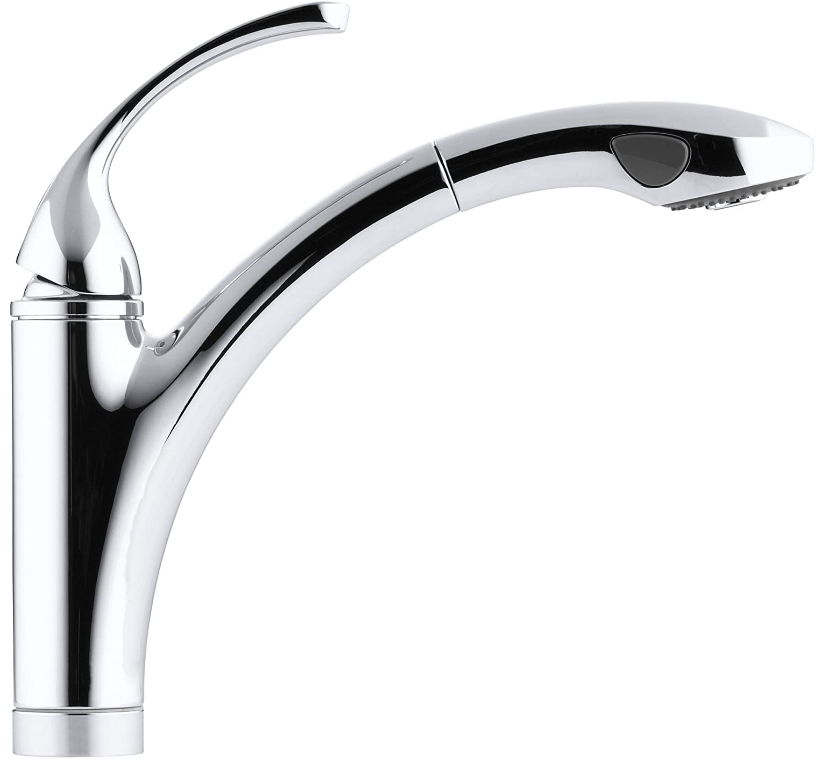 Moen 7294SRS Arbor One-Handle Pullout Kitchen or Laundry Faucet Featuring Power Clean, Spot Resist…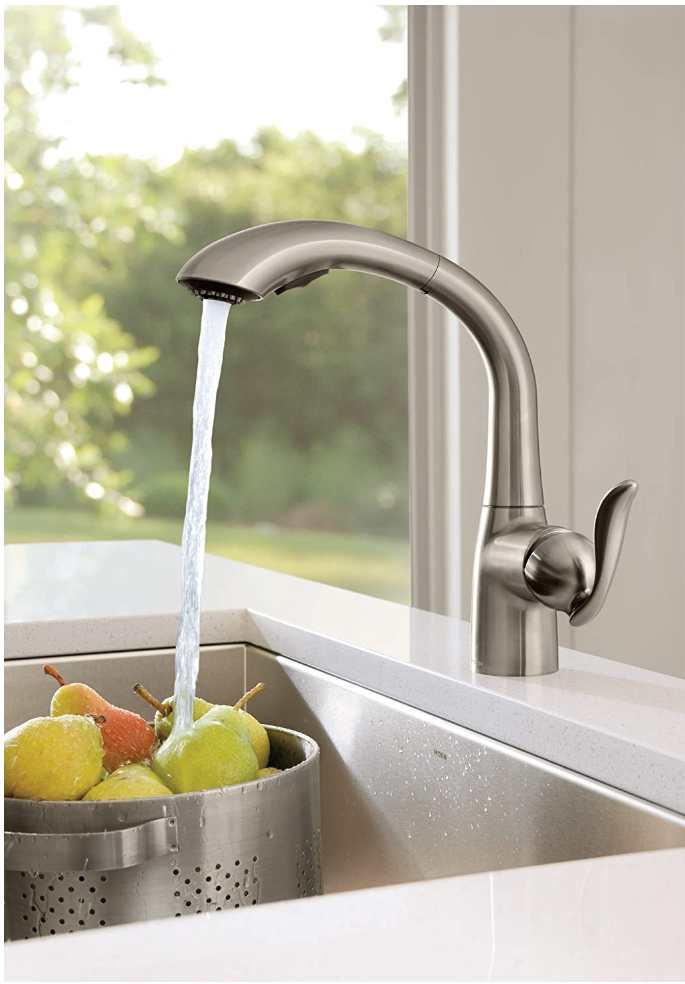 Advantages
As mentioned earlier, the pull-out tap is neatly designed to save a lot of space around your sink. The hose is quite long enough to perform various other tasks that would not be possible when you have a pull-down tap, such as filling pots and pans on the countertop, etc. This feature also makes it possible to install this tap between two sinks and use both with the same convenience. The hose of this tap reduces splashing and is, therefore, an advantage.
In addition, the pull-out tap has 180 or 360-degree swivel support, making it easier to manage.
Disadvantages
In addition to the smart nature of the pull-down fixture, it has some disadvantages to consider.
Firstly, the low curvature makes it difficult to fill all the big things you may often have to fill. Then there is also the possibility of irritation from operating here and there, for which you may find splashes on the counter as a by-product. Also bear in mind that pull out kitchen faucet are often considered to be less than enviable and therefore not on-trend.
Bottom line on pull down vs pull out kitchen faucet
We've managed to give you a review of both types of taps which may help you make a seamless choice. As both taps have their pros and cons, which can only be addressed by your choice and preference, make your choice based on your own circumstances and preferences.