Most Reliable Granite Composite Kitchen Sinks
Views:241 ClassificationBlog
YES!!! We have reviewed five of the best granite composite kitchen sinks in this article! We believe that you are looking for the top granite composite kitchen sinks which are useful in terms of quality and within your buying power.
Going into the bargain, it is safe to assume that you may not like to waste a lot of time looking through tons of review pages to find the popular granite composite kitchen sinks that accurately match your requirements.
You are lucky enough!
In this Granite Composite Kitchen Sink review, you will be provided with all the guidance you need. We hope you'll take the time to pick the perfect model of any brand to find.
Below this overview, you will see a proper list of the five best granite composite kitchen sinks in 2020. This discussion guarantees that you will benefit from an exceptional stable deal on practical sink faucets.
Let's start discussing this in detail!
Top 5 Best Granite Composite Kitchen Sinks
In this discussion, we will discuss the best options for our granite composite kitchen sinks. We choose them based on their price, functionality, durability, design and many other essential aspects. We hope you will find your ideal kitchen sink after reading this article. So, here we go with the details –
WINPRO DUAL MOUNT GRANITE COMPOSITE KITCHEN SINKS REVIEWS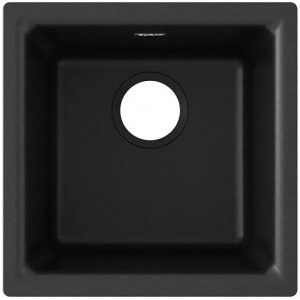 If you want to buy a granite composite kitchen sink, but the budget range is not big! Are you worried about your small budget? Are you worried about your small budget? Winpro double pedestal granite composite kitchen sink will be the ideal solution for you. At an affordable price, this product has a modern look and functionality.
You will enjoy the sturdy features of this model. They are completely scratch and stain-resistant. The color of the sink is fade-resistant and will look new after years of use. The drop-down depth of this sink is suitable for small to large cookware installations.
There are a variety of bowl size options, so you can choose one to fit your kitchen space. These sinks have IAMPO's CUPC certification. This means they can meet U.S. and Canadian plumbing regulations. The elegant black look of his sink will undoubtedly improve your kitchen environment.
Outstanding Features
This model can be installed by both under-mounted and over-mounted kitchen sink methods. Thus, this dual installation feature provides you with flexibility during installation.
The solid black composite granite construction offers durability as well as ease of cleaning.
The quality quartz finish will not fade after years of rough use. This sink is also stained and scratch-resistant.
It has heat protection up to 5360F temperature. You'll love this sink because it always looks fresh and clean.
The drainage holes are pre-drilled. You can cut five additional holes for faucets and other washing accessories.
Winpro makes sure the sink is of high quality. In. Before delivering the sink, they check every sink to provide the best service.
Although there are not many customer reviews for this product, a few customers have given this product a rating of 5 out of 5. Honestly, this rating shows that people who use this product are satisfied with its service. We hope that if you choose this product for your kitchen, you will be satisfied too.
WVATI EPI GRANITE DUAL-MOUNT GRANITE COMPOSITE KITCHEN SINKS REVIEWS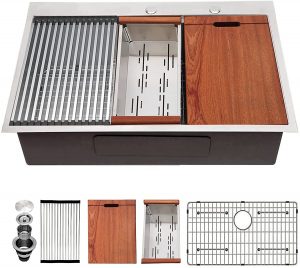 Ruvati is a brand known for its quality products. The sleek, modern design of Midnight Black will add to the beauty of your kitchen. The color of the sink will never change color.
The smallest base cabinet size is a signature feature of Ruvati sinks; this model also has that feature.EPI granite sinks will be a smart choice for your kitchen.
The manufacturer claims that they use 80% granite and the remaining 20% branded resin to make this kitchen sink. They come up with different exclusive kitchen sinks according to the needs of the users.
The resin makes the sink completely non-porous and resistant to chemicals. This sink is temperature resistant up to 6500 F. The natural granite surface looks like a sink made of stone. This very durable sink brings a simply sophisticated look to your kitchen. The sink has five partially drilled holes for mounting faucets and other accessories. You can cut the holes according to your needs.
Outstanding Features
Sturdy EPI granite construction provides superior quality and durability.
The 20% resin construction material provides this sink with a non-porous feature. The non-porous surface drives all water back into the drainage holes. This feature will keep the sink completely dry. As a result, your sink will look newer, forever.
The rounded corners give a modern feel and are more comfortable to clean.
The product is a top mounting method kitchen sink and comes with all the necessary mounting accessories.
It comes with all the necessary accessories such as strainer drain assembly, brackets for installation, instructions, etc. Ruvati offers a lifetime limited warranty.
This model is one of the best Ruvati kitchen sinks. Compared to other granite composite kitchen sinks, it has a reasonable price value. We hope you will enjoy the simplicity of this sink.
 RIJVATI DUAL-MOUNT GRANITE COMPOSITE DOUBLE BOWL KITCHEN SINKS REVIEWS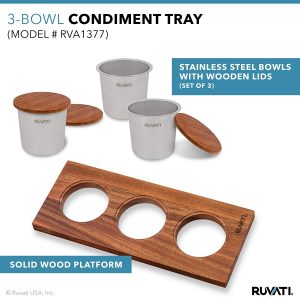 In order to spice up the look of your kitchen, you need to choose a different type of sink. Currently, stainless steel sinks are very common. You can choose a granite composite kitchen instead of stainless steel. If you have so much space in your kitchen, Ruvati's double bowl kitchen sink will be the right one. The galactic black color provides a special look to this kitchen sink.
Your kitchen accessories also represent your choice and personality. This unique galaxy black color gives an elegant look to your kitchen. You also love the silent working of this sink as the compact design absorbs all the noise.
One of the bowls is small and the other is large. Both bowls have a depth of 9 inches, which is fair enough for working comfortably. The standard size of the drain is 3.5 inches, which is suitable for any waste disposal.
Both bowls come with a strainer channel assembly.
Outstanding Features
The double bowl kitchen sink has standard dimensions and depth. Both have standard openings for water disposal.
Solid construction with 80% crushed granite and 20% commercial-grade resin. Resin makes the sink non-porous and stain-resistant.
Comes with standard size pre-drilled holes for faucet installation and four partially drilled holes. You can open these holes to suit your needs.
This sink is a dual mount model. The manufacturer provides all necessary installation accessories and instructions for proper use.
Ruvati offers a lifetime limited warranty on all products.
This model is another one of the best Ruvati kitchen sinks. The price is a little higher than their other models. But if you compare based on the number of bowls, you will understand that this is a value for money product.
We really like the unique color of this sink.
RIJVATI SINGLE BOWL GRANITE COMPOSITE KITCHEN SINKS REVIEWS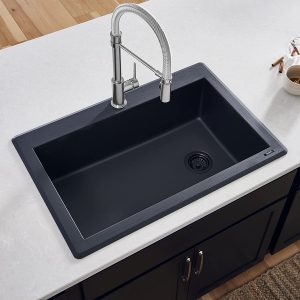 Ruvati has put maximum effort into each product. This single bowl model has all the possible unique features that they usually add. You will get this model at a reasonable price to improve your productivity in the kitchen. The black color can easily match any type of kitchen decor. You will love the fade-resistant midnight black color for your kitchen.
The single-bowl model sink always offers simple and easy-to-use features. This sink is easy to clean. It also dries very quickly thanks to the waterproof surface. The 20% resin material used for construction makes the sink non-porous. The standard bowl is sized to fit all sizes of pots and pans into it.
The sink can withstand temperatures above 6500F. The drain has a filter so that no trash can pass through the hole. You can install this sink with either under-mount or over-mount installation methods. The company provides all the necessary installation accessories for the sink.
Outstanding Features
The stylish design of a single bowl with standard width and height and smallest base section (36 inches)
Tough construction with composite granite material. Durable and resistant to any scratches.
The box includes the same color drain, installation accessories and guide.
This sink is made in Italy. Thus, the quality of the product is guaranteed.
The resin material makes the sink resistant to wear and tear and avoids mold or bacteria.
Almost all Ruvati's products have modern features and standard sizes. Their customer service is also quite satisfactory. Thus, you can choose one of the best Ruvati kitchens sinks according to your choice and budget range.
LAVELLO LUXOR GRANITE COMPOSITE KITCHEN SINKS REVIEWS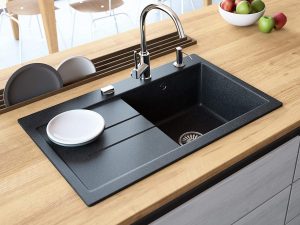 If you want to give your kitchen a luxurious look, Lavello granite composite kitchen sink will be your best choice. Most of the previous customers have given satisfactory reviews in the review section of Amazon.com. The large sink with drainboard has CUPC certification.
This sink model is fully assembled in the USA. A stylish gray kitchen sink indicates a wise choice of product for you. The Ravello kitchen sink has various resistances such as scratches, heat, fading, etc. It can withstand temperatures of up to 5360 degrees Fahrenheit. It has UV protection so it will never fade.
The sink also includes sound-absorbing features. Therefore, you can do your work quietly. You can easily keep your sink sanitary with a regular dishwasher and sponge scrubber. The holes are pre-drilled and the drain has a filter.
Outstanding Features
Lavello offers a lifetime limited warranty on this product. Their customer service is also free for life. So, if you have any problems with your sink, don't worry.
They include durable 80% granite and 20% resin construction.
The composite granite makes this sink resistant to scratches, discoloration, heat and stains.
The CUPC certification of this sink shows its reliability. In addition, the manufacturer offers a limited lifetime warranty on this product.
This product is fully assembled in the United States. However, it is important to note that the sink does not include any accessories.
It comes with a left-hand drainboard. You can use it to put bowls, cooking utensils, vegetables, etc.
All in all, this Lavello kitchen sink is a pretty excellent choice for your kitchen. Your friends will appreciate your sink choice. In addition, the Made in USA and CUPC certifications shows that this is a trustworthy product.
Complete buying guide. Best Granite Composite Kitchen Sinks Reviews
First of all, we will discuss the most useful guide with all the necessary features to help you understand which model of the best granite composite sink for your kitchen. Therefore, we also provide some frequently asked questions about each granite composite sink to support you in thinking about this information properly.
Comparison. The Difference Between Granite And Composite
It doesn't matter; whether it's a plain or insincere formed design or not, granite kitchen sinks are long-lasting, heavy-duty, and durable. But then again, there are a handful of differences between granite sinks and composite sinks.
Sinks made of all granite are very expensive compared to composite sink models. They are made of 95% standard stone and 5% asphalt.
A Better Choice. Important Features
There are many differences between stainless steel kitchen models and granite sink models that you can find when researching. The granite material is less prone to damage and produces less sound than the stainless steel material. On the other hand, stainless steel models are completely stress-free and economical to keep than granite models. However, they still do not offer the color preference and stability of granite stone.
Durability. Do These Sinks Have Cracks?
If your water flow system is hard, a dark-colored kitchen sink will best likely show the rest as well. Granite materials are in danger of splitting if you don't pay attention to your cookware set. It may be the case that this kitchen sinks split when warm water and burning cookware are placed inside your kitchen sink.
The Cleaning Process. Is It Easy?
You need to clean your composite kitchen sink with warm soapy water and a flexible wiper after each prolonged use. Then don't forget to dry it carefully to avoid watermarks, detergents and mineral bonding. If you clean and dry your kitchen sink regularly, you will find that you have to concentrate on a deep cleaning job.
You can add a mixture of fifty percent water and fifty percent whi