Moen vs Delta – Kitchen Faucet Brand Comparison
Views:249 ClassificationBlog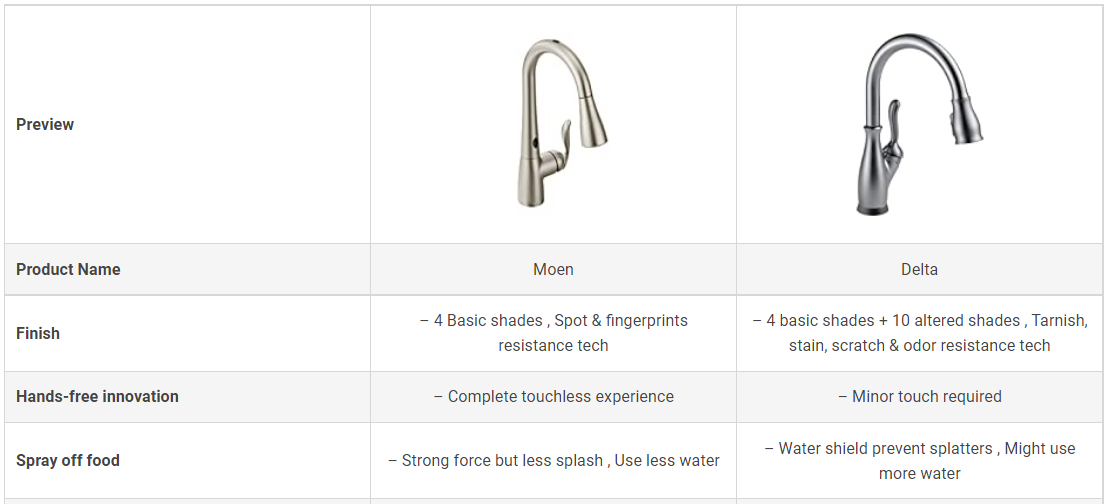 When you want to buy taps for your kitchen, you have to choose a trustworthy company to get a high-quality product and you can trust them to have better services.
There are a wide variety of faucet companies on the plumbing market, all of which offer their products with attractive advertising. It can therefore be very difficult to find the 'best' product to suit your needs.
However, Moen vs Delta are two behemoths on the market, always at the forefront of kitchen technology. They have the best brand values and reputation in the market.
But which one is the best.
In this article, we will try to find the answer for you. We will pit these two famous brands against each other and make some useful comparisons of their features.
So, Moen or Delta? Which one is the best?
Stay tuned for our coverage.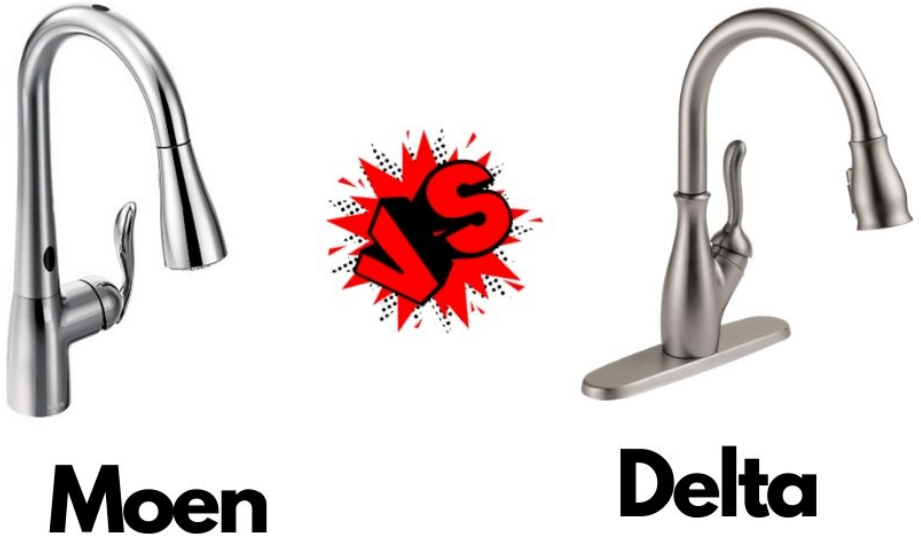 Types And Features
Both companies produce a wide range of taps with beautiful finishes and designs. Let's take a closer look at them.
Moen & Co.
Generally speaking, Moen focuses on the commercial tap market to enhance their business, producing mainly commercial type taps.
In addition, Moen also produces pull-down and pull-out taps. Its pull-down taps come with a reflex system that helps you to operate it effectively. However, the main tap style developed by Moen is the contactless tap with Motionsense technology.
In addition, Moen has included various power spray pattern system styles in its taps, such as the power clean spray design and the boosted water flow.
Delta
Just like Moen, Delta is also popular for some of the extraordinary tap designs it has developed. Delta is well known for its pull-down taps with a magnetic system.
They have also invented the touch kitchen tap with Touch20 technology rather than the concept sensor, which is very popular in the plumbing market.
In the following sections of the article, we will collate the types and highlights of these two brands in more detail.
Advanced Touchless Technology
In the modern age of society, people are focused on making their lives easier. Touchless technology is one of those extraordinary inventions in the world of plumbing. And in our lives today, there is no doubt that this amazing technology has had a huge impact.
Moen vs Delta have used touchless technology to develop their taps. Touchless taps are a great device in the kitchen that has motion sensors to operate the water flow without using your hands.
This means that you can turn the water flow on or off by simply waving your hand or moving the pot or bowl in front of the tap sensor. You no longer need to use your hands to operate the contactless kitchen tap. This special tap improves the quality of your kitchen and is equally hygienic for public places.
The hands-free tap has created value throughout the plumbing world with its easy-to-use facilities and long-lasting functionality. In response to public demand, two brands, Moen vs Delta, have both introduced hands-free taps to the market, but with different approaches.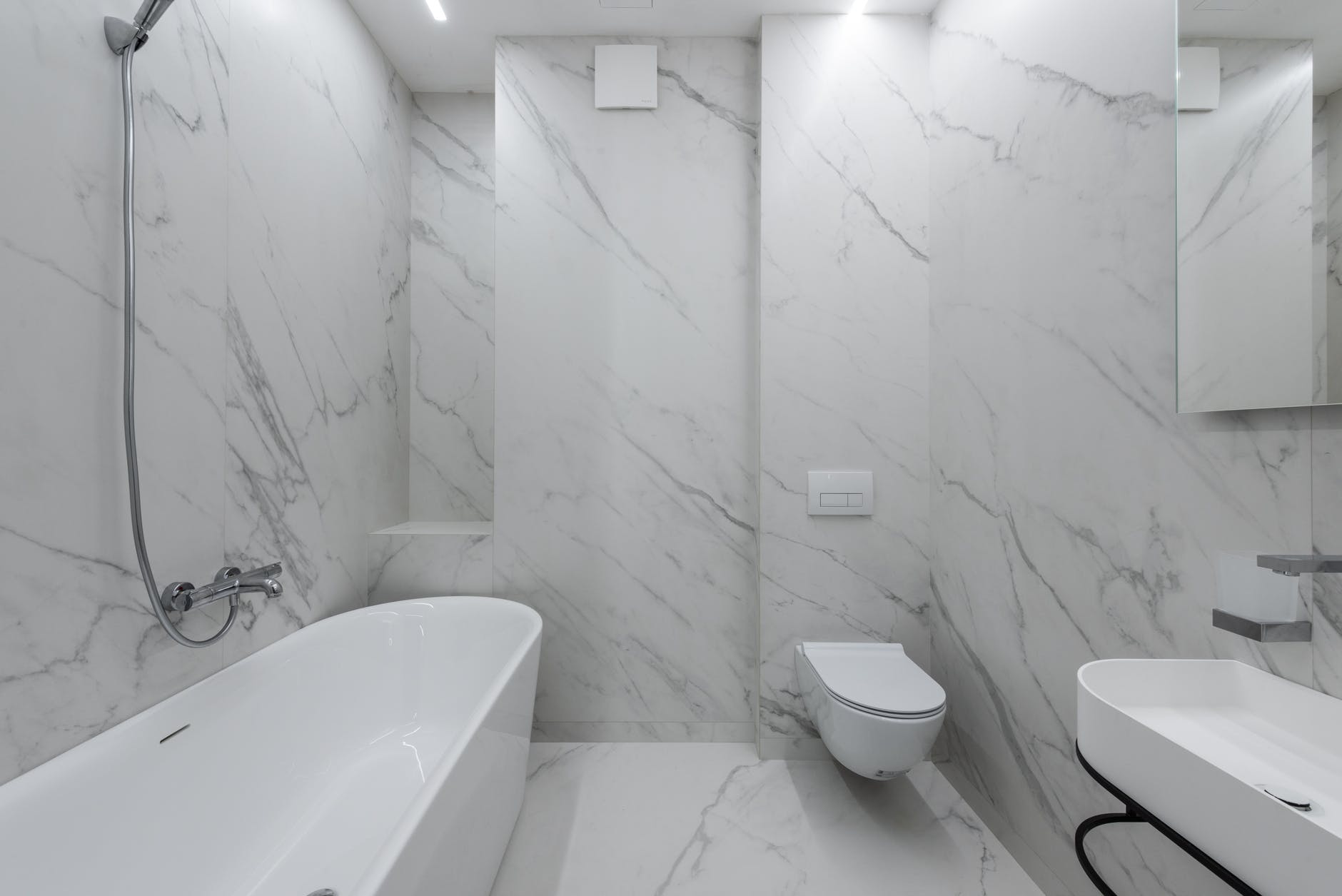 Moen
Moen uses Motionsense technology for its pull-down touchless kitchen taps. In this technology, a sensor is attached to the tap so that it can be operated without the need to touch it with your hand. Some of Moen's kitchen tap models are equipped with just one sensor, some have two.
If the tap has more than one sensor, you will find one at the top of the tap spout and the other at the bottom of the tap. To use a contactless kitchen tap you simply need to wave your hand in front of the tap sensor or move anything else to run the water flow.
However, we must mention here the name of one of Moen's greatest products in the world of taps, developed using touchless technology. This is the U By Moen Smart Tap. Users can operate this amazing tap in four ways. You can turn the water flow to this tap on or off via the wave sensor, voice control, remote control, a smartphone app, or a traditional manual system.
In addition, U also helps you to control the water temperature of the tap via voice commands.
Delta
Just like Moen, Delta introduces touchless technology to consumers, but in a different way.
They produce pull-down taps with Touch20 technology, but these types of taps do not have any motion sensors. The question now can
1 up, how does the user run the water flow without holding the tap handle? The answer is that you only need to touch the tap anywhere to operate it.
So, by simply tapping the body of the tap with any part of your hand, you can run the water flow – you don't need to hold the tap handle with your hand.
Furthermore, you can also purchase fully autonomous touchless taps from the manufacturer. Delta also produces the Touch20 kitchen tap with a built-in motion sensor. It is completely touchless and you can use it with a simple wave of your hand.
Spray Technology
Without a good spray pattern, your tap is useless, regardless of the brand it is. Spray pattern technology is a very key issue to consider with kitchen taps. Because a tap with an effective spray pattern will help you to clean more comfortably, you will be able to get a lot of work done in a short time.
Fortunately, kitchen taps from Moen vs Delta both offer useful water spray technology for their customers. Both companies are well known for their effective water spray pattern systems.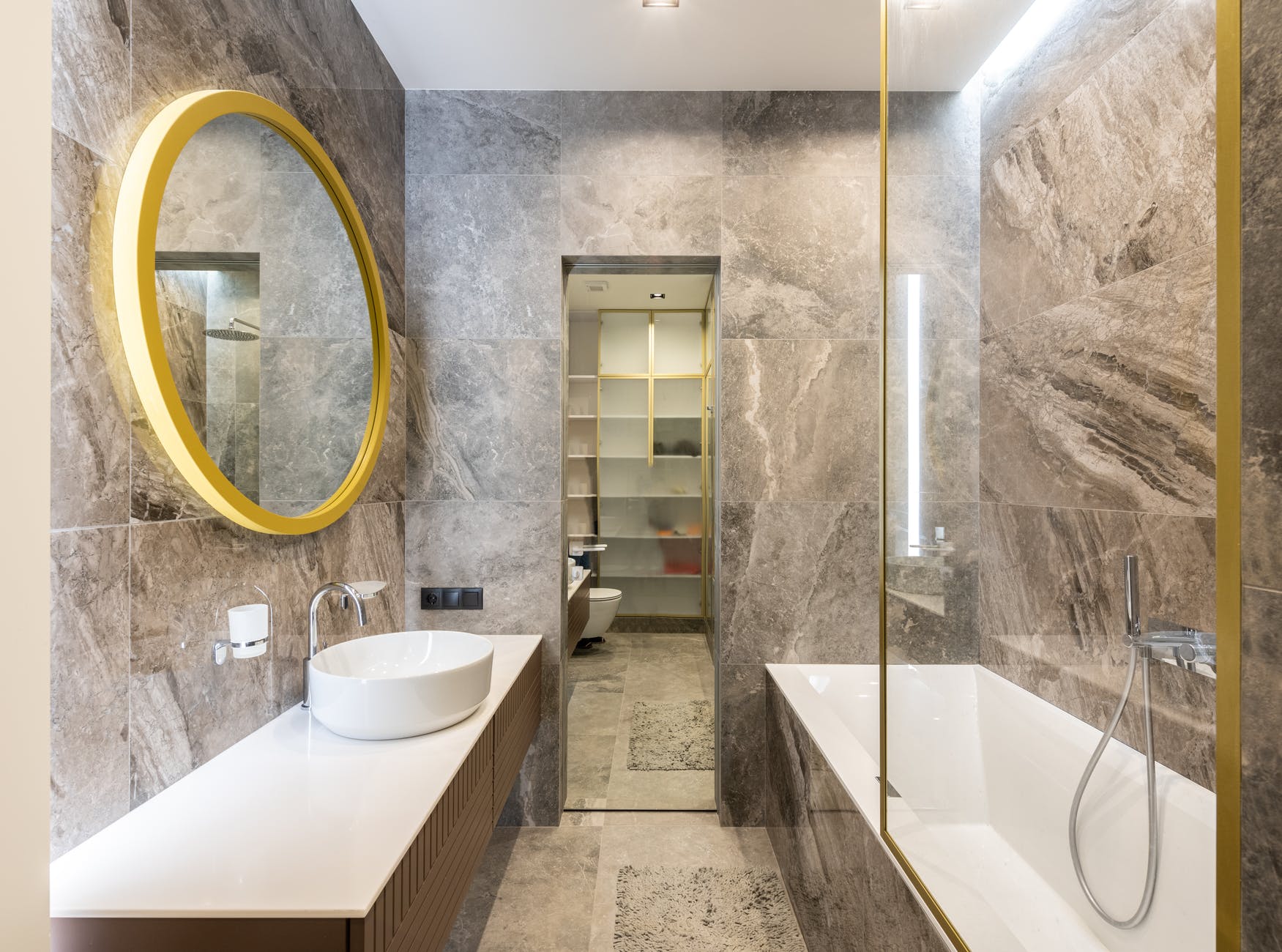 Moen
Moen equips its taps with power cleaning technology. This unique power cleaning system provides an efficient spray pattern for the faucet. This sprayer produces more than 50% more powerful water jets during your cleaning job compared to other faucets. This is remarkable, isn't it!
This special Moen spray head also produces enough water splash to be useful when you want to clean deep dirty dishes or pans.
Delta
Delta's tap spray systems are generally based on Shield Spray technology. This is also a well-known and effective sprayer system that helps you to get cleaning tasks done with ease.
The Delta Shield spray mode is a good choice especially when you want to clean sticky stubborn substances from pots and pans with a powerful jet-like stream of water. In addition, the Shield spray creates a protective ring around the water stream to prevent splashing.
Surface Treatment
The surface finish of any kitchen equipment is very important. This is also true for your kitchen taps. A bad tap can ruin the style of your kitchen, no matter how much money you've spent on it.
Moen vs Delta are two companies that market faucets with gorgeous style and a perfect look. When you compare these two companies to other brands, you're sure to see some major quality differences in their style and finish.
Moen vs Delta taps typically use the three most standard finishes – oil-rubbed bronze, matt black, and chrome. Both brands also use some unique anti-tarnish or anti-spot technology.
Here, we will compare the finishes of these two brands.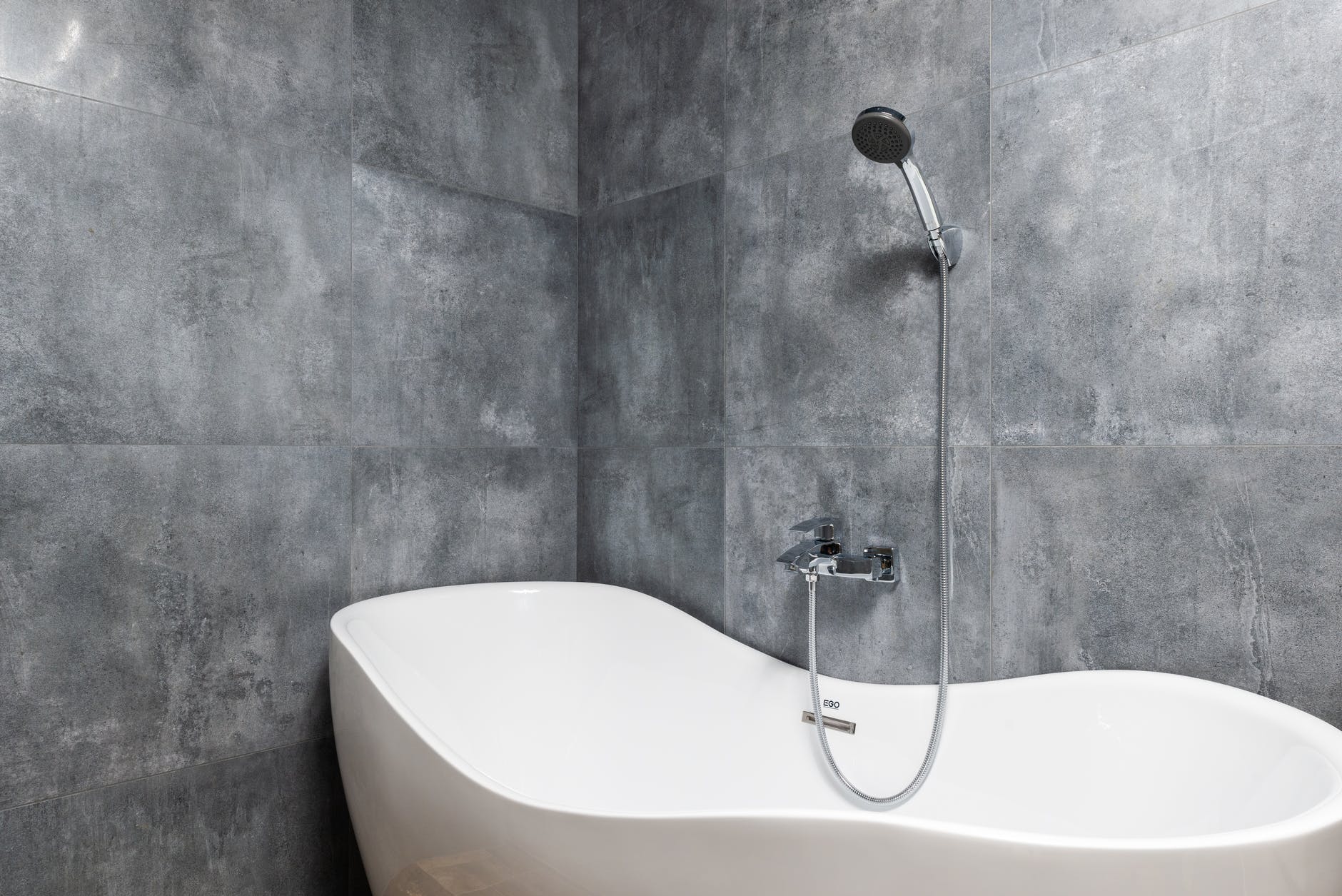 Moen
Moen taps are well known in the market for their excellent finishes and designs. Moen usually uses oil-impregnated bronze, matt black, and chrome finishes in its products, like other brands.
However, in addition to these traditional finishes, Moen also uses a great finish called Anti-Spot.
Anti-Spot uses stainless steel and brushed nickel to coat the taps. Anti-Spot works just like its name suggests, preventing any fingerprints and stains on your taps.
It is almost guaranteed that taps coated with Anti-Spot will not have any watermarks or spots. It keeps your tap as new and shiny as the day you bought it.
Delta
Delta, on the other hand, has introduced high-quality taps on the market with a stain and spot-resistant finish.
One of the best finishes used by Delta is the "Brilliance finish".The Brilliance finish technology ensures top-quality finishes for the taps and prevents rust and discoloration of the taps.
In addition, Delta also uses SpotShield finish technology for its commercial taps. Spotshield finish technology protects the taps from scratches and keeps the tap body free from any fingerprints and water stains.
Price Range
The price range is the most important issue for any customer when they decide to buy a product. Most of us want to buy appliances for our kitchens that are within our budget. Admittedly, choosing a high-quality kitchen tap within a fixed budget can be a bit of a challenge.
But the good news is that Moen vs Delta are two brands that produce a wide range of taps for customers to choose from in any price range. Generally speaking, you can get a Moen or Delta tap in the range of $50 to $1000.
Depending on the design and features, prices can vary from high to low. So it's not true that a lower-priced tap is also lower quality. However, Delta taps are slightly less expensive than Moen's, but they do not compromise on quality.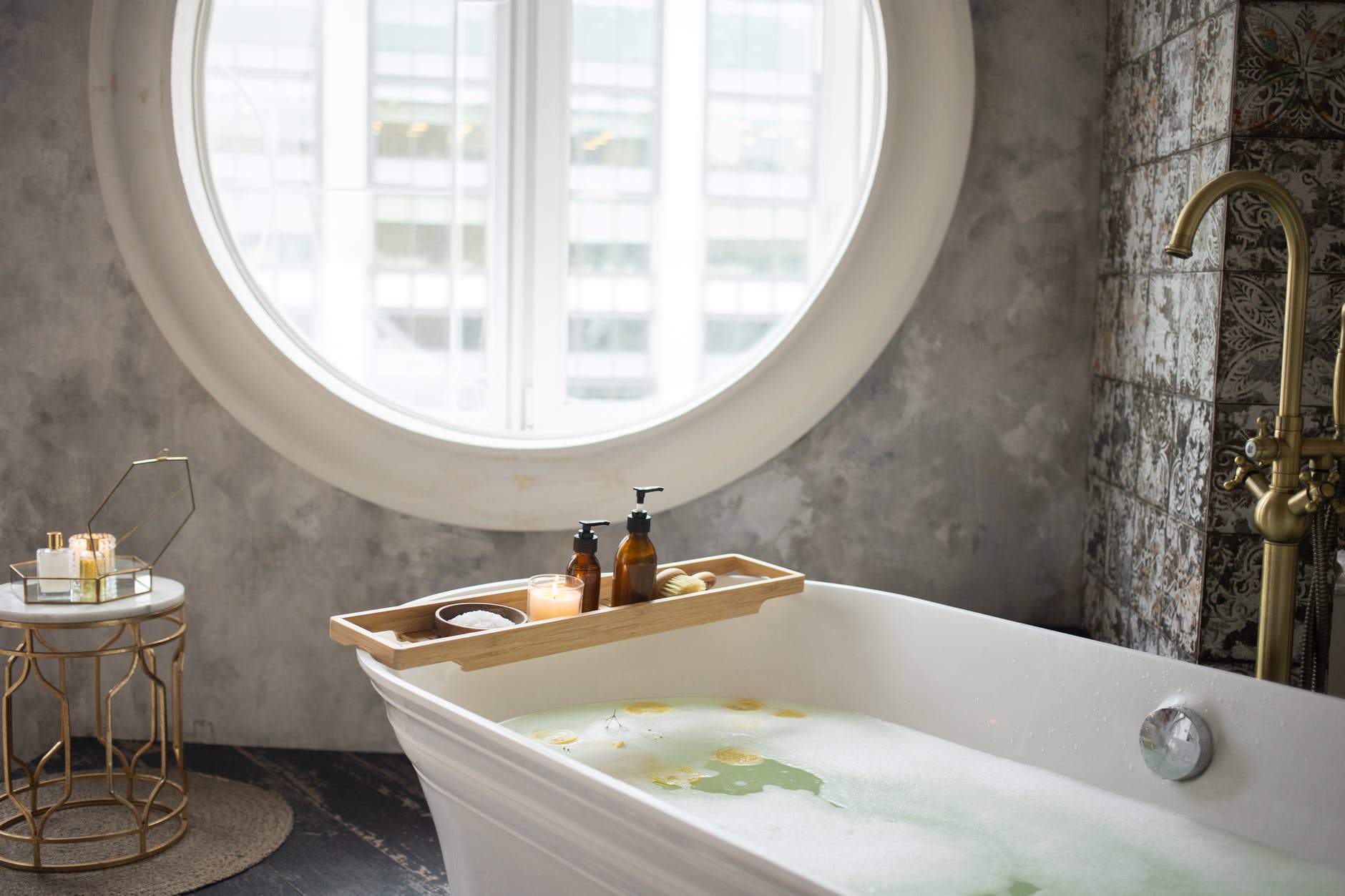 Customer Service
There's not much to say here. Both brands have built their reputations on outstanding customer satisfaction. They are always keen to help their customers. Their call centers always have experts on hand to guide you to your destination.
However, I personally like Moen's design of their customer service processes. A lot of it is fairly easy to understand. Their products and parts are specifically numbered and you can search and order delivery on their website.
Delta, on the other hand, stole the show with the instructions. They make DIV for taps so easy.
But I'm going to decide on a clear winner here.
Warranty
You already know what a warranty is. When it comes to kitchen appliances, it's very important.
Moen vs Delta should be declared "best in class". This is because both companies offer long-term warranties and provide excellent customer support. When you buy a Moen vs Delta tap, you get a warranty of at least 6 to 7 years.
However, the warranty periods for these companies are different, depending on what you are using them for. If you use the tap for kitchen purposes, then you will usually get a warranty of 6 to 7 years. However, if you buy it for commercial purposes, you will not get more than a 5-year warranty.
Final Thoughts on Moen vs Delta
In conclusion, we must conclude that Moen vs Delta qualify as the top brands in the market by comparing all the features of both companies.
These two brands share a great deal of similarity in terms of features, without some nuances, and offer consumers a product of almost identical quality. It is therefore difficult to declare one of these two brands as the winner.
So read our comparison carefully and make a perfect buying decision between Moen vs Delta. Good luck!