Moen Arbor 7594ESRS Reviews: Is It Worth Buying In 2022?
Views:269 ClassificationBlog
I don't think I need a new tap. While this may be true, if you have a traditional tap, you may be missing out on the features of a modern tap.
If you're trying to achieve a modern-looking kitchen, you shouldn't ignore Moen Arbor 7594ESRS kitchen faucet. It makes a big difference aesthetically, trust me on this one.
One of the best modern taps is the Moen Arbor. it's designed to make your kitchen routine easier and faster. Not to mention, it looks exquisite too! Read on to find out why you need to have it installed on your countertop.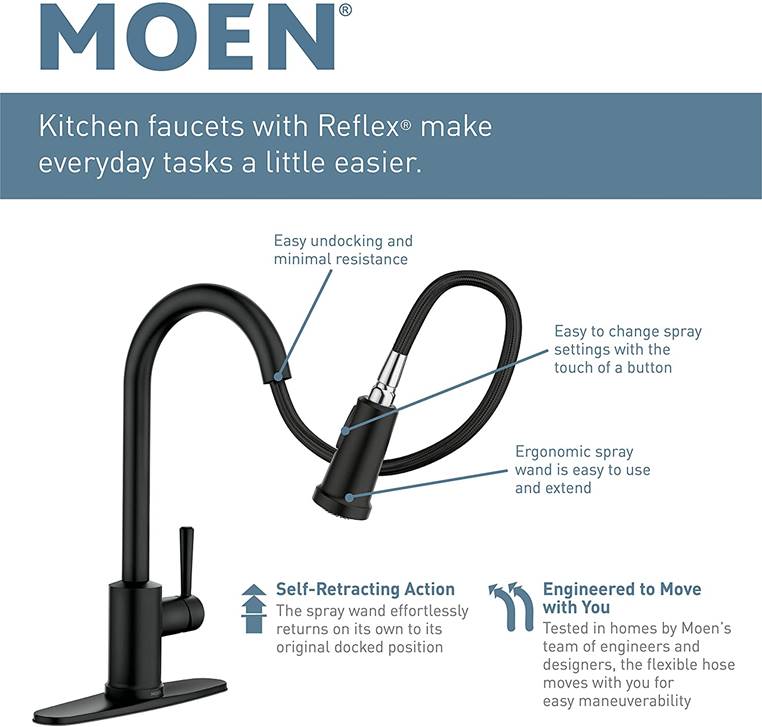 Hands-Free Technology
Do you ever find yourself struggling to turn on the tap because your hands are busy? Well, even if your hands aren't full, this still isn't the most efficient way to use the tap. The Arbor is equipped with up to 2 sensors, so you can operate it without having to free your hands.
This feature gives you 3 options, you can use the tap standing in front of it, wave your hand over it or you can just use the handle. You can even adjust the temperature from there!
Powerful Cleaning
There are times when a normal stream of water is not enough to remove stains and grease. Moen knows this, which is why they have increased the power of The Arbor by 50% when making it. Imagine the power of those tough particles on your pots and pans! You don't need to scrub. You don't need to scrub hard only to find that the stain hasn't been completely removed. That's too time-consuming and tiring. No more.
Flexible Treatment
If you're always in the kitchen and find yourself needing to move a pan because you need to fill it with water, you'll definitely want to move the tap instead. Plus, pots are heavier, especially when they are filled. Or maybe you are 1Vashing something delicate like fruit and we're sure you want to control the movement of the water rather than the fruit, right?
You'll be pleased to know that The Arbor is a pull-down tap. This means that you can remove the spout and clean anything at any angle and direction. This is even easier for you if your cooker is only an arm's length away from the tap. Imagine being able to fill your cooker by simply pulling the spout, rather than you having to walk back and forth with the cooker. That's convenient!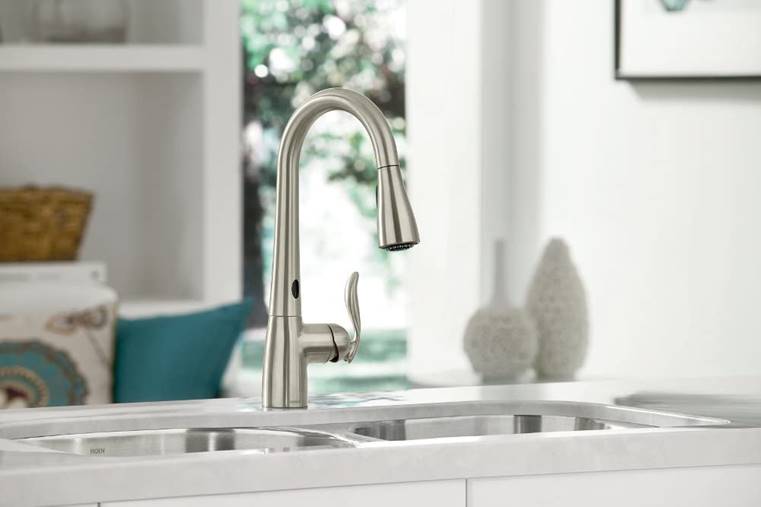 Spotlessly Clean
Have you noticed that your taps are covered in rust, fingerprints and water stains? That's inevitable, yes. However, this only applies to traditional taps. Arbor has a spot-resistant stainless steel finish, which means you don't need to wipe down your taps as often as you do now. It's one way to keep your kitchen clean. No one wants a dirty kitchen. Even if everything looks clean except for the taps, it just doesn't give the full ambiance.
Spray Patterns
We all know that it is important to have the option to change the spray pattern. If you are used to having a conventional tap, your only option is to adjust the water flow. If you're cleaning food, the flow rate of the water stream mode is not your best option. That's too strong.
With Moen's Arbor, you can switch to the jet mode when you retract the spout. You don't have to adjust the flow of water anymore! You don't have to experience the flow of water anymore. You don't have to experience the splash of water anymore.
Advantages
5 inches high
2 sensors
Pull down type
Automatic retraction
High dirt resistance
Powerful cleaning
2 spray patterns
Can be fitted to 1 or 3 hole configurations
Water lock mounting system
Lifetime limited warranty
Disadvantages
May trigger the tap when you pass
Requires batteries
A little pricey
Frequently Asked Questions
Let's play some of the questions and answers we've collected from our customers about the Moen 7594ESRS.
How do I change the temperature?
The way you change the water temperature depends on the control box you have. If you have the grey box, you can use it to change the temperature of the motion sensor. However, if you have the black box, you will need to use the handle to adjust the temperature.
Do I need to learn other gestures?
You can switch off the motion sensor by placing your hand in the sensor for at least 5 seconds. This prevents you from turning on the tap when you don't want it. You enable it again by doing the same procedure.
Although this tap is stain-proof, you still need to clean it to avoid the spread of bacteria. A damp cloth with a mild detergent will do the trick. Avoid using detergents containing abrasives, ammonia, bleach or other harsh chemicals as they may damage the surface.
Moen Arbor 7594SRS Kitchen Tap Video Review
Moen Arbor 7594esrs Arbor With Motionsense Review
How To Install Moen Motion Sensor Kitchen Faucets
Wrap Up
These are our reviews of the Moen Arbor 7594ESRS!
If you are looking for a new tap or just want to upgrade your kitchen, we highly recommend that you go for a high-tech type of tap. Not only does it add to the overall look of your kitchen, but it also makes you more efficient and faster. If you are always in the kitchen, you may want to go for the Arbor by Moen. it has many of the features you have always wished you had.