Moen 5923SRS Align Reviews – Updated for 2022
Views:239 ClassificationBlog
Moen 5923SRS Align Reviews – Updated for 2022
This modern mixer from the aligned collection has a unique design. This pre-rinse mixer will adorn any kitchen with its stylish and unique look.
However, as the manufacturer's motto goes, "Buy it to see, buy it to live," the tap is also extremely durable and effective in everyday use. It is easy to install and can be done by everyone with little effort. This tap also has two spray functions.
We will also show you the cons of the faucet that most Moen 5923srs reviews have skipped so that you fully understand what you are buying.
Please enjoy our review.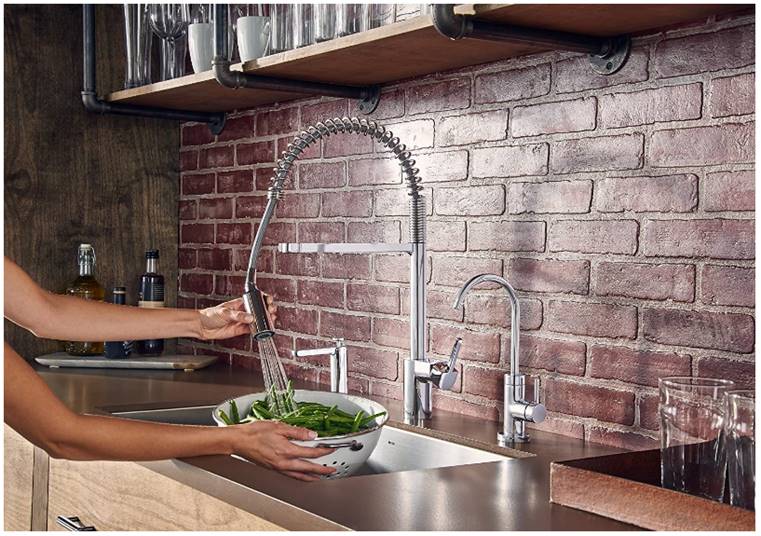 Reviews of Moen 5923srs
We have broken down all the features of the Moen 5923srs  into categories so that you can easily navigate through the articles and read what you want here.
Finishes
This quality tap is available in four finishes. They are –
Chrome plated
Black stainless steel
Spot resistant stainless steel
Matt black
These four are some of the most stylish looks and match almost every American home. But they are also elegant enough to be used in restaurants and other commercial settings.
All of these finishes are stain and spot-resistant. Yes, even in stainless steel.
Tap Functions
A variety of spray functions greatly enhance the effectiveness of kitchen taps.
Powerful flushing function
Inflatable water flow
Water flow is used for daily cleaning. This is your default mode. You need to wash your hands, or do some other soft activity, and you need to use the water stream.
And you have the powerful rinse function for heavy-duty cleaning.
These spray functions are activated by a spray head button. This button is easy to use.
Pull-Out Hose
If it weren't for the efficiency of the pull-out spout, it wouldn't be a premium device. You can clearly see what is happening with the hose. With a simple pull, you can access the 10″ hose. Matching the height of the spout, the hose does a great job. The retraction process is also very smooth. It does not break suddenly.
However, do not confuse it with the pull-down spout, as it has no head. The spigot actually holds the hose in place. Moreover, the hose is balanced by a counterweight and there is no magnetic docking system.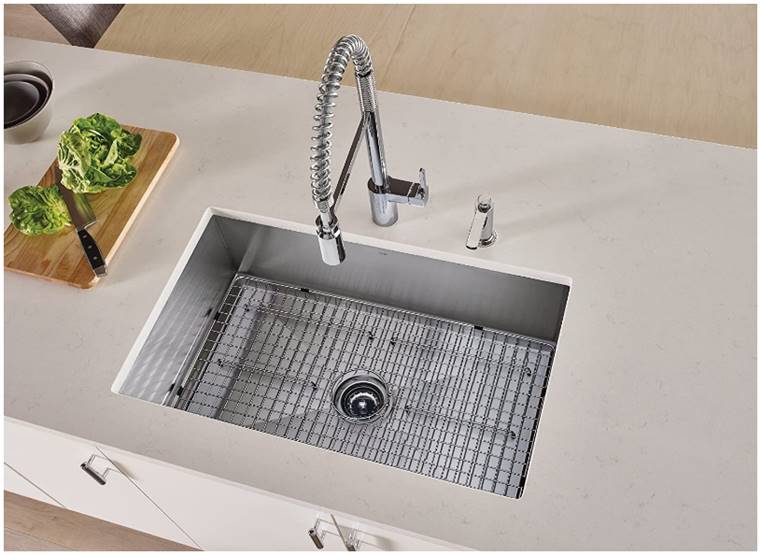 Moen 5923SRS Align One-Handle Pre-Rinse Spring Pulldown Kitchen Faucet, Spot Resist Stainless
Design And Dimensions
The Align has a tall construction with an overall height of 22.5 inches. However, this skinny tap is only 2.08 inches wide, as the lever handle is not as large. In addition, the lack of electronics makes the tap even thinner.
Overall, the product is tall and elegant. However, the weight is a bit too much compared to the size. This tap is almost 8.25 pounds, as it is made of metal.
The length of the spout is 10 inches and the drop-down extends the length to another 10 inches. And the length of the hose below the deck will be 68 inches.
Easy Installation Process
Like all other Moen taps, this one has a simple and perfect installation method. It features a duralock quick connect system for easy installation. You don't need any special tools to install it. However, we recommend using scissors and safety glasses. Once you have put all the necessary items together, you need to place the tap in the correct position according to the installation manual. This is a single-hole tap. Therefore, you only need to worry about one hole and there is no cutting required for installation. Place the hose in the hole and position it correctly.
However, make sure that the diameter of your hole is 1.5 inches, as this is the entire diameter you need to install the tap. Your deck should be no more than 2.5 inches thick. A blue clip will be provided in the pack. You will need to snap this together with the fixing part of the drop-down hose, just above the quick connect system. In the final step, you have to fit a sleeve around the hose. The plastic sleeve will come with the tap. Slide the hose into the sleeve and lock it in place with the blue clip. If desired, you can also cut off the bottom of the sleeve to make it fit better.
Flow Rate
Your maximum flow rate is 1.5 GPM (5.7 LPM). This is the standard speed for an ordinary kitchen tap. Too much and too little flow rates are both problematic. And 1.5 GPM is one of the sweet spots. This can increase the power of your water spray by up to 50%.
Certification
Not only does this faucet meet ADA requirements, it also meets federal lead standards. Having ADA approval is enough, but it additionally meets federal guidelines.
In addition, it complies with California AB 1953 and Vermont Act 193. It can therefore even be used in these states, which means that it contains less than 0.25% lead in its components.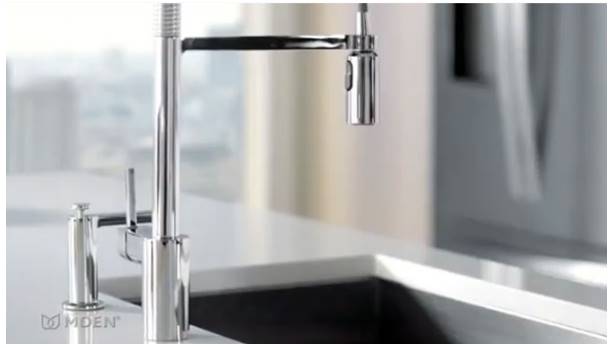 After-Sales Service
Moen has always been excellent in after-sales service and warranty. Their guidelines are excellent and they ship all their parts. You can have every single part sent to your home. You just need to order with a specific part number.
Here is a diagram to show you the part numbers –
Post a pdf image of the 5923
Disadvantages
Although it is an excellent tap, it does have a few minor drawbacks. Here is full disclosure of these drawbacks.
Loose Rubber On The Extension Arm
The reaching arm has a piece of rubber attached to it where it grips the spout head. This rubber is used to allow the reach arm to grip the spout well. But the rubber does not have a good enough adhesive. Sometimes it comes off the arm when you try to pull the spout out.
The Look May Not Appeal To Everyone
This face doesn't have the elegant, sleek design we're used to seeing. It has a modern design that is unique in the market. People with great taste in style will certainly like it. But it is possible that this style will not match many American homes. But this is entirely subjective.
Frequently Asked Questions
There are some understandable problems, especially if you want to install the tap yourself. Here are some questions that may help you.
Q: Can I use it in the caravan?
A: No, you can't use it there. It is intended for use in spacious family kitchens.
Q: Is the spray head magnetic?
A: The tap uses counterweights and rubber for docking. The counterweight under the deck pulls the tap into place, while the rubber keeps it there.
Q: Does it have any pause button?
A: No, there is no pause button.
Q: Can I have a matching soap dispenser?
A: Moen does not have a matching one. But these finishes are very popular in the market. If you look hard enough, you will find a matching dispenser.
Q: Will there be any backsplash?
A: No, there will not be any backsplash. However, it should be noted that the depth of the sink is also responsible for the backsplash.
Let's Take A Look At The Video Review Of The Moen 5923SRS Align.
Summing up on Moen 5923srs
Whichever Moen 5923srs review you see, you will get a positive connotation from it. It may be a little tall or too stylish for some, but for most of us, this is how we imagine our kitchens to be.
So, if you're looking for a non-electronic tap in your home, the Moen 5923srs is one of the best choices.