Kohler Prolific Sink Reviews – 2021
Views:277 ClassificationBlog
Kohler Prolific Sink Reviews – 2021
Being prolific means getting twice as much done with half the effort. And that's Kohler prolific in a nutshell.
But most reviewers of the Kohler prolific sink don't understand why it is one of the best workstation kitchen sinks on the market. The Kohler manufacturer designed this faucet for the average American.
Perfectly designed, with all the necessary accessories and hardware in one cost-effective package. That's what we wanted. And there's more. Read the full review to see why I like it so much.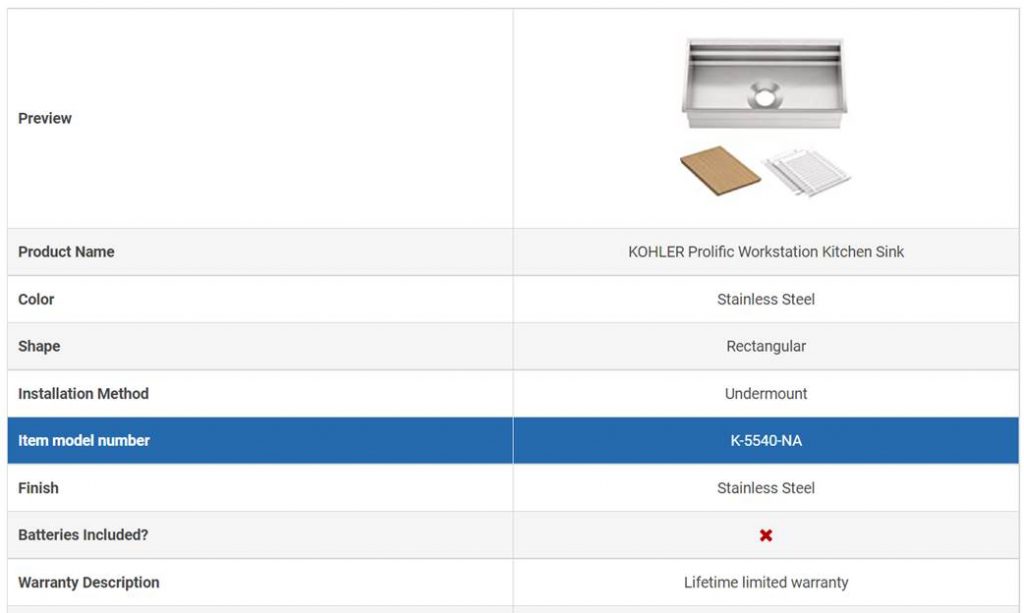 A Detailed Review of the KOHLER Prolific Workstation Kitchen Sink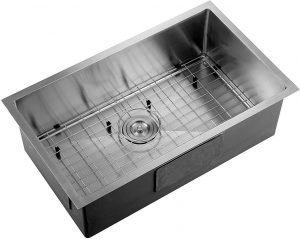 This article is entirely dedicated to this one product. And we're going to dig into the details here. So sit tight.
Size
No matter how good the sink is, if the sizes don't match, you'll have to count on the cost of a plumber. However, this prolific sink gives you four options, which is pretty normal in the United States. Here are those options and the minimum cabinet sizes they require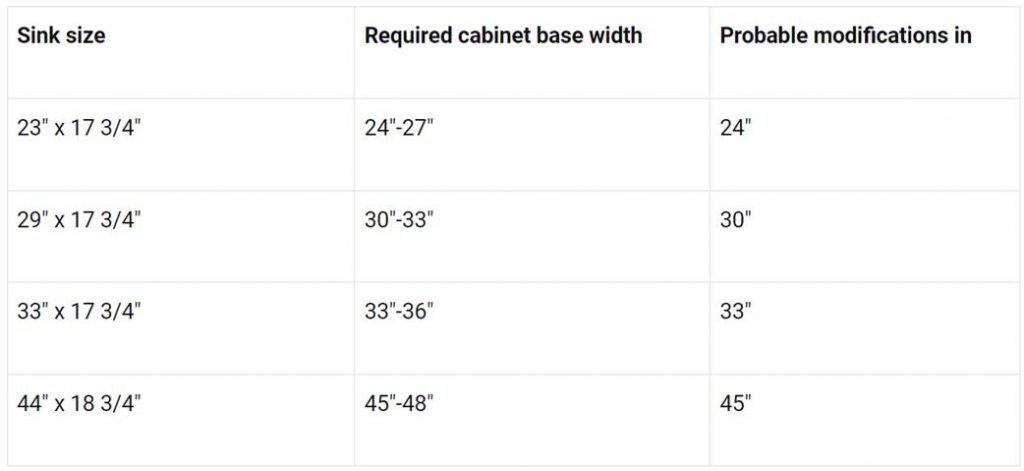 Please note that 44 inches are one inch wider than the other sizes. For your convenience, the differences between the sink dimensions and the cabinet dimensions are clearly shown. The last column shows you the sizes where you may need to make some modifications to the openings. In all of these dimensions, the drain hole is 3.75 inches.
Prolific™ Workstation Stainless Steel Kitchen Sink – KOHLER
Material
The sink is built to last a lifetime. It is 18 stitches thick, which is about 1.024 mm or 0.04 inches. However, in this budget, I expect it to be 16 gauge. If you don't know, the 16 gauge is thicker than the 18 gauge.
However, this alloy steel is very strong. And daily hardcore use will not have any effect on it.
Finish
There is nothing exciting about the finish. It is plain old stainless steel. However, the sink seems to be stain-resistant. And, it may also have some stainless steel color because, for some reason, it looks better than plain steel.
Design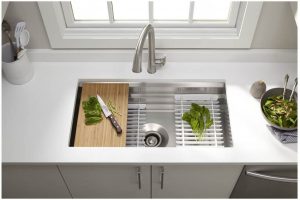 As you can see from the picture, this is a single bowl rectangular kitchen sink. It has a seamless top with an undercounter design. Therefore, there is no faucet hole and you can match any faucet to the sink.
As a workstation of sorts, all but the smallest one are a bit wider. For the same reason, it has all the accessories you would expect from a workstation kitchen sink. There are also three sills to help you place the accessories at different heights.
It has narrow corners. Therefore, you are going to need brushes to clean it effectively. The sink has a moderate slope of the floor but drains efficiently. It also has a beveled design around the drainage holes to handle large debris. And the depth of the sink is 10 inches.
Warranty
Like most of Kohler's other sinks, you will have a limited lifetime warranty. That's the best you'll get in this market. Full warranties are rare, if at all.
Accessories
Accessories are the hallmark of workstation kitchen sinks, or as Kohler likes to call them: prolific kitchen sinks. With this, you will have the allowable add-ons ——
Bamboo cutting board
Two grating racks
Cleaning box
A blender
You will have three window sills that can be placed at the height you prefer
Quiet Operation
Under the finish, it has special padding of sound-absorbing material. This padding absorbs most of the sound coming from the steel.
Installation
I wouldn't say that installation is easy. A good sink like this should get some special treatment. Therefore, even though you have an installation guide, it is best to seek professional help. However, all the mounting hardware will be included in the package.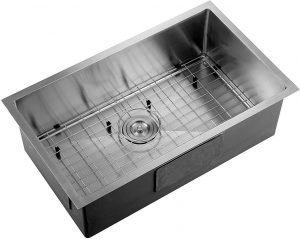 Why Is It So Popular Among Buyers?
At first glance, it may seem unreal that the price is so high and there is so much popularity. But when you spend a little time in the market, you will know the reasons for its popularity.
Here are its main reasons –
The design is suitable for the average American
High brand recognition
Great customer support
No hassle of extra hardware
Matches almost any faucet and counter type
These are the non-technical reasons for its success. Something you see on the spec sheet, but very important.
Frequently Asked Questions
You're spending hard-earned money. Therefore, it's only fair to have some questions. Here are some for the curious
Can I purchase additional accessories?
A: Yes, additional accessories can be purchased online, with or without a sink.
Will the corners look sharp and be difficult to tilt?
A: A brush will solve this problem like magic. After all, using your hands is not
Can the smallest size be used as a bar sink?
A: In large kitchens, you can do so. But for bar sinks, there are better options.
Final Statement
It should be clear by now that sinks have the best design and other features that are important to the average American. But most Kohler reviews of multi-production sinks miss the point. Yes, it's stylish and very effective. But what makes it the best prolific kitchen sink is the design.
1 Thought On "Kohler Prolific Sink Review- 2021"