Kohler Malleco Touchless Faucet Reviews for 2021
Views:261 ClassificationBlog
Kohler Malleco Touchless Faucet Reviews for 2021
Recently, contactless faucets have been on the rise. These convenient devices are a staple in most modern homes and commercial establishments.
And when I think of contactless faucets, the first thing that comes to mind is the Kohler Malleco contactless faucet. In addition to its versatile aesthetic, it's made of durable materials that can withstand regular wear and tear. It also has a sensitive sensor that detects what needs to be cleaned in milliseconds.
Most of the Kohler Malco Contactless Faucets reviews out there are very brief, which I think makes you miss out on some of its most notable features. That's why I decided to write this article to give you a more comprehensive review of the Kohler Malleco.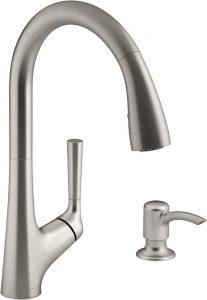 Features
Kohler Malleco is known for being one of the brand's best touchless faucets – and I agree with that. Not only because I think it looks great on any kitchen counter, but because it's so versatile, I also think it's a great value for the money.
Sensor
Since this is a touchless faucet, I'll start by reviewing its sensors.
The Kohler Malleco Touchless Faucet features advanced response technology that easily and quickly detects your hand in milliseconds. Thanks to this fast-responding sensor, you don't have to wait long to get your
Of course, this sensor is not limited to detecting our hands. It can also detect plates, silverware and anything else you want to clean.
Because you don't need a handle to turn on the faucet, the Kohler Malco makes it easier for children, elderly relatives and people with disabilities to use. It also guarantees that no dirt or bacteria will remain on the handle, making the Malleco a more hygienic option than traditional faucets.
Likewise, the quick-response sensor detects when your hand has left the range. As a result, it closes almost as soon as you pull away, so you can rest assured that it will also help you conserve water.
Composition
Another thing I like about the Kohler Malleco is its sturdy construction. The brand prides itself on producing top-quality faucets, and its Malleco model certainly doesn't disappoint.
Made of premium metal, this non-contact faucet is sure to stay in place despite regular use and prolonged exposure to water.
It also has a vibrant stainless steel finish that is designed to resist scratches, spots and another moisture-related residue. This ensures that your faucet will stay clean, despite the fact that your cleaning will be minimal.
The smooth texture of this faucet also allows you to simply wipe it clean – gone are the days of spending hours brushing your faucet clean.
Spray Head And Spout
There's no denying that the Kohler Malleco Touchless Faucet has a very simple look. At first glance, it looks just like your unassuming kitchen faucet.
Well, you'll be happy to know that this faucet has a pull-down spout that allows you to thoroughly clean anything that needs cleaning. The hose used for the spray head is made of a bump-resistant material, which makes it very flexible. The hose allows the spray head to spread even beyond the sink for your convenience.
The pull-down spray nozzle also features Kohler's signature ProMotion technology for smooth movement. This means you don't have to pull it hard to get it to face in certain directions.
For improved coverage, you'll be happy to know that the spout on this faucet can be rotated. This allows you to get to tricky spots with ease.
Easy To Install
Despite its advanced features, I like that the Kohler Malleco Touchless Faucet is still easy to install.
For starters, it comes with a pre-assembled water supply line, so you don't have to worry about putting everything together. It also has color-coded fittings that can be easily attached to make it easier for you.
The easy installation feature makes do-it-yourself installation possible. This saves you from having to pay for a professional to do it for you.
Other Features
The Kohler Malleco contactless faucet uses 6 AA batteries. The batteries are easy to replace, so you don't have to worry about taking apart the entire faucet just to put in new batteries.
The Kohler Malleco is also very versatile as it can easily fit 1, 2, 3 or 4 hole sinks.
Finally, this contactless faucet still has a single lever that can help you adjust the water temperature if you wish.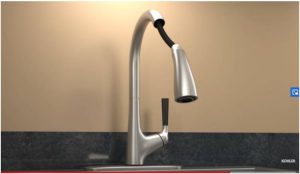 Pros
The Kohler Malleco uses state-of-the-art response technology to quickly detect what needs cleaning.
It has a durable construction that can withstand residue buildup.
The pull-down nozzle makes cleaning easier.
It is easy to clean and has very low maintenance.
Cons
It is battery operated and changing the batteries regularly can be a hassle.
Frequently Asked Questions
What Are The Benefits Of Owning A Kohler Malleco?
There are many benefits to owning a Kohler Malleco touchless faucet.
First, it is very hygienic because you don't have to touch the handle with your dirty hands to turn it on. This greatly prevents the presence of bacteria that usually remain on the handle.
Secondly, it is very easy to use. Since you don't have to reach for the handle, young children can use it without asking for your help.
Finally, it can help you save money on your water bill. The quick-response sensor detects when your hand is pulling away and shuts off almost at that instant.
Can I Install The Kohler Malleco Myself?
The Kohler Malleco installation can be done by yourself. It has color-coded settings that serve as a guide for you to attach the parts. It also comes pre-assembled, so you don't have to go through an exhaustive instruction manual just to get the job done.
However, I still recommend calling a professional to install it for you, especially if you have no experience installing similar fixtures.
KOHLER Malleco Touchless Kitchen Faucet Installation
Conclusion
This is our Kohler Malleco Touchless Faucet review!!!
The Kohler Malleco Touchless Faucet is one of the best faucets of this modern era.
It has innovative features that make it stand out from the competition, but still maintains a minimalist look. This makes it a very attractive addition to any modern kitchen.
The faucet's vibrant stainless steel finish also gives it a sophisticated vibe that's very versatile – it easily fits in regardless of the overall theme of the kitchen. And, thanks to its magnetic docking system, you won't see any springs coming out of the spout.
Overall, if you're looking for a beautiful, functional, water-saving contactless faucet, you can't go wrong with the Kohler Malleco. Its superb design, along with its low-maintenance finish, is just an added bonus.