Hansgrohe Kitchen Faucet Reviews and Buying Guide
Views:274 ClassificationBlog
Hansgrohe Kitchen Faucet Reviews and Buying Guide
Do you want to upgrade your kitchen? Let's get started! The kitchen is one of the most important rooms in your house. You may not seem to notice it, but every detail is very important, even the smallest one. Imagine that your kitchen sink has a bathroom faucet. Not only does it look out of place, but it certainly doesn't add value to the aesthetic you're trying to achieve!
In this review, we'll cover Hansgrohe's kitchen faucets. Now, this could be the faucet you are looking for. They look sturdy, modern, and of high quality. Plus, they're innovative and will make you want to spend more time in the kitchen, cooking or washing dishes! Read on to find out which one is best for your kitchen.
Top 2 Best Hansgrohe Kitchen Faucets
Focus M41 Premium Single Handle Kitchen Faucet 240
Allegro E Gourmet Premium
Focus M41 Premium Single-Lever Kitchen Mixer 240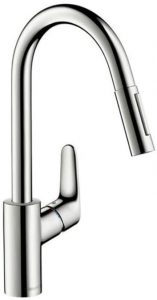 Pros
High distance between sink and spout (16.1 inches)
Can be rotated up to 150 degrees
QuickClean technology
2 spray modes
Pull down type
Disadvantages
Possible reduction in flow rate
Low tension on the knob
If you always find yourself having to wash large pots and pans and struggling with not having enough space, then this is the product for you. the Focus M41 has a high space between the surface of the sink and the spout. That's convenient enough in itself, but check this out. This faucet has two types of jets, the laminar jet and the needle jet. Some of you may be thinking; "What's the big deal?" Well, when you're washing vegetables, fruits, etc., the needle jet type emits a shower-like spray of water that thoroughly and more effectively cleans your food. However, if you're bottling or filling pots and pans, the laminar jet type can do it even faster. More specifically, the spout can also be extended to more than 50 cm for your convenience and flexibility. Imagine being able to control the focus of your faucet at any angle and direction you want! This is very important. Did we mention that this faucet also has a QuickClean feature? If you didn't know, this technology is a lifesaver. Especially if you're afraid to clean your sink! Now you can clean it easily. Now you can clean with ease. Your faucet can wipe away limescale and get rid of the residue in a flash. If you're wondering if this goes with your counters, this design is recommended for modern kitchens with linear furniture.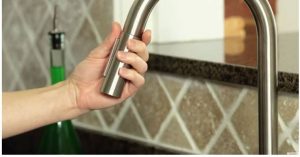 Hansgrohe M42 Kitchen Mixer M429 H220
Allegro E Gourmet Premium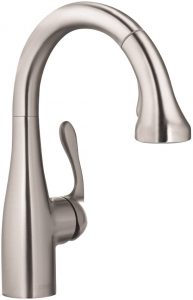 Pros
Height distance between sink and spout (13 inches)
Can be rotated up to 150 degrees
QuickClean technology pull-down
2 spray patterns
Easy to install
Disadvantages
No spray toggle
The hose is a bit flimsy
If you value simplicity but have an eye for elegance, you may want to go with this faucet. the Allegro E Gourmet premium is a multitasker's best friend. It's a pull-down faucet that swivels 150 degrees. That's a lot of flexibility! This faucet also has 2 jet types, which means you will be able to rinse different foods and tools more efficiently. As mentioned earlier, this is a pull-down faucet, which means you can operate the faucet in any direction, even if you have something in your other hand. Also, have you ever noticed that when an item is farther away from the spout, there is less force compared to when you aim it directly? Pull-down solves that problem! As we all know, dirt builds up everywhere. Even on the spout of your new faucet. What's the point of cleaning if the water is dirty too, right? That's exactly why Hansgrohe equips its faucets with QuickClean technology, so you can easily wipe away the grime. Just swipe, and you're done! The Allegro E Gourmet Premium is made of solid brass with an M2 ceramic core. If you're looking for a faucet that will be durable enough in the long run, this faucet may be your best bet. It's also flexible, allowing you to install it in either a 1-hole or 3-hole configuration.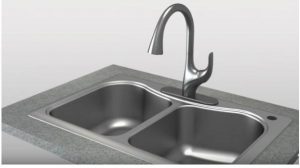 Install A GROHE Single Lever Kitchen Mixer With Pullout Mixer Spout
Things To Consider
When buying a kitchen faucet, whether this is for your home or industrial use, you need to take care of these factors to know if it is worth every penny.
The Types Of Faucet
Since you are looking for a faucet, you might as well know which type is best for you. Apart from the common styles we usually see, there are 3 other styles that may catch your attention. In fact, they make washing more efficient and convenient.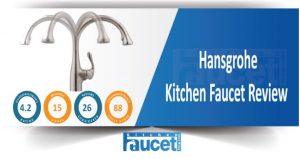 Pull-Down
If you have a spacious kitchen with a lot of clearance, you may want to use a pull-down faucet. This type of faucet is also usually very tall. The advantage of using a pull-down faucet is that it gives you enough space and flexibility to clean large pots and pans. This is usually a problem when you have a regular type of faucet.
However, if you decide to use a pull-down faucet, make sure the brand of faucet you buy has a magnetic docking system. Otherwise, you may find that the spout wobbles all over the place.
Pull-Out Type
This type of faucet is for those who don't have enough space to install a high arc but want the versatility of a pull-down faucet. If you have limited space in your kitchen, pull-out faucets are perfect for you. They have longer hoses and they are more durable compared to pull-down styles. Imagine you could fill a spot on your countertop.
Side Spray
Finally, if you can't seem to get rid of your traditional faucet, here's the solution for you. If you just want to upgrade rather than overhaul, this is an option. The side spray faucet is compatible with any type of faucet. It usually fits well with regular faucets, but you will need to drill a separate hole to install it. This is the most basic but versatile option of the other types.
A Final Word
That's our Hansgrohe kitchen faucet review!
We've just covered two modern faucets made by Hansgrohe, and we know it can be hard to choose one. When it comes to upgrading our kitchens, we may consider faucets at the last minute.
However, here's what we don't understand: when you have a modern kitchen, a traditional faucet just doesn't cut it. We have become accustomed to the functionality of the faucet and think that as long as it produces water, then it should be good. However, because times are changing, we have improved in the way we cook. This in itself requires us to upgrade in the way we wash things as well, right?
4 Thoughts On "Hansgrohe Kitchen Faucet Review – Updated For 2021"