Everything You Need to Know about Best 60/40 Undermount Sink
Views:266 ClassificationBlog
Everything You Need to Know about Best 60/40 Undermount Sinks
Honestly, the kitchen sink is undoubtedly one of the focal pieces that can enhance the overall look of your cooking space. That's why installing the best 60/40 undercounter sink is the way to make your kitchen look more attractive.
However, choosing a 60/40 undermount sink is not an easy task. You need to keep a bunch of factors in mind when making your purchase.
But, don't worry! We are here to provide you with some guidance and advice so that you can pick the right sink according to your preferences. So, without further ado, let's dive into it.
Types Of Undercounter Kitchen Sinks
Picking a suitable undercounter kitchen sink for your kitchen renovation can be a confusing task. However, you can choose from various types of undermount sinks depending on your preference.
Undercounter sinks come in three types of bowls. These are single bowl, double bowl, and triple bowl. There is also a classification in terms of construction material.
You can choose a sink that is constructed of stainless steel. Or, you can also choose undercounter sinks that are made of copper. These types of sinks give a more attractive look to your marble, granite, and other countertops.
Reviews Of The Best 60/40 Undercounter Sinks
Here are some of the most popular quality 60/40 undercounter sinks. I've also mentioned why they are on this list, as well as a full list of their features and benefits.
Overall Best: Appaso 32 Inch 60/40 Double Bowl Kitchen Sink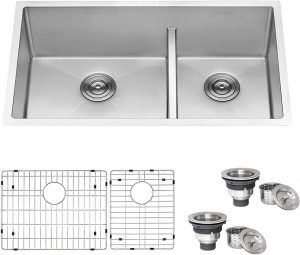 Specification
Stainless Steel
Size: 32″ W x 19″ D x 1O" H (60/40)
Mounting Type. Undermount
This sink is unique in that it offers greater performance strength than other undermount sinks. This is because the sink has 25% more steel than a typical sink.
In addition, it is 37% thicker than other similar sinks. Therefore, this sink will not warp, bend or dent after heavy use. Therefore, if you are looking for a strong sink for extended use, choose this one.
In addition, this sink has anti-noise technology. Its thick rubber pad and heavy-duty coating covers 80% of the sink to absorb noise and vibration. It is an eco-friendly and recyclable product. Thanks to its extra-large workspace, you can put larger pots and pans and baking pans inside.
The Most Affordable: Kraus KBU24, 32-Inch Undercounter 60/40 Double Sink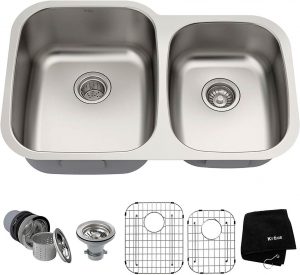 Specification
Stainless Steel
Item weight: 18.S lbs
Installation Type. Undercounter type
Size: 32 inches
A unique feature of this sink is its soundproof design. This means that the T304 stainless steel and TRU16 construction does not generate much noise when cleaning.
In particular, the sound-absorbing pad absorbs 80% of the noise. In addition to this, T304 steel is a hard metal. It is super durable and does not show any dents easily.
Besides its special sound insulation function, it has a good drainage system. The sloping bottom design is great to prevent water clots in the sink. Cleaning problems will be solved because it has a wide curved corner. You will be able to reach every corner of the sink and clean it easily.
No toxic material is used in the bottom of the sink. So it is good for your health. Moreover, the sink itself is very durable and sturdy. Its stainless steel T304 has a thickness of 1.5 mm. So it can guarantee the strength of the sink.
Moreover, Kraus 60/40 undercounter sink will help you to clean easily by brush and whip. In addition, no dust and dirt will be stored under the sink rim.
 Best Farmhouse. ZUHNE Stainless Steel Double Basin, 60/40 (33″ Curved Apron Front)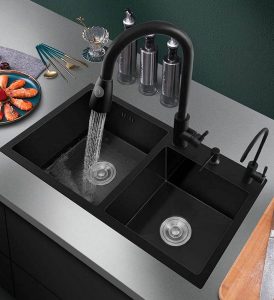 Specification
Stainless Steel
Item Weight: 45 lbs.
Mounting Type. Undercounter, built-in, or built-in
Size: 32-7/8 by 20-3/4 by 10 inches (for 36-inch cabinets)
The design is the most appealing aspect of this stainless steel sink. It looks great in the kitchen. Unlike other sinks, it has a 10-inch double square bowl. It holds water well for working, cleaning and draining.
The sink comes with a stainless steel farmhouse sink that will be scratch-resistant. The extra-wide strainer can accommodate larger pots or cookware for cleaning. Exceptionally, the insulation will protect the sink from any unusual materials.
In addition, you will experience a noiseless sink that vibrates with a fine sound. At the top, the manufacturer used 40% more steel than usual.
This sink is built entirely without any toxic materials. Most importantly, it is not, lead-free.
Best Apron Front. KOHLER Vault Double Bowl, K- 3945-NA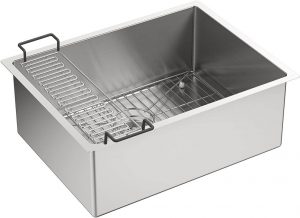 Specification
Stainless steel
Seamless
Installation method. Farmhouse apron front
Size: 35-" x 21-%"
A unique feature of this sink is that you can set your favorite faucet. This is because it comes pre-installed with no faucet and faucet holes. You have to drill the faucet into the countertop.
Some of the faucets that fit this type of sink are the K-560-VS and K-596-VS. While choosing a ceramic faucet lever, make sure you also have a ceramic cartridge kitchen faucet. If you have a ceramic valve faucet or an invincible faucet, this type of sink will also help clear deposits from clogged kitchen faucets.
In addition, you can have maximum basin space due to the narrow corners. It gives your kitchen a farmhouse feel with a modern look. 18-gauge premium stainless steel makes the sink sturdy and suitable for heavy-duty use. The sink also features Quiet Shield sound-absorbing technology for quiet performance.
Best Low Score Sink. Ruwati 33″ Low-Point Sink 60/40 Double Bowl Sink, RVH7419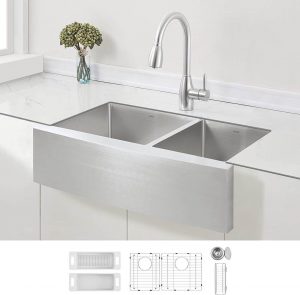 Specification
Stainless Steel
Undercounter
Size: 33 inches 60/40
The most outstanding feature of this sink is that it has extra space than other sinks. This is because it has a unique low divider design. This sink has a divider that is 4 inches lower between two bowls. Thus, you can get a spacious area to wash the dishes.
Besides, 16-gauge high-quality stainless steel is also used as the construction material. It has a slightly curved corner. Because it has an inner corner with a 1Omm radius. In addition, it has a thick rubber liner and acoustic underlayment to reduce noise. With that, you can make use of the bottom flushing grid, cutout template, installation guide, etc.
Buying Guide for the Best 60/40 Undercounter Sink
There are several factors you should keep in mind when buying the ideal undercounter sink for your kitchen. For example.
Kitchen Sink Size
There are a bunch of categories regarding the size of the preferred sink. You can get sinks of different shapes, generally starting from 9 inches to 40 inches. However, the purpose of using the sink is key.
The most commonly used undercounter kitchen sinks are sized between 30 inches or 35 inches. You can choose an undercounter kitchen sink in the 50/50, 60/40, or 70/30 ratio, depending on your preference. It can also be written as a 40/60 kitchen sink.
Materials For Kitchen Sinks
Undercounter sinks are available in a variety of materials. For example, cast iron, fireclay, stainless steel, copper, natural stone, granite composite, etc. Among them, stainless steel sinks are the most popular according to consumer feedback. Other types of sinks are also used for aesthetic purposes because of their appearance. My personal favorite is the stainless steel farmhouse sink.
Compatibility With Accessories
First, check the number of holes in the sink so that you can choose accessories accordingly. For example, sink-mounted drinking fountains, sprayers, etc., are chosen based on the number of holes. If you want a kitchen faucet with a separate spray head, you need more holes than one. You'll also see a lot of them in the drip-free kitchen faucet double handle.
Garbage Disposal
Installing garbage disposal on your undercounter sink is quite important. Pick an up-to-date sink where you can install a modern disposal system. The installation of the garbage disposal depends on the height and depth of the undercounter sink you are using.
Drainage System
Most undercounter sinks have a drainage system located in a central area. However, some sinks have a drain in the corner or back to create more usable space in the sink. So, choose the one you prefer.
Hot Water Dispenser
Choose an undercounter sink made of built-in quality materials that allow it to hold hot water at least 190 degrees Fahrenheit.
Frequently Asked Questions
Well, when buying a sink, you may be wrestling with some confusion in your head. However, the answers to some frequently asked questions may set you free.
What are the benefits of a 60/40 kitchen sink?
A: What are the benefits of a 60/40 sink or 60/40 kitchen sink? A 60/40 sink or offset sink allows the use of two spacious compartments for a variety of activities at the same time.
How should I choose between a double-bowl sink and a single-bowl sink?
The answer is a single bowl sink. Single-bowl sinks are quite competent for cleaning large pots and pans due to their spacious size. In contrast, a double-bowl sink offers you the convenience of using two bowls for different purposes.
Which kitchen sinks are popular?
The answer is. Well, people are opting for spacious single-bowl sinks to have more space for large pots and pans. Thanks to the advent of dishwashers, double basin sinks have become somewhat obsolete.
Kitchen sink 60/40 VS 50/50, which is better?
In my opinion, a 60/40 stainless steel undercounter sink will always be better than a 50/50 sink because an equally sized sink will not yield any advantages in different applications. But a larger sink can help you in many ways, especially if it is made of ceramic disc valves.
Final Thoughts
Here you can see – a detailed guide to choosing the best 60/40 undercounter sink. We have tried to cover all aspects that you should know beforehand. We are sure that now you are well aware of these factors when buying the best 60/40 undercounter sink for your kitchen decor.
After all, even though the sink may not be the only attractive part of your kitchen, it is still your personality that shines through the materials you choose.