Drop in Vs Undermount Sink: Which Is the Best for Your Kitchen
Views:268 ClassificationBlog
Drop in Vs Undermount Sink: Which Is the Best for Your Kitchen
A sink is not just a utilitarian commodity, it brings character and aura to your kitchen. It may seem insignificant, but the aesthetics and practicality of your kitchen depend to a large extent on how the sink is installed.
When it comes to choosing a sink for your kitchen, people are confused about the two obvious types of sink, namely the fitted sink and the inset sink. Both types of sink offer different qualities, styles, and elegance.
The main difference lies in the way they are installed. Undermount sinks need to be installed from under the worktop, but inset sinks can easily be installed from the worktop.
But which one suits you better depends on the look and budget you expect, as well as other factors.
In this article, we will discuss all the pros and cons of these two types of sinks drop in vs undermount sink that you can consider before buying for your kitchen.
Floor Mounted Sinks: Pros And Cons
Floor mounted sinks are the more commonly used. They are also known as top-mounted sinks because they have an edge that sits on the surface of the worktop. They come in a variety of sizes and shapes from which you can choose.
Here are some of the features of drop-in sinks that may compel you to buy them instead of undermount sinks.
Advantages:
Drop-in sinks cost less than their undermount counterparts. Buying these sinks for your kitchen can save you around 50% compared to a fitted sink of a similar size and material.
– Wide Range Of Options Available:-
Due to their huge popularity, undermount sinks are available in a wider variety of sizes, shapes, and colors than mounted sinks. If you want to accent your kitchen with a flashy or cherry red sink, then look for one in the aisle of a floor sink.
– Compatible With All Worktops:-
The most attractive advantage of a floor-mounted sink is that it can be used on any worktop. In addition to compatibility, the rim of the floor sink hides the holes cut in the worktop. They can even be replaced more easily with new ones.
Disadvantages:
Drop-in sinks are not as rounded as their competitors' undermount sinks. This can be a huge turn-off for people who prefer an uncluttered and gentle sink.
Cleaning the sink is fairly easy, but the space around the countertop can be messy. Food crumbs can get tangled around the edges of the sink, making it more difficult to clean.
Residue and mold discolor the caulking installed between the rim and the worktop.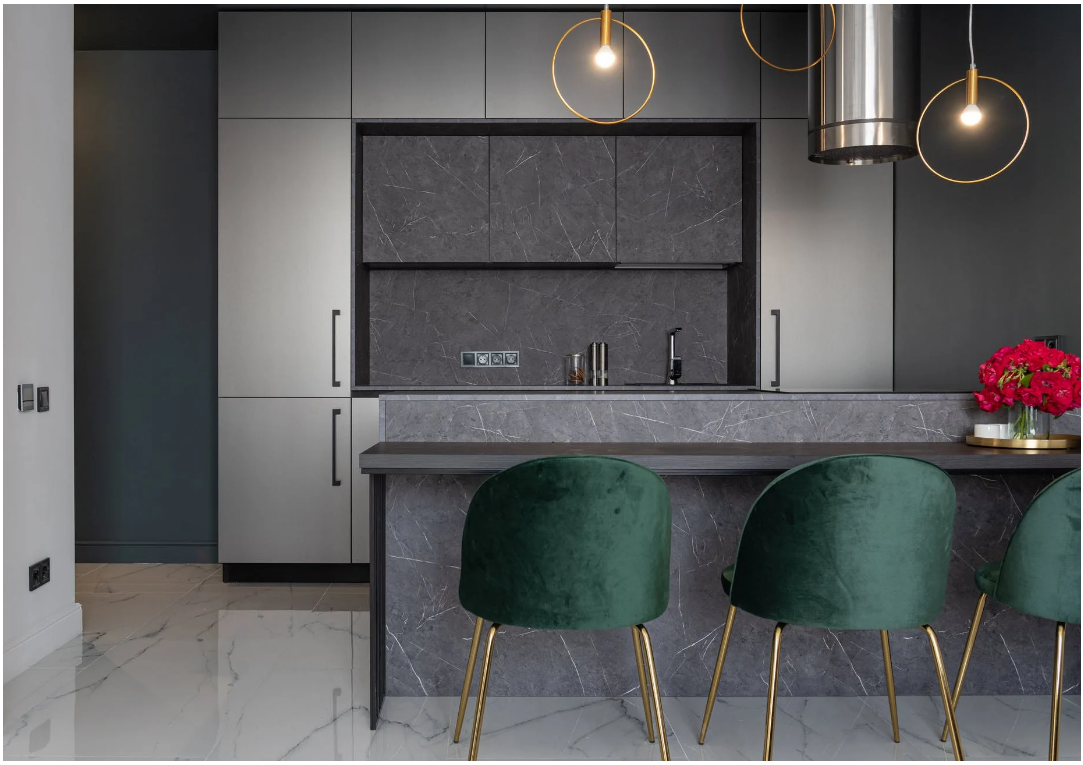 Undermount Sinks:
The demand and market for undermount sinks are growing due to their stylistic versatility. They are installed from the bottom of the countertop so that their edges are inconspicuous as in the drop-in style. As a result, your countertop appears modern, elegant, and spacious.
If you are looking to add a smart look to your kitchen, then an undermount sink is what you need.
Advantages:
No crumbs, food particles or mold fill around the worktop as the edge is below the worktop. In addition, you can also wipe crumbs from the worktop directly in the sink.
Undermount sinks add beauty to the worktop without being overly flashy. They are stylish and simple, in keeping with both contemporary fashion and the traditional look of the kitchen.
When both the sink and the worktop are made up of the same materials, they add to the charm of your kitchen.
These attractive instincts of undermount sinks can also significantly increase the resale value of your home.
With the edge of the sink at the bottom of the countertop, these sinks save a few more inches of space than undermount sinks, which is not much, but in smaller kitchens, this short space can come in handy for soap and brushes.
Disadvantages:
Better features and quality inevitably raise the price of an item. This is also the case with undermount sinks. They cost around 50% more than undermount sinks. In addition to the actual number of sinks, the installation costs are also high.
As undermount sinks have to be installed below the countertop, they require special adhesives and clips to install them. This complex process makes their installation costs skyrocket.
Another disadvantage of undermount sinks is that there is always the fear that they will sag. They rely entirely on nuts and brackets for support.
Therefore, whenever their supports fail, they will fall.
Closing Thoughts on drop in vs undermount sink
If you're looking for a new kitchen sink, you need to be very clear in your head about what kind of look you want to give your kitchen, considering your worktop and your budget.
If you want something elegant and ornate then go for a floor-standing model, but if you desire a traditional and minimalist look then an undermount sink is the right choice.