Delta Leland Kitchen Faucet Review and Buying Guide for 2022
Views:254 ClassificationBlog
Delta Leland Kitchen Faucet Review and Buying Guide for 2022
Do you want to complete the atmosphere of a modern kitchen in your home? You need a high-tech modern tap to match this look! Whether you are looking to upgrade from a traditional tap or just want to replace your current brand, Delta Leyland is a great choice to start your search.
Delta was one of the first manufacturers to revolutionize the way we use our kitchen taps. Not only have they made it more efficient and practical, but they have done a great job of incorporating modern features on their taps without losing that sense of simplicity that comes with their traditional origin.
In this review, we will discuss 2 of the greatest kitchen tap models that Delta Leyland has to offer. Read on to see which one best suits the way you use your kitchen sink.
Delta 9178T–AR-DST Faucet Leland Single-Handle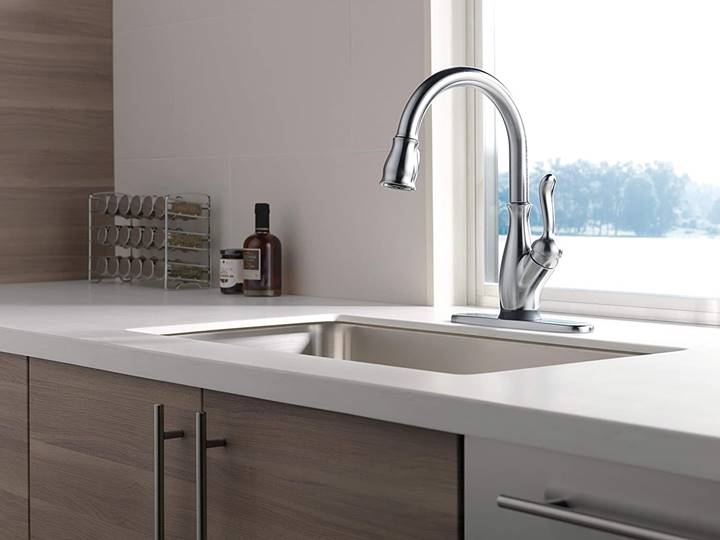 Advantages
4″ high
360-degree spout swivel
Touch 20 function
8 GPM water flow
Made of metal and brass
3 spray patterns
Magnetic stone docking
Temperature-sensitive LED light
Touch cleaning technology
Disadvantages
Requires batteries
Short hose
If like many people, you like the look of a traditional tap, you'll love the Delta 9178T-AR-DST. it comes with modern features such as Touch20. this means that you can turn it on and off with just a touch on the spout. You may be thinking, "Is that so?"
Unlike most modern taps, the Delta 9178T-AR-DST has 3 different spray patterns instead of the usual 2. You can switch it from a concentrated jet to a laser-like precision jet to clean fruit and have more coverage. In addition, it also has a shield spray mode if you want enough power without the splash and mess. This can be done with just a button on the nozzle handle.
Want to know a cool feature? Usually, the water temperature tap can be adjusted with the handle. Alternatively, you have to do the guesswork and estimate the position of the warm water. With this Delta 9178T-AR-DST, you can see the temperature with its TempSense LED function. It's remarkable to see this on a traditional-looking tap, isn't it? You can use the handle to adjust the temperature and water flow. Plus, you can still benefit from any pull-down tap!
If you're worried about installation, this tap will fit any of your previous tap configurations. It is designed to fit either a 1-hole or 3-hole configuration. It also comes with an optional deck plate in case you need to mount it on a 3-hole.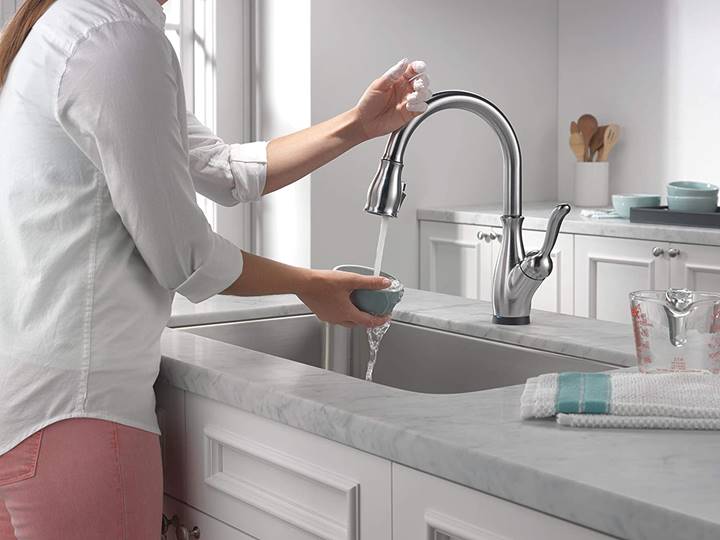 Delta 9913T-RB-DST Essa Faucet Single-Handle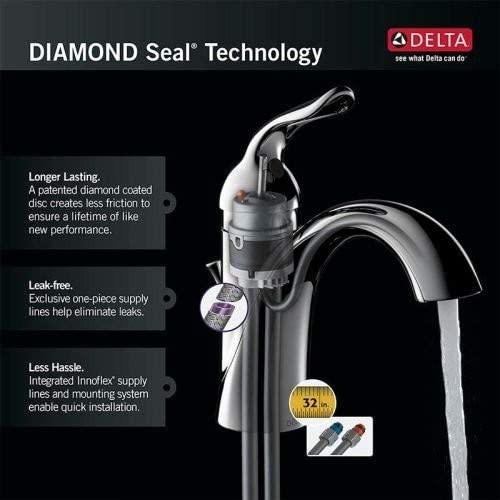 Pros
15" Height
360-degree swivel
62" Long Hose
Touch20 Technology
MagnaTite Docking
TouchClean Technology
TempSense LED Light
Made of Brass
Cons
Compared to the first tap, this one looks more modern. It has sharp straight lines that help it along, but it still has that traditional feel to it.
Similar to the first one on our list, this tap has a Touch20 function so you don't have to worry about messing up when your hands get dirty. Also, it's a bit of a '1assle', especially when your hands are full!".
The Delta 9913T-RB-DST Essa gives you 2 jet types to choose from. You can choose a more powerful stream so you can fill those pans faster, or you can go for a spray pattern so you can get more coverage and clean anything faster without putting too much water pressure on them. You can easily switch between the two using the button on the spray nozzle.
Just like the first tap in this review, the Delta 9913 Lower RB-DST Essa tap has a TempSense LED light feature that allows you to check if the water temperature is right. You wouldn't want it to be too cold in cold weather, would you? You can also use the handle to adjust the temperature and water flow.
If you're thinking about maintenance, this tap is equipped with TouchClean technology, so you can get rid of mineral residues and limescale build-up with just a touch of your finger. All you have to do is wipe it down to keep it looking fresh, rather than doing the usual treatment that traditional taps do.
This tap features Diamond Seal technology to reduce leak points and will last up to 500,000 uses. It is also easy to install and can be fitted in either a 1-hole or 3-hole configuration. This is great versatility!
Let's Watch The Delta Leland Kitchen Faucet Video Review:
Things To Consider
When buying a new tap, you need to pay attention to these things to ensure you make the right decision. Plus, paying attention to these factors will give you the best value for money.
Added Technology
Contemporary taps now come with different features to make everyday tasks in the kitchen more efficient. For Delta taps, you'll want to consider getting TouchClean technology so you can avoid having to clean the tap as you would with a traditional tap.
Another technology is the MagnaTite docking technology, especially if you are getting a pull-down tap. This will prevent the spray head from dangling after you have retracted it. Alternatively, the magnet will automatically attach the spray head back for you.
One thing to note: don't buy a tap just because it adds a lot of technology. You need to consider how you normally use the tap and the environment of your kitchen. That way, you can really feel the effect of the added technology.
Tap Sizes
This is often overlooked when buying a new tap. However, you need to be aware of the clearance you have in your kitchen. Your tap should take up too much space while allowing you to clean large pots and pans.
In addition, you need to consider the hole configuration of your previous taps. Although it's not a big deal, it will be easier to install a tap with the same hole configuration. If you really don't have a choice, you can have another hole drilled or you can have the unused hole covered with a sinkhole.
Tap Styles
This is one of the most important factors you need to consider when looking for a new tap. Remember, you won't usually be replacing a tap for some time. Taps are designed to last you for many years. With this in mind, you need to be sure that you are going for a style that you like. Especially if it goes with the theme of your kitchen.
Final Words
There are times when you will really like the aesthetics of a traditional tap. If you have tried one of the modern taps, they are really helpful and powerful. Happily, Delta's taps don't completely abandon the traditional look. Instead, they've simply improved on it by adding features that we'll all love. Plus, they make you more efficient in the kitchen! All in all, Delta is one of the few tap manufacturers to offer Touch20 technology, which is actually quite good. You can keep your taps looking neat and lean, even when your hands are away. In addition, they are one of the few manufacturers to have added TempSense technology. This is perfect, especially if you want to go the extra mile. Most of the Delta's features are actually impressive.
5 Thoughts On "2022 Delta Leland Kitchen Faucet Review And Buying Guide"