Best Undermount Stainless Steel Kitchen Sink
Views:255 ClassificationBlog
Best Undermount Stainless Steel Kitchen Sink
Stainless Steel Fusion is the material where you get durability and economy at the same time. Finding all of these qualities in a single product category can be very difficult.
However, if you know where to look, there is a lot more to it than durability and affordability.
Therefore, we will discuss here the best undermount stainless steel kitchen sinks that make up the top five on our list. For some extra value, we also include a buying guide for undermount stainless steel kitchen sinks and a few other topics
Hopefully, after you've browsed through this article, you won't need to go anywhere else.
Top Undermount Stainless Steel Kitchen Sink
When the product range is so wide, it is hard to come across the best undermount kitchen sinks made of stainless steel. But that's why you are here.
Here are the top stainless steel undermount kitchen sinks.
1. Ruvati Workstation Ledge Undermount Stainless Steel Kitchen Sink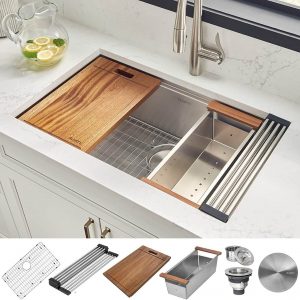 Highlights
Amazing design
Built-in Ledges
T-304 stainless steel
Industrial brushed finish
Best accessories
Noise control
Amazing optional accessories
It is one of the best designs for undercounter sinks. Together with the accessories, this sink gives you maximum efficiency and completeness.
The main component of the structure is a high quality 16 gauge stainless steel of T-304 grade. However, you will also find chrome and nickel. On top of that, you have a brush-finished kitchen sink, which is the best budget material to hide scratches while maintaining its initial luster.
This sink is available in six sizes-
15 inches
21 inches
23 x 19 inches
28 inches
30 inches
32 x 19 inches
The following accessories are provided free with the sink
Cutting board
Basket filter drain
Bottom rinse grid
Strainer
Clothes drying rack
Cutout template
Mounting clips
Of course, there will be an instruction manual that you'll never be able to read. There are also some excellent optional accessories, such as mixing bowls, pasta trainers and butcher blocks. The under-counter sink sill doubles as a slide for the accessories.
In addition to the accessories, this single bowl kitchen sink workstation, has many amazing design features. The rectangular sink has four recessed designs that are placed neatly so that there is no water in the sink.
But you don't have a garbage disposal in this kitchen sink. Thanks to its wood and smooth fittings, this tub looks great with expensive countertops. This makes it one of the best undercounter kitchen sinks for granite countertops.
Finally, you will have a lifetime warranty. You just can't ask for much more than that.
2. Frigidaire Undermount Stainless Steel Kitchen Sink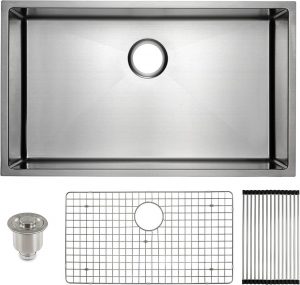 Highlights
Satin finish
High-quality durable sink material
Sound deadening pads
Condensation prevention
Versatile and durable accessories
This sink comes from the famous kitchen sink manufacturer. And Frigidaire knows how to make simplicity magical.
To cut down on the unnecessary costs they use, the designers used T-304 stainless steel. And this steel is quite tough and comes in 16 gauges or about 1.5 mm thickness. In addition, to add flexibility and style, 18% chromium and 10% nickel were added to the material.
This sink is available in three different sizes. They are –
23 inches
29 inches
32 inches
All these sizes will have a brushed finish, which also has a coating that minimizes sound. Unlike the previous sink, it has a 1O mm radius corner. But it carries the same X-shaped sink design.
Approved by leading chefs, the sink also includes the following accessories –
Rolling drying rack
Three baskets of strainers
Plate grid
All of the above are made of pure stainless steel. And the drying rack can also be used as a countertop protector.
Finally, we all know Frigidaire's customer care. Their experience has reduced the number of after-sales complaints. And when there are some, the manufacturer is very enthusiastic to solve them.
3. Kraus KHU100-30 undermount Stainless Steel Kitchen Sink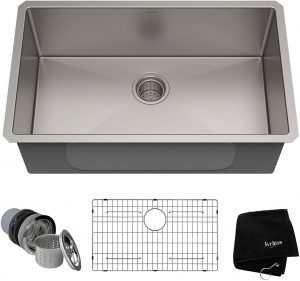 Highlights
Dent resistant steel
Commercial-grade satin finish
Non-toxic sound-guard undercoating
Gently sloped surface
Prevents condensation build-up
Beautiful sheen
Lifetime warranty
Again we have the solid 304 type stainless steel with 16 gauge material thickness. And this tough material will be coated by a commercial-grade satin finish. This finish not only looks good but also protects the main structure from corrosion and rust.
Moreover, this coating also reduces 80% of the noise. However, this soundproofing technology employs extra thick padding of nontoxic chemicals to do the job.
You can get this in eight sizes. They are-
14-inch kitchen sink
17-inch kitchen sink
21-inch kitchen sink
25-inch kitchen sink
26-inch kitchen sink
27-inch kitchen sink
28-inch kitchen sink
30-inch kitchen sink
Nonetheless, I would expect some larger sinks, such as 32 or 34 inches.
The floor of the basin is sloped so that even the long glass will not fall, but the drainage will be 100%. However, there is no groove there. It looks better, but it may cause problems in some cases.
The accessories included in the package are –
Multifunctional vegetable grate
Three piece basket strainer set
Mounting hardware
Premium Kraus Kitchen Towels
Kraus is known for its customer service. And this time, the sink comes with a lifetime warranty.
4.  Kitchen Sink Undermount Double Bowl Stainless Steel Kitchen Sink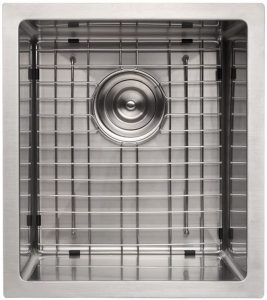 Highlights
Double bowl
Sleek look
Round corners
Patented design
Connect a garbage processor
mm rubber silencer pad
Prevents blockage
The entire structure, including the bowl, is constructed of the highest quality stainless steel with T-304 section. This steel is 16 grams thick. You will only have one finish. But this finish comes with a complete anti-rust and anti-fouling coating. This coating also makes it very easy to clean.
The design of the sink floor ensures maximum drainage. It has a lightly sloped bottom with an X-shaped slot. We know this is the best design for drainage and Loader patented it. It also has curved corners that complement the look.
One bowl is smaller than the other. It's hard to see in the picture, but this creates all the advantages of a bar sink.
You can have this double bowl undercounter kitchen sink in two sizes –
32 W x 19 D x 10 H,60/40
33 W x 19 D x 10 H,50/50
There will also be some accessories that come with the sink. They are –
Steel cutlery
Drainer assembly
Cotton apron
Oven gloves
Oven gloves
All these matching products are made of fine 304 quality stainless steel.
It has a 3mm rubber liner to eliminate noise, making it one of the best undercounter mounted sinks. Plus, with the garbage disposal, you can easily clean the kitchen sink.
5. Houzer STS-1300-1 Eston Series Undermount Stainless Steel Kitchen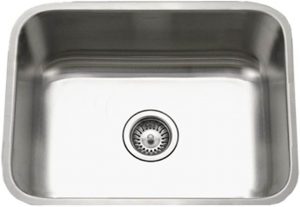 Highlights
Budget option
Lifetime warranty
Silencer pad
Impurity resistant finish
MegaShield Insulation
18 gauge steel thickness
When I saw its super low price, I just had to check it out as a reviewer. It seems to offer way more per dollar than any other undercounter kitchen sink on this list.
It is the only product on this list that offers you the thickness of 18 gauge steel while using the same type 304 stainless steel. However, in the final finish there is a mix of nickel and chromium. These allow the sink to resist various impurities. In addition, it requires little maintenance to maintain its stunning appearance.
The model will also help you recover if you move to another home.
There is also a thick natural rubber pad. It reduces all sounds from the sink. Even as a budget option, this faucet gives a second layer of insulation to have the best noise cancellation issues. This insulation layer also helps to prevent moisture damage at the bottom of the sink.
You can have this crazy product in two sizes –
23″ x 17.75″
21″ x 15.75″ x 9″
This no-frills kitchen sink has the best look in the list of the best undercounter sink faucets.
However, I don't like the fact that there is no obvious contribution in terms of accessories.
As you know, there are many types of sinks. Therefore, before choosing one, you should know the pros and cons of undercounter kitchen sinks.
Pros And Cons Of Undermount Kitchen Sinks
Pros
Beautiful appearance
Easy to clean
Provides a budget solution for stylish countertops
Disadvantages
Installation can be a bit difficult and a professional's job
All countertops may look different
Look closely and you'll see that the cons are mostly one-time obstacles, but the pros are ongoing
Best Undermount Stainless Steel Kitchen Sink Buying Guide
Here is a list of things to look for when buying a kitchen sink. And this list is narrowed down for stainless steel sinks.
Thickness of Steel
Generally, material thickness measurements are shown in gauge sizes. In the article here, you may have seen a reference to 16 gauge steel. This measurement is a balanced choice between weight and durability.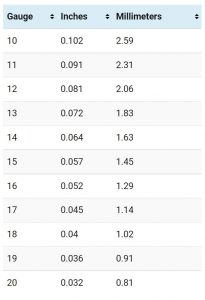 If you don't have a good idea of the specification criteria, here's a table to help you out.
You may have also noticed that the gauge measurement is inversely proportional to the gauge number. Therefore, any gauge around 16 gauge is very good.
Gutter Design
Without proper gutter design, food trails and other debris can build up in the sink. This is common when you are pouring tea or coffee into the sink.
Corner design
Corner design is primarily a cosmetic consideration. However, if you have a busy kitchen, plain corners are better than rounded corners.
Size
Now, this is a very critical thing. If you get your proportions wrong, there should be a lot of hustle and bustle.
First, measure the space on your counter that will accommodate your sink. The length and weight of the sink should be determined by the space available on the counter. However, the depth or height of the sink depends on your tastes.
Since this is an undermount kitchen sink, you don't need to give a lot of attention to the faucet holes.
Accessories
If you are purchasing a sink for $150 or $180 or more, you should expect a variety of accessories to enrich your undermount kitchen sink experience. Here are some of the accessories you should look for
Cutting boards
Basket style filter drainer
Bottom rinse grids
Strainers
Drying racks
Rolling drying rack
Multifunctional cutlery grid
Mounting hardware
Kitchen towels
Drain assembly cotton apron
Oven gloves
Oven gloves
Okay, you probably won't have all of these things in one order. However, any three or four of these pieces should be sufficient. But mounting hardware should be necessary to facilitate installation.
Finishes
Finishes for sinks serve two purposes. They are – to
Protect the main components
Look beautiful
While the first benefit is largely silent, it is much more important. A good finish will protect your sink from rust, corrosion and water marks. It will also prevent noise and dents.
Next, the finish of your sink should be outstanding. Undercounter sinks look amazing when they contrast with the countertop. But you need to pick the right finish to achieve the best results.
Noise Elimination
Without any noise elimination process, stainless steel can be quite noisy. This is why you should look for undercounter kitchen sinks that have good padding. There should be a thick layer of insulation that reduces the speed and frequency of the sound waves to reduce the sound output.
Brands
There are some brands that are known for creating the best undercounter sinks. Here is a list of all the top undercounter sink brands on the market –
Ruvati
Frigidaire
Kraus
Lordear
Houzer
Top sinks of this brand are reviewed in the review section.
Frequently Asked Questions
Here are some questions from our enthusiastic readers that may also be of interest to you.
What is a dashboard?
A: If you are not from the United States, the lack of information on this subject is understandable. Here, we use gauges to measure the thickness of any surface. 16 gauges are approximately 1.5 mm thick.
What is unique about the satin finish?
Satin finish has a unique luster that is soothing to the eye. It can be either flat or shiny, depending on the light conditions in the room.
What is an angled kitchen sink?
A rimless kitchen sink is the same as an undermount kitchen sink.
What is a workstation style kitchen sink?
A: A workstation kitchen sink is where you do a lot of prep work and manual cleaning, such as cutting, draining and preparing fruits or vegetables.
Q: Is a deep basin good?
A: If you use it as your primary kitchen sink, a basin that is too deep is not a good choice.
A Different Approach
If you have complaints about the look but still want the durability of stainless steel, you can choose stronger, better-looking materials such as granite and quartz. But these can be expensive.
So here's a budget solution for you. Check out this sink-
Elkay Quartz Classic ELGU2522WHO Single Bowl Undermount Sink, White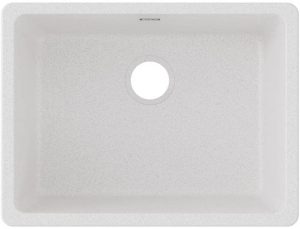 Highlights
Rich finishes
A smooth look under your countertop
Timeless, classic style
Flexibility in equipment color
This is the best single bowl undermount kitchen sink. The rim you see in the picture is actually going to be under the countertop. And the rest will have a stunning premium look.
And that look comes in seven amazing colors. They are –
Bronze
Black
Dusk gray
Beige
Greystone
Mocha
Hickory
Oil Gray
Sand
White
No matter the color, the corrosion and stain resistant coating will always be present to maintain the impressive appearance of your kitchen sink faucet. So there will never be a knock, chip or scratch. It's also heat resistant to 535 degrees Fahrenheit.
With a 3.5-inch drain size, you have a pretty good single-bowl configuration. In addition, you can choose the color of the drainage unit to match your sink and kitchen equipment.
The material is also very quiet. You won't have loud banks when someone is working in the kitchen.
Final Words
Here you have the complete encyclopedia to find the best undercounter stainless steel kitchen sink.
Remember, a sink is a one-time investment. You won't be changing it every other day. Keeping your kitchen style in mind, also care about the efficiency that undercounter sinks offer.
And that should be all you need to know.