5 Best Under Sink Water Filter for Well Water in 2021
Views:272 ClassificationBlog
5 Best Under Sink Water Filter for Well Water in 2021
You don't want to take chances in the water. No one will take care of you if you don't take care of your family and yourself. And clean water is not only vital to your health, but to your financial and personal life as well.
That's why we didn't make price our primary focus when choosing the products we reviewed. We chose the best under sink well water filter. However, the competition in the market gave us some good options to ensure that we get the most output for our money.
Try to understand everything we've pointed out here. This will help you understand more about your water and the process you use to treat it.
Best Under Sink Water Purifier Reviews
The products reviewed are the top of the line. While some of these products give you significantly more value than others, the main feature of all of these products is the best: filtration.
Before we move on to the product details, let's take a quick look at the basic product features in the table below.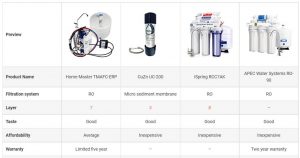 Home Master TMAFC-ERP Artesian Full Contact Undersink Reverse Osmosis Water Filter System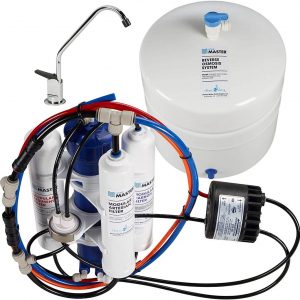 This is not your ordinary filter. Advanced reverse osmosis systems use a catalytic carbon pre-filter that separates out microscopic components that even most other reverse osmosis filters can't do. Therefore, any kind of harmful substances in the water such as chloramines, heavy metals, TDS, chlorine and other harmful chemicals will not be a problem.
However, one of the artesian well patents allows the filter to reduce mineral deficiencies by adding calcium and magnesium minerals. By adding them naturally at two different stages, the filtration system prevents tank degradation and improves taste by balancing the pH level.
You'll have 2,000 gallons of filtration capacity, which should last you a year or more. It is a modular filter design that allows you to treat the entire filter every year. As a result, it reduces sediment, microbial and biofilm buildup.
Its flow rate is almost twice that of most other RO filters. In addition, water waste is reduced by 80%. Installation is simple, and annual filter replacement is straightforward. Here's what you'll have in the main water purifier box-
Water storage tank
Drain saddle
Chrome face faucet
3/8″ feedwater adapter with shutoff valve
Reverse osmosis adapter
Instruction manual
Finally, this American-made product will also provide you with a five-year limited warranty.
Here Are The Main Pros And Cons Of The Home Master TMAFC-ERP Water Purifier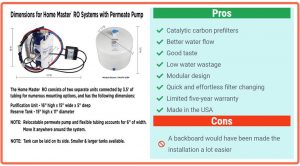 CuZn UC-200 Under Counter Water Filter – SOK Ultra High Capacity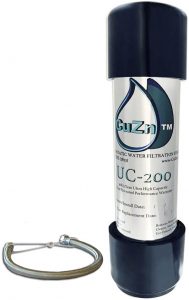 CuZu's UC-200 is probably the most successful filter on the market. It is widely acclaimed by users and has a good acceptance in all markets.
The main reason for this may be that CuZu does not make promises that it cannot keep. So there will be places where the filter doesn't perform, but the manufacturer makes them clear. And it leaves a mark where it performs.
They also have excellent customer service to make sure you can install and maintain your filter. So there are no extra plumbing costs.
On top of that, they have a 90-day money-back guarantee and a professional five-year performance guarantee.
You couldn't ask for better service!
How about let's take a look at the filtration section.
The filter has two types of media packed inside a micro-sediment membrane consisting of sand and undissolved particles. The two media are acid-washed coconut shells with activated carbon and KDF-55. The former targets organic contaminants and microorganisms as well as bad odors and tastes, and the latter targets heavy metals and inorganic materials such as lead.
But don't test your water with TDS or PPM because the filter won't soften the water, which is basically stagnant water and bad for your health. You can use a chlorine test strip. In addition, the filter is immune to bacteria and mold.
Here Are The Main Advantages And Disadvantages Of The Cuzn UC-200 Water Purifier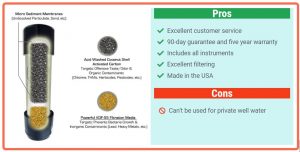 ISpring RCC7AK 6- Stage Under Sink Reverse Osmosis Drinking Water Filter System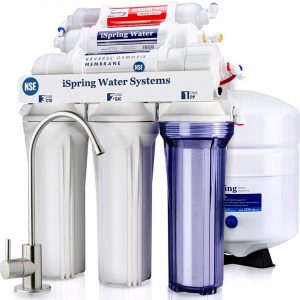 RCC7AK has the most sophisticated filtering system. It definitely offers you more than you pay for.
It has a six-stage RO filter. But before that, there are three pre-filters. They are –
PP sediment filter
Drain saddle
Carbon block filter
These filters separate large particles. They are in transparent housings so you will know when to replace them.
After these three layers, the water enters the reverse osmosis membrane, which filters the water down to the molecular level, measured to 0.0001 microns. As a result, lead, chlorine, chloramines, arsenic, fluoride, mercury, sodium, and virtually nothing else can enter the water.
However, the filter remineralizes the water in the sixth stage of the reverse osmosis membrane to maintain the natural alkaline balance. This process preserves the health benefits and taste of the water.
Here is some more information from the manufacturer-
Water Pressure: 45 PSI – 70 PSI
Operating water temperature range: 40 – 100 °F
Maximum TDS: 750 ppm
We have also prepared the following in relation to the filter-
5 gallon pressurized water storage tank
Lead-free brushed nickel faucet
Drain saddle
Water detector
4 colors of tubing
Spare Parts
Type 0 ring
Water supply adapter
The installation process is also easy DIV. and the customer service line is always there for you. They give a lifetime personalized support guarantee. But don't take this as a guarantee, because there is no guarantee.
Here Are The Main Pros And Cons Of The Ispring RCC7AK Water Purifier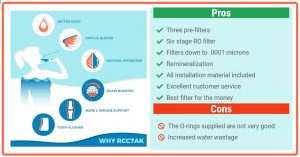 APEC Water Systems R0-90 Ultimate Series Reverse Osmosis Drinking Water Filter System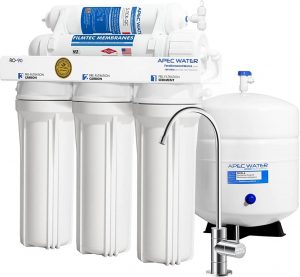 This water purification system is a reliable source that fits your budget. This American-made product is said to have been developed for areas that suffer from chronic water pollution. As a result, its durability surpasses everything else.
The filter also has a WQA certification. This is a great comfort because they are bound by law to certify only filters that can remove 99% of the contaminants from the water.
Regarding the goal of the contaminated area specialist, this filter can work at twice the rate.
Lead-free design faucets
JG Food Grade Tubing
JG Quick Connect fittings
These fittings work really well and cause almost no leaks.
Again, for an average American home, this filter will easily last through 12 months. When it comes time to replace the filter, you will find it very easy to pursue the change.
Finally, with registration, there will be life support from the manufacturer and a two year warranty.
Here Are The Main Pros And Cons Of The APEC Water Systems R0-90 Water Purifier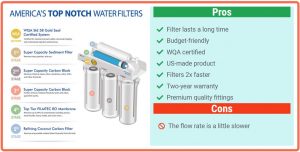 Home Master TMHP-L Hydroperfection Loaded Undersink Reverse Osmosis Water Filter System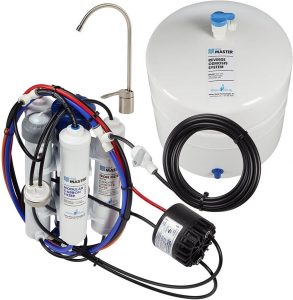 We've included this last item for those who want a little luxury in their kitchen. But before we get to the luxury part, let's evaluate its main feature: filtration.
Like our first Homemaker product, it features a modular design. This design ensures maximum flexibility. It also extends the life of the filter, as well as the ease of changing it. And you need to replace it after two thousand gallons, which is about a year's worth of water supply.
With a slight increase in price, you get a nine-stage filtration system. First, an advanced redox media KDF85 iron pre-filter protects the reverse osmosis membrane from large debris. Second, you'll have a catalytic carbon prefilter, which mixes with the other media. And the third one is a sediment filter.
After those three, you'll have a five-layer RO filter, which filters the water at the molecular level. And finally, there's a unique UV filter, which according to the EPA, is the best filtration process. So, you're dealing with the most advanced filtration technology here.
However, there is also a remineralization process in the filter to make it taste better.
Finally, there is a five-year limited warranty. For the price, this is a very good deal.
Here Are The Primary Pros And Cons Of The Home Master TMHP-L Water Filter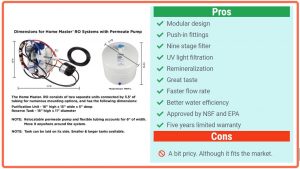 Under Sink Water Purifier Buying Guide
Here are some facts that are essential when choosing an under sink water purifier. When you purchase a new under sink water purifier, use these attributes as a checklist and check them out.
Affordability
When it comes to water purification, you may not think about money. However, you can find a better deal for the same amount of money. So, if you have time, you can research the best value for your money. Otherwise, you can just pick one from the list.
Filtering Process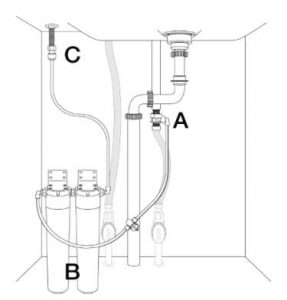 Our listings show that we support reverse osmosis (RO) water filtration processes. However, general multi-stage media filters are also useful for certain applications. However, you must pay attention to the type and quality of the media.
Filtration Stages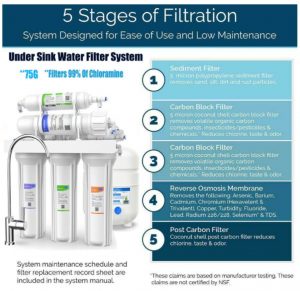 An RO membrane should have four or more layers. Five layers is the average.
Also, RO comes with some pre-filters. Typically, there are two or three pre-filters. This will give you a seven or eight stage water filter. There can be some additional filters, such as UV.
Filter Media
Both RO filters and media filters have more or less filter media. The best quality media is –
Catalytic carbon
KDF-55
KDF85
Coconut Shell Carbon Media PP Sediment Filter
Carbon block filter
Sediment filter
The molecular filtration efficiency of ordinary filters is not high.
Remineralization and water taste
Demineralized water has a terrible taste. It also reacts with your water storage tank and other plastics to create a very unpleasant odor. Heavy metals and other chemicals from inside the storage facility can leak into the water.
To prevent it, the filter naturally adds some minerals, such as magnesium, to improve the taste. It also prevents the water from being reactive.
The Filter Installation And Replacement Process

Installation should not require a plumber to do the job. Make sure you have the correct measurements and have the right tools. The filter should have a capacity of about 2,000 gallons so that it will last for a year.
And that means you will have to replace the filter no more than once a year. Look for replacements, which should not be too expensive.
How To Install Aquasana AQ- 5200 Undercounter Drinking Water Filtration System
Certification
Many organizations, such as NSF or EPA, certify filters. The government certifies many processes. They test water for heavy metals such as lead and microorganisms. Their certification is a great benefit for water purifiers.
Warranty and Customer Support
Most filter companies show confidence in at least a one-year warranty. However, this is not a rule of thumb. Regardless of the warranty period, consumer support for water purifiers must be great. They should provide easy replacement and online support for the life of the product.
Conclusion
When it comes to your health, you don't want to compromise. And water is just as important as it is. Therefore, you want the absolute best under sink water purifier for well water.
In terms of price, you'll be hard pressed to find a better deal than the ones mentioned on our list. So, stop living with the uncertainty of water. Find one yourself or pick one from the list. Don't wait for your health to go bad.