The Best Touchless Bathroom Faucets for Commercial Use
Views:209 ClassificationBlog
Are touchless faucets in commercial bathrooms more hygienic? A survey conducted by Kohler among 2,000 US adults (June 2020) found that 76% of participants thought touchless faucets were more hygienic. Another statistic depicts that "touchless" and "hands-free" are the two most searched terms on the Grohe website. This illustrates how demanding touchless taps can be, especially for commercial bathrooms.
Getting the best commercial touchless bathroom faucets is essential to add value to any space. Not only is it hygienic, it also provides water on demand, reducing waste and saving commercial costs. These features make touchless bathroom faucets the ideal choice for commercial bathrooms designed for many users.
Since it's all about getting the best, let's take a look at some of the top recommendations here.
Benefits Of Touchless Bathroom Faucets
Touchless bathroom faucets offer huge advantages, especially when it comes to commercial or public use. Some of the most important advantages include.
Provides hands-free operation, offering a cleaner and more hygienic experience
Limits the spread of bacteria and germs
Shorter clean-up times
Saves water and energy, reducing overall business costs
Handicap friendly
ADA compliant
Modernises bathrooms and adds value to any property
Touch Taps vs Touchless Taps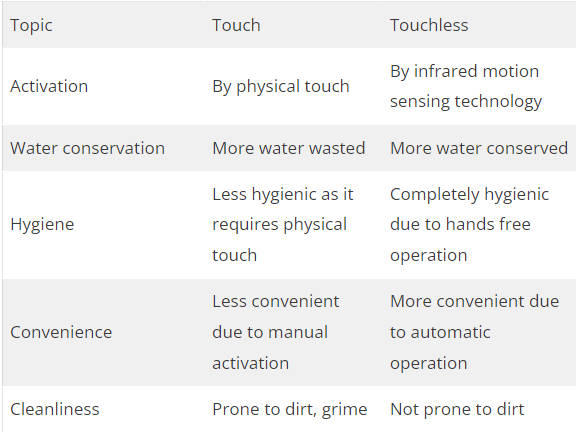 Reviews of 8 Best Commercial Touchless Bathroom Faucets
For commercial spaces, there are plenty of hands-free bathroom faucets to consider. Well, don't worry, we've narrowed down the list, and here are the best available options.
Amazon Commercial Electronic Sensor Faucet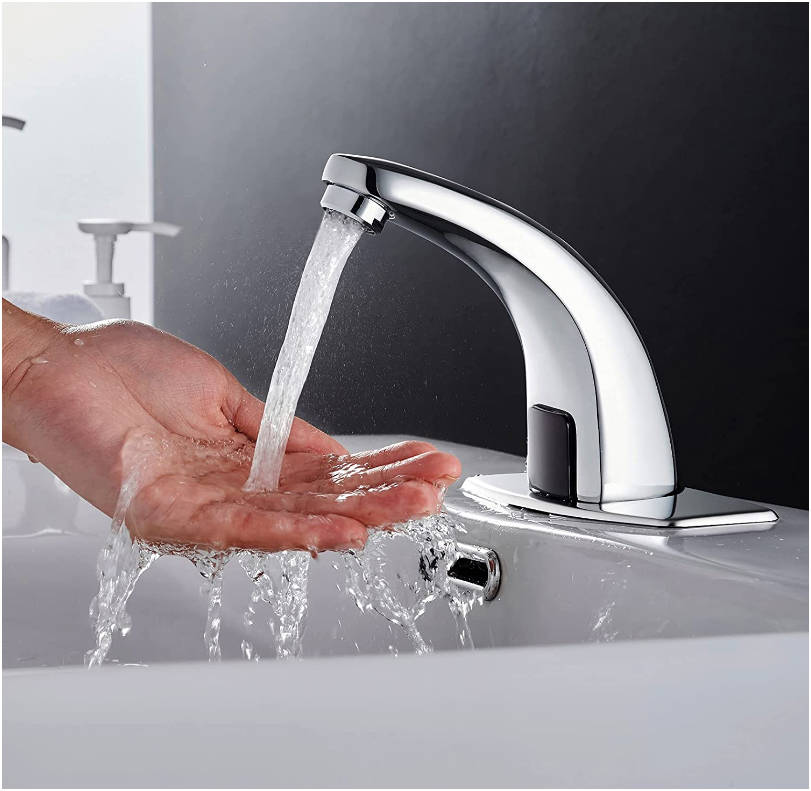 Key Features
Electronic motion sensor bathroom faucet
Includes aerator
Polished chrome finish
318″ pressure
GPM capacity
If you're looking for a touch-free, splash-free bathroom faucet for your commercial space, the AmazonCommercial Electronic Motion Sensor Faucet can be a real find for you.
This electronic sensor faucet is the perfect upgrade for any bathroom. It is equipped with built-in motion sensor technology and water will only come out when your hand passes over its sensor. The touch-free operation also curbs the spread of bacteria.
The Amazon commercial tap has a metal construction with a shiny chrome finish. As a result, you get durability as well as a streamlined look that effortlessly matches the existing décor. It offers easy cleaning and reduces water waste. The water output capacity is excellent and the splash-free aerator adds value to the tap.
2. HALO Commercial Touchless Sensor Bathroom Faucet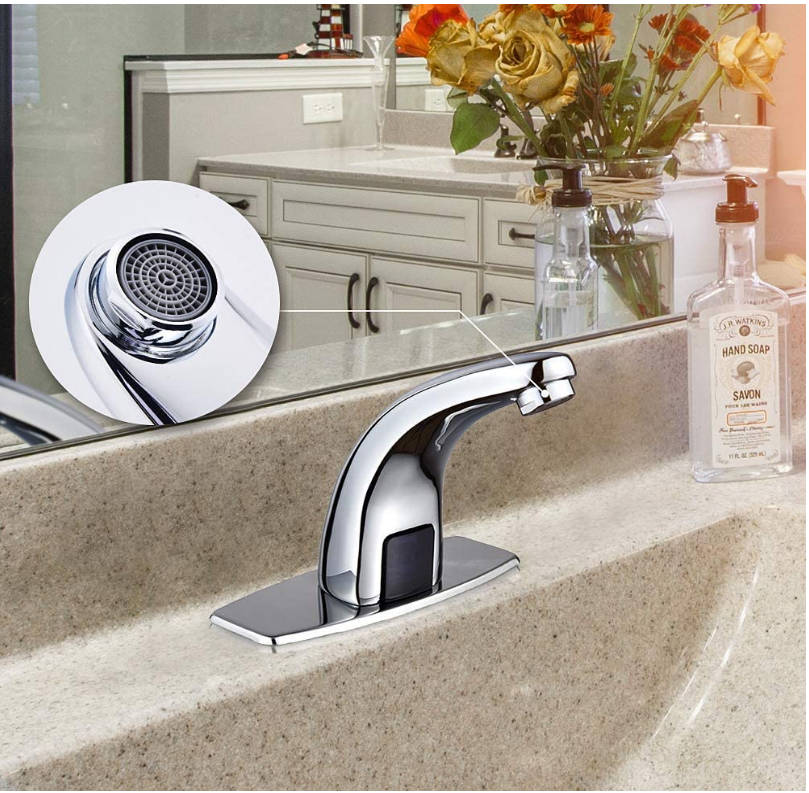 Key Features
The automatic infrared sensor control
Chrome-plated high grade brass body
Includes temperature mixing valve
The maximum flow rate of 2 GPM
Countertop mounted
The HALO Touchless bathroom mixer is ideal for commercial bathrooms. It features industrial-grade brass construction and a chrome-plated finish. As a result, it is highly resistant to corrosion, rust and heat, providing long-lasting performance. It looks glossy and can be cleaned with ease.
The intelligent sensing feature detects hand movement from a distance of 4″ to 8″ (adjustable), activating the water flow immediately and stopping it once you move your hand away.
The temperature mixing valve is a great addition and the built-in check valve helps you avoid hot and cold water backflow. The soft honeycomb bubbler does not allow water to splash and also filters impurities from the water. It comes with all the accessories needed for easy installation.
3. Delta Touchless Commercial Bathroom Mixer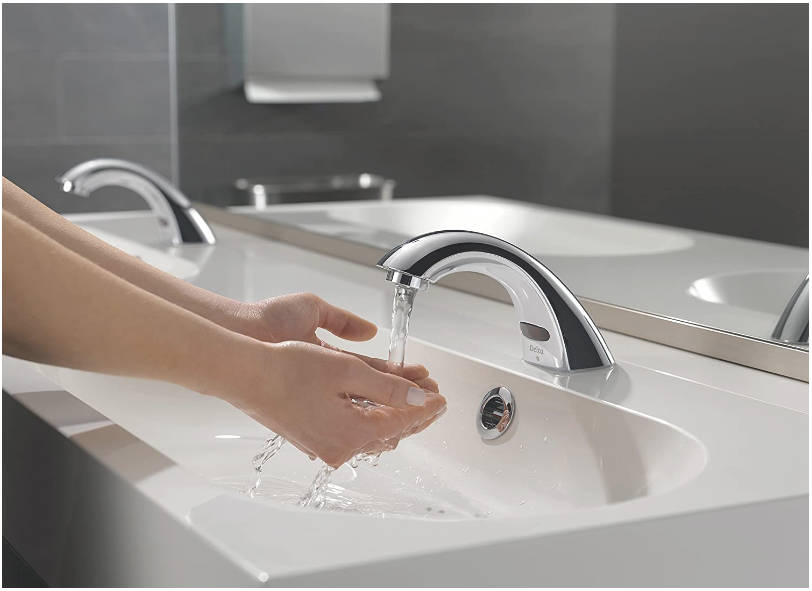 Key Features
Sensor-based touchless operation
Metal construction with chrome-plated finish
The maximum flow rate of 0.5 GPM
Single hole deck mounted
Low battery indicator
Low GPM, high water efficiency touchless bathroom faucets can be ideal for commercial bathrooms. You can take a look at Delta's Touchless Bathroom Faucet, which is a perfect upgrade.
This automatic sensor tap allows for hands-free operation and perfect hygiene practices. Featuring a metal construction along with a chrome finish, this faucet offers elegance, durability and easy cleaning.
The shape of the single-hole deck-mounted plug makes it easy to install. This battery-powered tap has a low battery indicator. It has a decent water dispensing capacity, but unfortunately, no temperature mixer is included!
4. Greenspring Touchless Bathroom Sink Mixer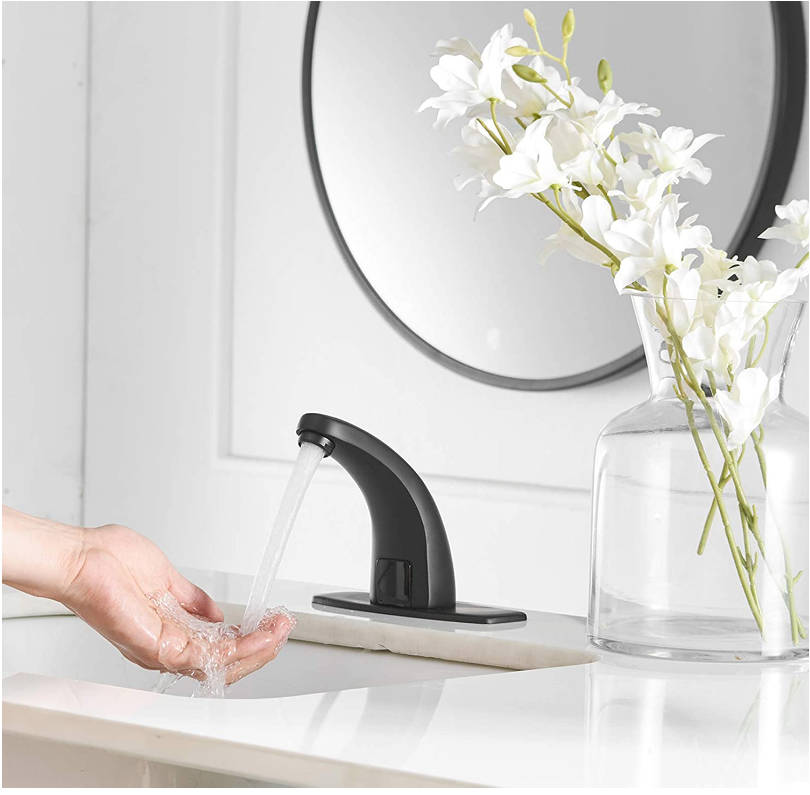 Key Features
Contactless infrared sensor tap
Brass body with ABS tap head
Temperature mixer
Countertop installation
Adding a matt black touchless bathroom faucet can be a great upgrade to your bathroom. For this reason, the Greenspring touchless bathroom faucet is worth considering as it offers classic style and touchless convenience.
This smart infrared sensor tap relies on motion sensors to work and prevent cross-contamination after cleaning.
It includes 100% brass construction and a mirror finish plating. So it resists fading, rusting, corrosion and high temperatures. The tap head includes a honeycomb spout design for soft, splash-free water discharge. It also saves water and is easy to clean.
What you get is a contactless bathroom tap with temperature control. It includes a temperature mixer and a hot/cold water hose. It includes all the accessories needed, including mounting hardware, control box, etc. (except for the drain).
5. Modundry Commercial Touchless Bathroom Faucet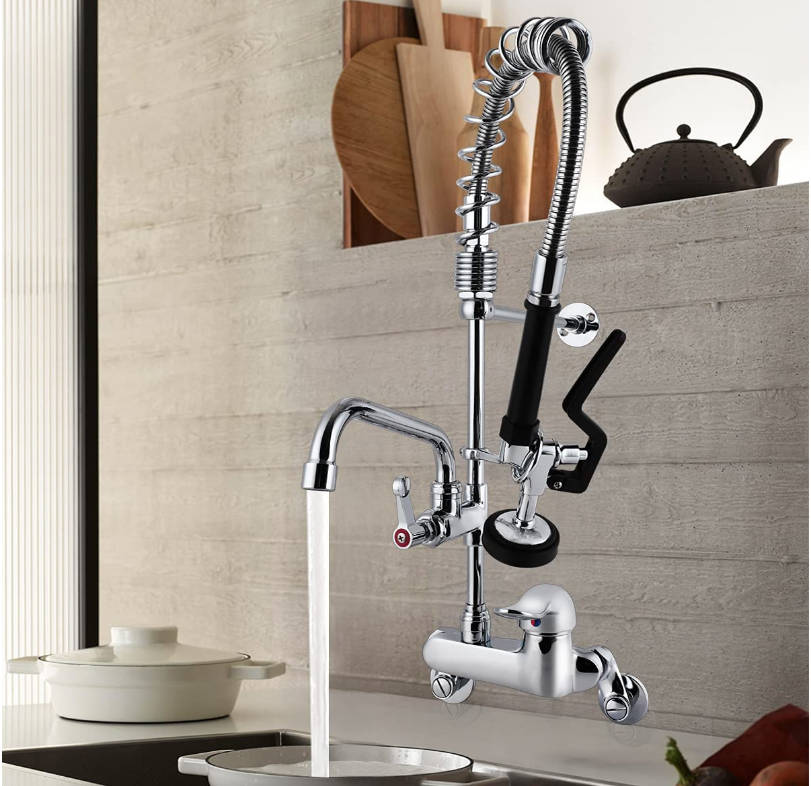 Key Features
Touchless infrared sensor taps
High-grade brass construction with chrome-plated finish
Temperature mixer for hot and cold water
Brass screw cap
Countertop mounted
The Modundry commercial touchless tap can be a great addition to any commercial bathroom.
It is equipped with a working perfect infrared sensing mechanism that provides touchless convenience. The pre-set sensing distance is 5.9 inches, so the water starts flowing when you approach the tap and stops when you exit
This tap is made from solid brass with a chrome-plated finish and includes lead-free construction. As a result, you can expect a durable, hygienic and commercial-grade performance.
Includes a temperature-controlled thermostatic mixing valve for hot and cold water. It also comes with all the necessary fittings for easy installation. Please ensure that the sensor is correctly adjusted during installation.
6. HHOOMMEE Commercial Touchless Bathroom Faucet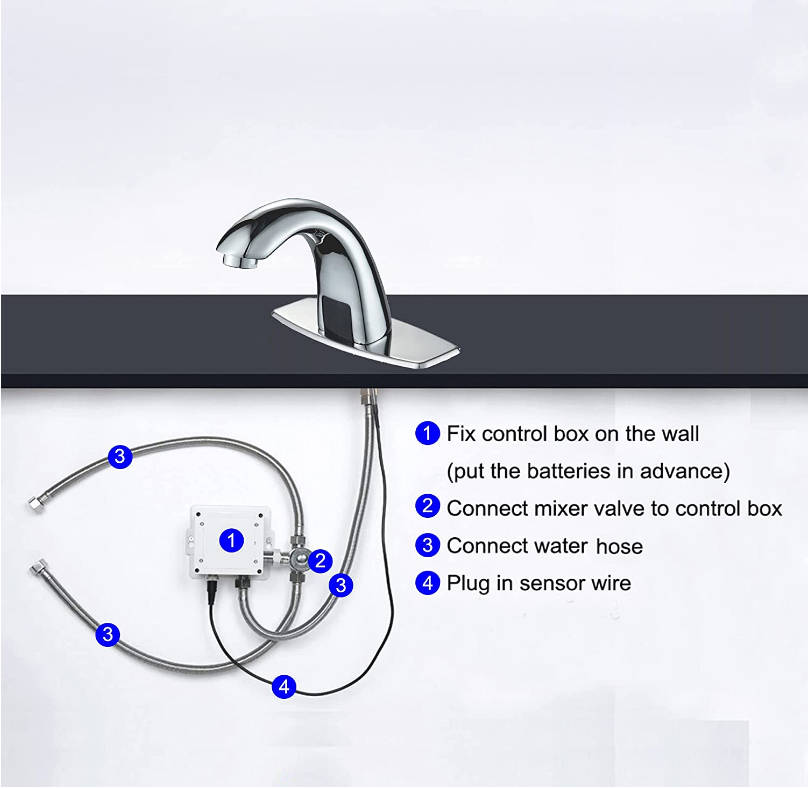 Key Features
Infrared motion sensor bathroom sink mixer
Brass construction with chrome-plated finish
Single-hole installation
Mixing valve for temperature regulation
Experience the touch-free convenience of the HHOOMMEE touch-free bathroom mixer for your commercial bathroom, washroom or break room today.
You may also want to consider this automatic sink mixer for home use.
This hands-free automatic sink mixer has a pre-set sensing distance of 5.9 inches. Therefore, it will automatically dispense water once motion is detected within this distance and stop when it is not.
This tap aerator includes a soft water design that prevents splashing and saves water. It also ensures good water flow quality, low noise levels and maximum resistance to lime. You do not need to dismantle the aerator during cleaning.
It has a solid brass construction with a chrome finish. This tap also includes a hot and cold water mixer with a check valve. There is also a deck plate and other accessories required for easy single-hole installation.
7. PRIMSOPH Black Touchless Bathroom Faucet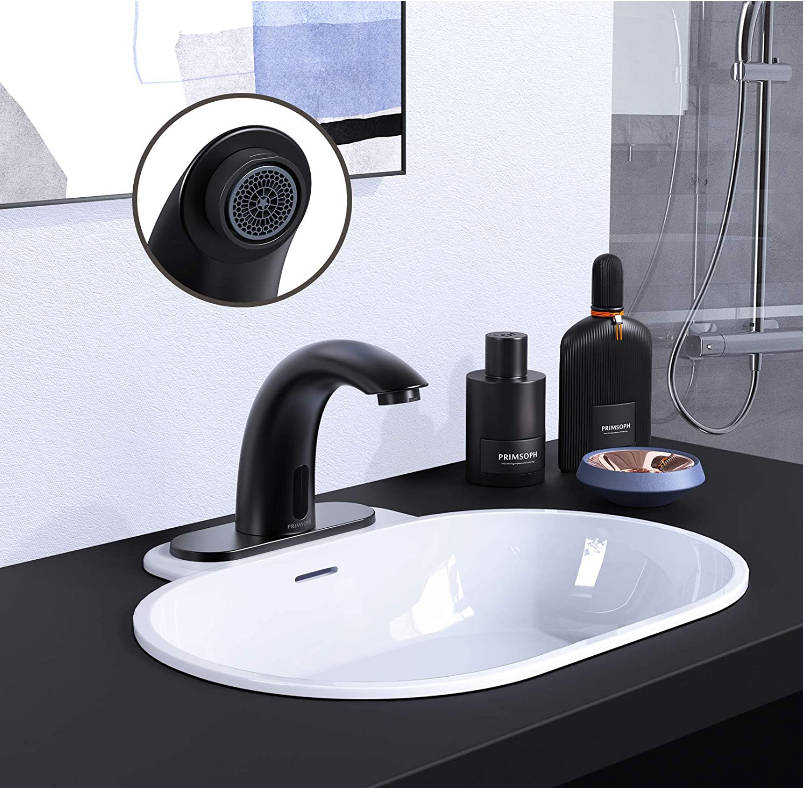 Key Features
Touchless infrared sensor tap
Brass construction with polished chrome-plated finish
Includes temperature mixer
Countertop mounted
Come and see how a cool black touchless bathroom mixer looks? Try the PRIMSOPH black touchless bathroom mixer for convenient and efficient performance.
It comes with infrared sensing and can be switched on/off automatically. This is an ideal hands-free lavatory tap to prevent cross-contamination in your high-traffic premises. It also saves water and curbs overall business costs.
The tap has a solid brass construction with a black matt finish. It includes a cold and hot hose and temperature-regulated temperature mixer. You will also get the fittings needed for easy deck installation. It is a perfect choice for public toilets, commercial washrooms or for domestic use.
8. Simi Electronics Touchless Bathroom Faucet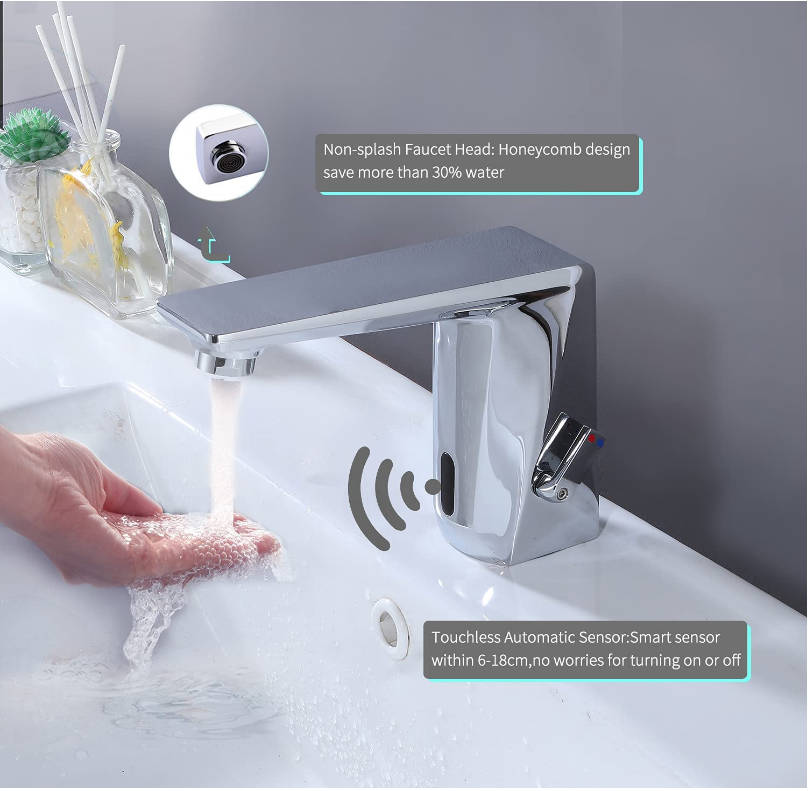 Key Features
Touchless operation based on infrared motion sensors
High-grade brass construction
Includes temperature mixer
The maximum flow rate of 2 GPM
Single-hole installation
Now back to the chrome-finished mixer again, this is the Sanimi Touchless bathroom mixer. It is made of high-quality brass with a solid chrome-plated finish. It maintains a smooth touch and resists rust and corrosion for long-lasting performance.
It is an infra-red-based movement bathroom tap that starts flowing immediately after motion is detected. The tap stays clean and prevents cross-contamination.
It includes a temperature mixer and also includes a hot and cold hose that can be adjusted for temperature. The kit includes all accessories and is practical and easy to install.
How To Install A Touchless Bathroom Faucet
The following steps are required to install a light touch bathroom tap.
First, remove the old tap. Loosen the nut on the inlet pipe under the sink. Use a flipper or socket screwdriver. Once it has come off, remove the tap.
Now fix the control box bracket for the new tap in a suitable place by drilling the appropriate holes. Next, connect the hot and cold water pipes from the tap to the outlet of the control box. Then fix the main water pipe to the control box inlet and valve.
You can now unpack the contactless mixer and mount it on the basin hole using the plate. As the control box is fixed to the bracket, you can now connect the sensor wires.
Finally, remove the top cover and install four AA batteries in the control box, or plug in the transformer if required for an AC connection.
Best Commercial Touchless Bathroom Faucets Buying Guide
What are the features that make up the best touchless taps for commercial bathrooms? Let's find out.
Materials And Finishes
The material of the tap is important as it affects durability, quality and maintenance factors. Stainless steel and brass are two common materials as they are robust and durable. You can combine it with different finish styles. However, chrome lacquer is the most popular style for contactless bathroom taps.
Sensor Accuracy And Adjustment
As light touch bathroom taps use motion sensor infrared technology, it is important to ensure that the sensor is accurate. The factory set distance is typically around 5.9 inches, meaning that the tap should automatically activate once an option within this range is detected. Although most non-contact taps have a fixed sensitivity, there are options that allow for adjustment.
Lower Sources
Touchless commercial taps require a power source. While most are battery-powered, some options require AC power from the nearest electrical outlet. Battery-powered taps are more convenient; however, you will need to replace the batteries over a considerable period of time.
Flow Rate
The maximum flow rate or gallons per minute (GPM) is another important factor. Most commercial hands-free taps today have a flow rate of less than 2 GPM to save more water. Contactless waterfall taps come with low flow rates and a cascading effect. In general, the optimum range for contactless taps is 0.5 GPM – 2 GPM.
Water Temperature Mixers
The temperature mixer or control component is a key feature to check. Make sure the tap includes hot and cold hoses, a control box, a temperature mixing valve and a check valve.
You should also consider getting a faucet that dispenses soft water without splashing. A soft water tap head saves water waste while being user-friendly.
Frequently Asked Questions
How Do Touchless Taps Work?
Touchless taps work on the principle of motion sensing. When the sensor detects the option, the valve in the tap engages the water flow through a rubber-like sc. And if no signal is detected, the valve is closed.
What Are Some Common Contactless Bathroom Tap Problems?
Some of the most common problems with touchless taps include leaking or dripping water, activation problems, water flow not stopping and rapidly draining batteries.
How Do I Remove The Aerator From A Touchless Bathroom Tap?
To remove the aerator, unscrew the aerator from the tap spout by hand or with a screwdriver. As most aerators are screwed on by hand, you should unscrew them in the same way.
How Do I Maintain My Non-Contact Bathroom Taps?
To maintain your contactless taps, clean the sensors and tap components regularly. Also, replace the batteries on time. You can perform an occasional deep clean with the help of a plumber.
How Long Is The Battery Life Of A Contactless Bathroom Tap?
This depends on the make and model of tap you choose. Generally speaking, the batteries in a tap should last around 7,000 cycles, which is two years for domestic use and around 8-10 months for commercial use.
Final Thoughts
If you have a bathroom for many people, you must find the best commercial contactless bathroom taps for your space.
In this article, we have brought you some of the best options. Any of these can save you money while helping you to maintain proper hygiene.
As we wrap up, we hope you are now well informed to make the right choice for your touchless commercial bathroom taps.