Complete Guide – Best Sink Strainers for Your Garbage Disposal
Views:184 ClassificationBlog
Complete Guide – Best Sink Strainers for Your Garbage Disposal
If you're looking for a strainer for your sink, you've probably noticed how difficult it can be. There is a wide variety of seemingly simple little things, and it's important to recognize which one best meets your needs, as this can be a one-time investment.
The effectiveness and usefulness of a filter are determined by its intended purpose. So, how do you know which one is right for you? Look no further, because today I'm going to give you a step-by-step guide to buying the best sink strainers for garbage disposal so you can make your own decision.
Review your options for the best sink strainers for garbage disposal
As I said before, there are several options to choose from. To save you time, I've put together a list of the five best kitchen sink food filters below.
Serene Valley 3-1/2 Inch Kitchen Sink Strainer Assembly With Matching Color Plugs For Granite Or Fireclay Sinks (Black).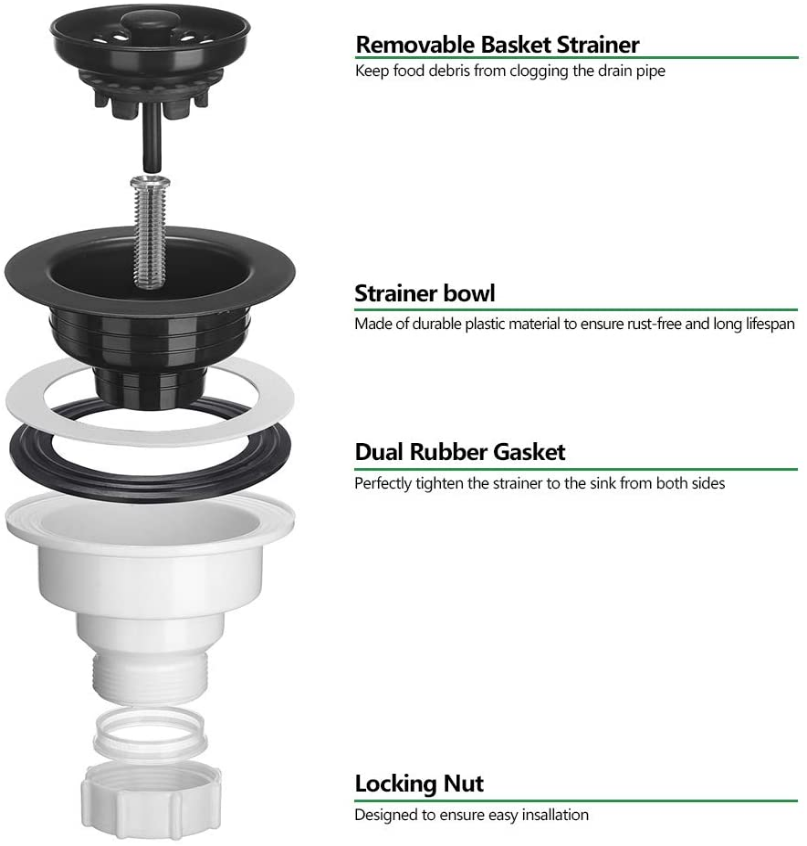 Specification
Polypropylene

Dimensions: 4.84 x 4.76 x 3.98 inches

Weight: 8.1 oz.
If you own a granite, fireclay, or copper kitchen sink, then you'll love checking this out. Especially if you're eyeing a deep basket strainer for your kitchen sink, this one is a perfect match This one also comes with a stopper that, when pressed, prevents water from running out.
This 3-inch sink strainer from Serene Valley has a removable basket at the top and a large deep sink strainer tailpiece. The company is made of durable polypropylene and promises a lifetime warranty. With a simple installation process that doesn't require any of your plumbers, this classic-looking strainer is an ideal choice.
OXO Good Grips Silicone Sink Strainer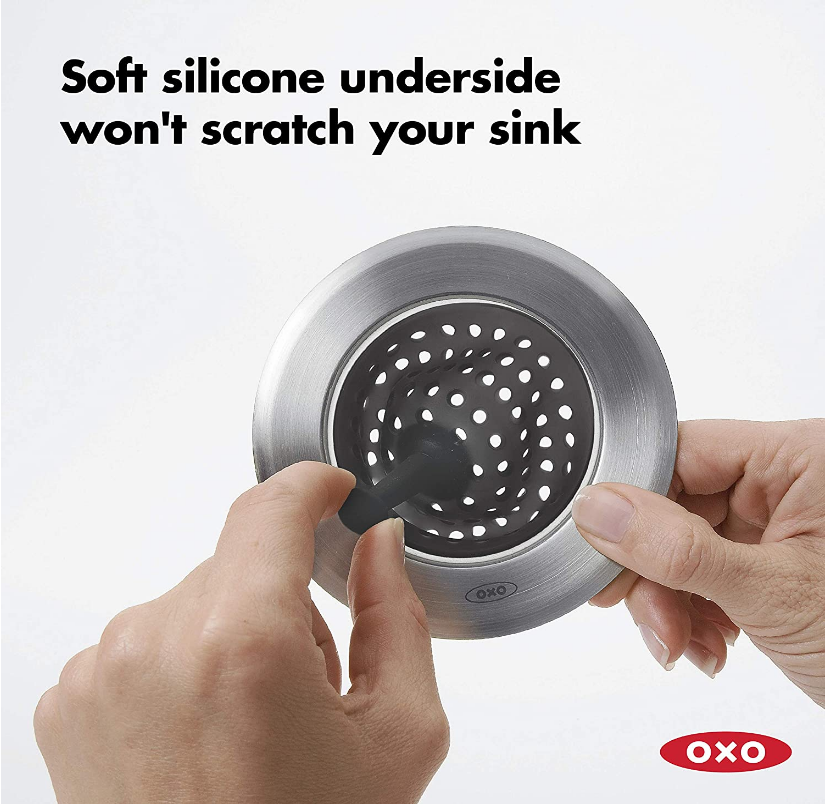 Specification
Silicone and stainless steel

Dimensions: 4.5 x 4.5 x 1.5 inches

Weight: 2.4 ounces
If you're on a budget and are looking for an in-sink utensil strainer, then this may be the one for you only. OXO brings you an easy-to-clean strainer that has a silicon base covered with a stainless steel rim, and you can even put it on top of any existing sink strainer.
This innovative design features a grip lever that allows you to easily pull it out of the sink and wipe off debris. However, it does not have any built-in water stopper. In addition, the strainer is dishwasher friendly, making it easier to clean the strainer.
Fengbao 2PCS Kitchen Sink Strainer – Stainless Steel, Large Wide Edge, 4.5 Inch Diameter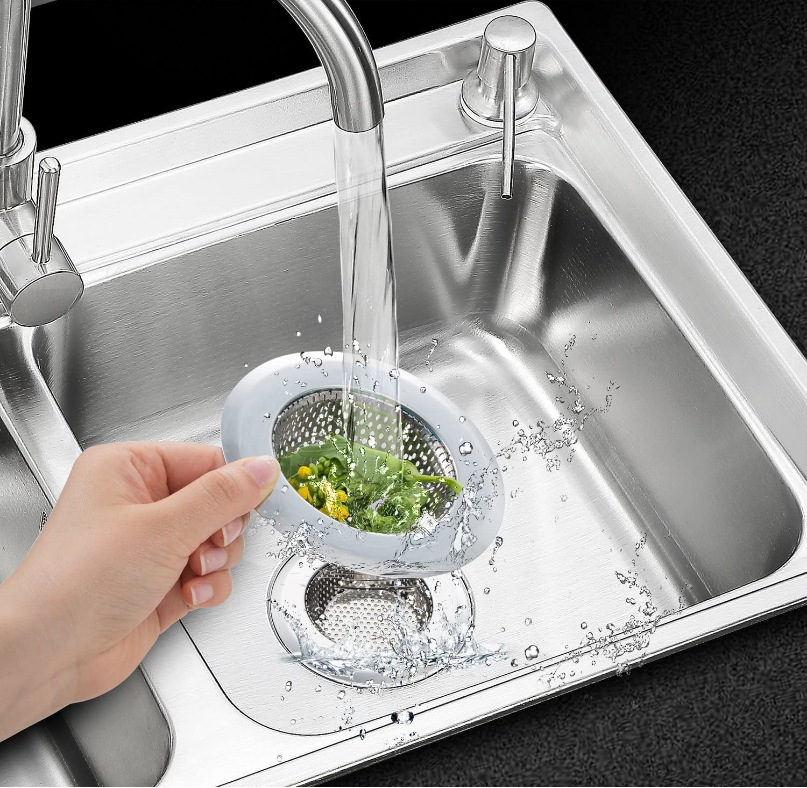 Specification
Stainless steel

Size: 4.5 x 1 x 4.5 inches

Weight: 3.2 oz.
The Fontana Stainless Steel Sink Strainer is a high-quality 4.5-inch sink strainer option that will get the job done and meet or exceed your expectations These small kitchen needs are simple to set up and use and will make a big impact while getting the job done.
When considering the size of a kitchen sink strainer, it is relatively large. However, it has the most traditional look and feels. Even with the built-in sink protector, the Fontbonne sink strainer fits most sewer areas and stays firmly in place. Thanks to its 2 mm micro-perforations, the strainer effectively stops the smallest food particles from passing through.
Helect 3-Pack Kitchen Sink Strainer Stainless Steel Sewer Strainer With Large Wide Edge 4.5 In. For Kitchen Sinks.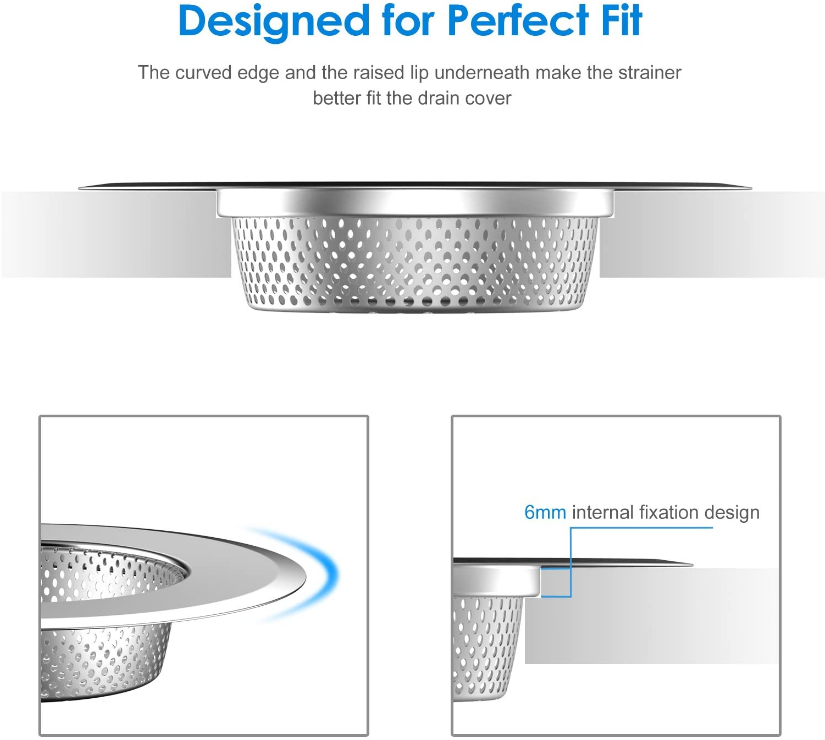 Specification
Stainless Steel

Dimensions: 4.45 x 4.45 x 0.87 inches

Weight: 5.3 oz.
If you're looking for a small sink strainer basket for your kitchen sink, this may be just what you need. This stainless steel strainer has an extra-wide edge that is adjustable for more sink use. In addition to its traditional look, this strainer actually does its job very well.
Helect's sink strainer is one of the most basic strainers on the market; it lacks a water blocking feature and a separate pull rod. That said, it has a micro-perforation of 0.08 inches to prevent any food or debris from getting through. If you are on a budget and just need a garbage disposal sink strainer, then this is the product for you.
Highcraft 97333 Kitchen Sink Basket Strainer Replacement Standard Drain (3-1/2 Inch) Chrome Plated Stainless Steel Body With Rubber Stopper, Single Piece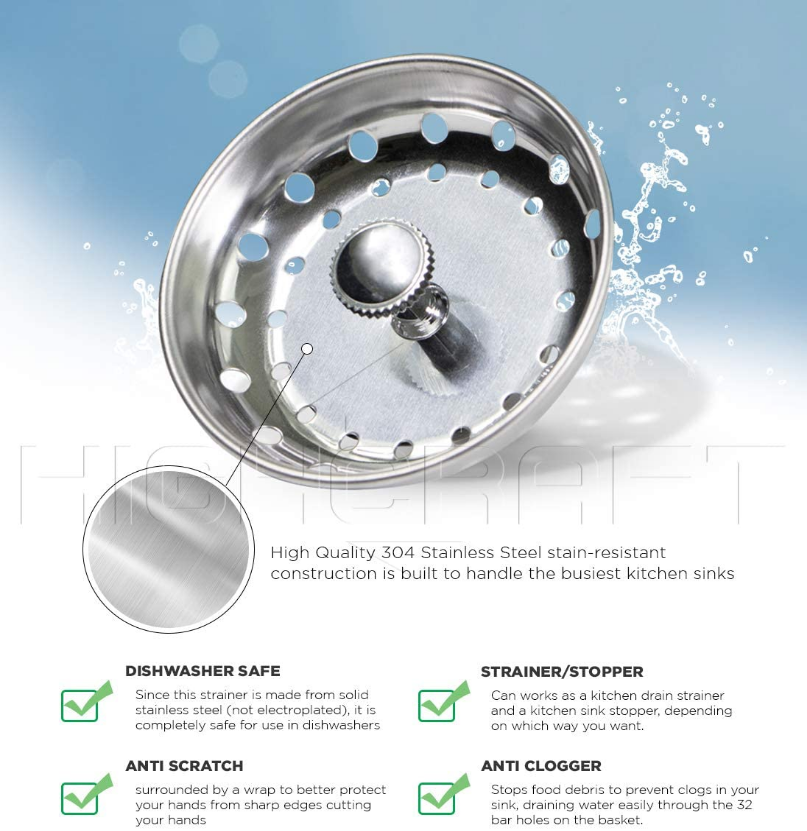 Specification
Stainless Steel

Size: 6 x 5 x 6 inches

Weight: 3.2 oz.
Highcraft brings you this 2-in-1 stainless steel strainer fitted with a rubber stopper to stop the flow of water when needed. This strainer has a fairly large 32 holes to prevent food from passing through; however, not being small enough makes it somewhat less effective.
The strainer is equipped with a handle in the middle that is easy to pull out and clean off. The size of the strainer is perfect for all typical kitchen sinks, with a hole diameter of about "3 25 – 4" inches. So if you are in the market for a modern sink-side strainer for everyday use, this will certainly meet your needs.
Can I Install My Own Sink Strainer?
Installing a kitchen sink strainer is very simple and does not require the services of a plumber. Most sink strainers are easy to use and can be installed on any existing sink without the help of any tools or adhesives at all.
If you want to purchase a commercial kitchen sink basket strainer, you will need to get instructions from a plumber to make sure the dimensions are correct. That said, almost every manufacturer includes detailed instructions that can help you if any further work is needed during the installation process.
Buying Guide For The Best Sink Strainer
Now that you know your options, you may be wondering how you know which features to look for and which filter is ideal for you.
Allow me to share some basic aspects to consider before making a purchase in order to provide you with comprehensive knowledge.
Water Baffle
The baffle feature in the filter helps store water in the sink, which can come in handy when washing dishes. If you feel that the usability of your sink is limited to washing off the dishes, you may not want to spend those extra bucks on this. Otherwise, this is generally a very convenient option.
Hole Size Of The Strainer
The size of the holes in the strainer can vary greatly. If you want maximum debris containment, it is recommended to use a filter with microporous holes. However, for most uses, this won't matter, while larger holes may be more useful if you prefer a higher water flow rate.
Garbage Disposal Baskets
The size of your garbage disposal basket depends entirely on a load of your dishes. If you regularly use your sink to dispose of large amounts of dishes, you may want to seek the largest basket you can find to avoid having to clean up food scraps every so often. On the other hand, most sink strainers have a basket that is large enough to retain enough waste to handle the usual load of dishes.
Material
Stainless steel is the most typical material for sink strainers because it is very strong and corrosion-resistant. However, metal and plastic strainers are also available. The smarter choice is to seek strainers made of sturdy materials because they can withstand the longest time.
Frequently Asked Questions
So, let me answer some of the most common questions that may be flashing through your mind right now.
What are the benefits of a kitchen sink strainer?
Sink strainers protect your pipes from getting clogged and dirty.
How do I remove my kitchen sink strainer?
Most sink strainers now have a special handle to pull them out. Other than that, you can also grab it from the side and pull it up effortlessly.
How do I clean my sink strainer?
The easiest way to clean it is to pull the strainer itself out and wash it with running water and soap. But certain strainers can also be cleaned in the dishwasher.
Final Thoughts
Now that we've covered all the key points and looked at your alternatives, you can choose the best sink strainer for your garbage disposal that fits your needs.
For the best results, I recommend choosing one that is longer-lasting, stronger and has a water barrier system. In any case, I wish you good luck and have a great time in the kitchen.