5 Best Pedestal Sinks for Small Bathroom – Futuristic Design
Views:277 ClassificationBlog
5 Best Pedestal Sinks for Small Bathroom – Futuristic Design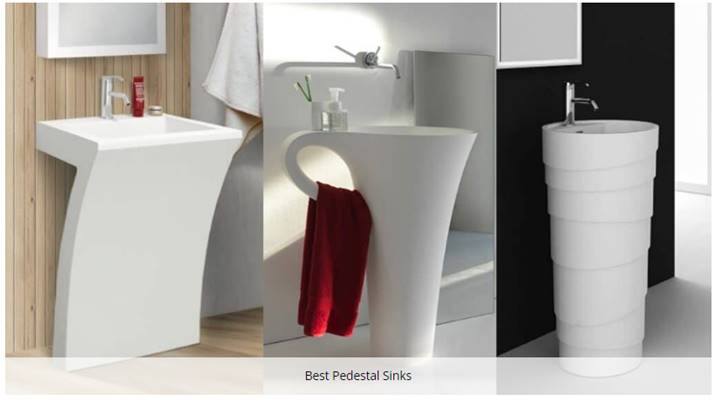 Pedestal sinks make an elegant statement in your bathroom. Bathroom sinks showcase your floors and walls while covering up unsightly drains. If you are looking for bathroom pedestal sinks or parts for pedestal sinks, then you have come to the right place.
There are so many different sink designs on the market to choose from. Therefore, choosing one for your bathroom design can be difficult. We can help you choose exactly the right sink, or choose sink parts for your space.
Without wasting any time, let's take a look at our selection of the 5 best pedestal sinks for small bathrooms.
My Top 5 Pedestal Sinks
1. KOHLER Pedestal Bathroom Sink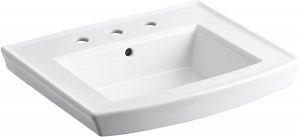 The Kohler Pedestal Bathroom Sink is the first model in our review of the best pedestal sinks for small bathrooms. This is the Archer version and it has 8″ centers. It looks great in a small bathroom and the design is quite decent.
This pedestal bathroom sink is made of vitreous china and other ceramics that make it an elegant sink. These are the most popular materials used to make pedestal sinks. Not only does it make your bathroom look attractive, but you can also expect it to last for a long time. Don't be surprised, in fact, you can pass it on to your children.
The dimensions of this pedestal sink are 37 x 35.5 x 29.8 inches, which makes it taller for smaller children in your home to reach. Another great feature is le three faucet holes that help you get water at the right temperature. There are overflow drain holes to prevent water from spilling out.
In addition, this pedestal sink faucet comes in a variety of colors so you won't find it hard to match your decor.
Pros
High-quality materials
Three faucet holes
Enough space for toiletries
Variety of colors
Disadvantages
Too tall for small children
2. American Standard White Pedestal Sink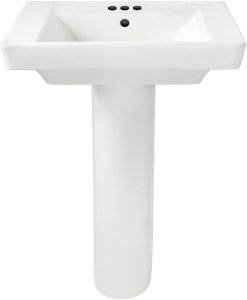 If you are looking for a low-budget pedestal sink for a small bathroom, then le American Standard Boulevard Pedestal 4-lnch Counter is the perfect ì0ice for you. This sink is not too modern and not too old, so it fits any bathroom. It comes in two different styles, including single-hole and 3-hole.
The faucet on this pedestal sink has a double front to hide the overflow. You won't find this feature in most small bathroom pedestal sinks. They have made no compromises when it comes to strength and durability. It is made of vitreous china to ensure maximum durability.
The rim of the sink slopes toward its bottom to allow water to drain quickly. This feature is another advantage of this bathroom sink that makes it different from other bathroom sinks. The only disadvantage of this pedestal bathroom sink is that there is the little angle at the bottom. As a result, debris may not drain as easily as water.
Overall, it is one of the best pedestal sinks for small bathrooms that looks impressive and is inexpensive.
Pros
Affordable price
Quick drainage facility
Suitable for both old and modern bathrooms
Highly durable
Cons
Not enough angle at the bottom
3. Bohemia Modern Glass Pedestal Sink with Faucet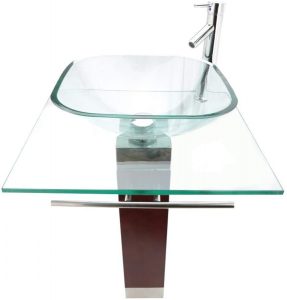 If you are looking for a compact pedestal sink with a futuristic design, then the Bohemian Modern Glass Pedestal Sink is the perfect choice for you. The modern design of the sink will immediately catch your eye and it will add a sense of luxury to the overall interior of the bathroom.
This sink is the perfect combination of both worlds as it also includes a high-quality chrome faucet. Along with the faucet, the sink also includes a drain and towel bar. This is a complete package that is perfect for a small bathroom or half bath. It comes with high-strength tempered glass that provides excellent durability.
Since the sink is round, you can't put too many toiletries around it. However, you can place a few essential things around it without hindering its performance. Overall, if you are looking for a complete package for your small bathroom, the Bohemian Modern Glass Pedestal Sink with Faucet is a great choice.
Pros
Comes with a chrome faucet, towel bar and drain
Excellent design
Suitable for regular bathrooms and half baths
Budget-friendly
Cons
Not a lot of space around the countertop
4. Ondine Small White Pedestal Sink for Bathroom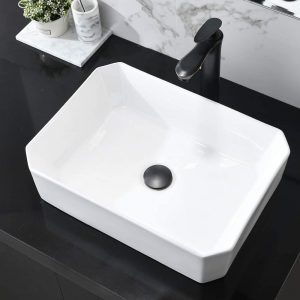 The Ondine Bathroom Small Countertop Sink features a bold and sophisticated design that will bring elegance to your bathroom. This sink has a highly durable construction that makes it suitable for everyday use.
It is made of heavy-duty porcelain that is scratch and stain-resistant. The porcelain adds to the sink's lasting beauty and durability. Despite its small construction, it has ample deck space to accommodate all necessary toiletries. However, the sink is only available in one color, which may be a drawback as it may not match all types of bathroom designs.
The sink features a pre-drilled center catchment faucet hole and overflow to prevent any water damage. The sink's compact size makes it ideal for small to medium-sized bathrooms. It has a minimalist design that ensures you don't have to compromise on functionality.
Pros
Durable construction
Compact and innovative design
Plenty of space on the deck
Made of high-quality porcelain material
Cons
5. Foremost Series White Pedestal Combo Bathroom Sink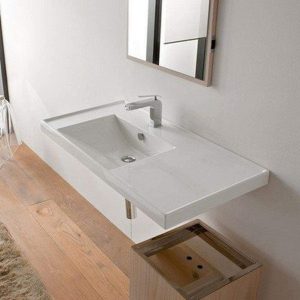 The Foremost series pedestal sink is the most modern small bathroom pedestal sink you can find on the market. Despite its small size, it can make a bathroom look very sophisticated and elegant.
It is rectangular in shape, with clean lines and a stepped design. It is equipped with a raised back. This back helps prevent water from spilling along the walls. It has pre-drilled faucet holes. They are set 4 inches apart in the center.
On the back of the basin, there is a 2-hole overflow control. The sink can project only 1 5 inches into the room; this makes it an ideal solution for compact bathrooms. Since it has a built-in rim around the entire sink, it can easily prevent water from spilling onto the floor.
So, if you are looking for a stylish sink that can easily enhance the compactness of your bathroom, then you should look no further. This is a product that can effectively improve the overall compactness of your bathroom. Overall, this is a budget-friendly solution for your bathroom renovation or new construction project.
Pros
Rectangular shape
Stepped design
Self-rimming ' Back sill
Cons
Cannot be cleaned with abrasive cleaners
Buying Guide: Buying The Best Pedestal Sink For Your Bathroom
Materials
Pedestal sinks are usually made up of various materials such as metal, granite, stone, glass, ceramic, etc.
The most common metals used to make pedestal sinks include stainless steel, copper, brass and cast iron. Of these metals, stainless steel is the easiest to care for; as it is immune to corrosion. The other metals have a tendency to develop water spots when used continuously. In addition, some of them are really hard to maintain.
Granite/stone. If you are looking for a pedestal sink that can be used as a focal point in your bathroom, then you should look for a sink made of granite/stone. They come in a variety of colors and textures to choose from. They are durable and can easily resist scratches. However, due to their unique quality, they are quite expensive.
Glass pedestal sinks are free from the risk of breakage and cracking. While they are typically used for vessel sinks, they also work well as pedestal sinks.
Ceramic pedestal sinks can be fireclay, porcelain, or Chinese. They usually have a shiny finish. You won't face any problems with cleaning and maintenance. They are durable and also resist stains.
Shapes
Pedestal sinks are divided into five major categories based on their shape; oval, round, rectangular, Il-shaped and square. If you are not interested in buying any of these shapes, you can choose a special shape. The shape you want to choose depends a lot on your personal preference and where you want to install it.
Number Of Faucet Holes
The number of faucet holes for pedestal sinks varies from one to three. If the sink is equipped with one faucet hole, then you will find that it has only one faucet. They feature a water control built into the spout. They are great for maximizing basin space.
Size
You should also consider the size of the pedestal sink you want to purchase. In order to determine the size, you must take into account several variables. One of the most important variables is the width of the basin. It is important that it fits into the space you are remodeling.
Ease Of Installation
When you want to install a pedestal sink in your bathroom, you have the option of hiding the pipes or leaving them exposed. If you want to hide the pipes, you should buy a sink with a wider pedestal rather than a smooth pedestal. They do not have the ability to help you with this.
 FAQs
Q: Why Choose A Pedestal Sink?
A: With pedestal sinks, you can add a beautiful, elegant touch to the decor of your bathroom. Some of these sinks have smooth surfaces; this will allow you to clean them with many non-abrasive bathroom cleaners. They can make the bathroom look bigger. They can save you a lot of space. These are the reasons why you should choose pedestal sinks.
Q: How Do I Measure A Pedestal Sink?
Yes. In order to measure a pedestal sink, you need to measure two things: the width of the basin and the length. You should measure the width from the back of the bowl up to its front part. On the other hand, you need to measure the length starting from one side inside the bowl to the other side.
Q: How Do I Install A Pedestal Sink?
A: Before installing a pedestal sink, you must know where the pipes are located. First, you should turn off the water to the supply line. After that, you should fix the back of the sink basin to the wall and install the faucet to put the basin of the sink into the basin.
After the basin is in place, you need to connect the trap to the water supply line. Finally, place the pedestal under the sink, bolt it to the floor, and then bolt it to the wall.
Q: How Do I Secure A Pedestal Sink To The Wall?
A: When you install a pedestal sink on the wall, make sure it is made of plaster or drywall. If it is indeed made of either material, then you must reinforce it with some type of woodblock between the two studs. This will serve as the frame for your sink.
Q: Where Should I Put The Soap On My Pedestal Sink?
A: Due to the lack of storage space in a pedestal sink, you should go for an alternative method of placing your soap. You should use tall, thin lotion bottles to store liquid soap. If you have round globes of hand soap, you can store them in a small candle holder. However, if you really don't have room for soap, you should install a small shelf above the sink.
Q: What Color Pedestal Sink Should I Choose For My Modern Bathroom?
A: If you are wondering what color pedestal sink you should buy for your modern bathroom, then we recommend that you choose a copper-colored pedestal sink for your modern bathroom. These sinks will fit in nicely.
Final Thoughts
Choosing the best pedestal sink for your bathroom can be a daunting task because there are so many different styles and sizes. That's why we're here to take the burden off your shoulders by providing the best bathroom pedestal sink reviews.
If you are looking for the best overall, then we would recommend you to go for the stylish look of Foremost Series 1 920 FL-1 920-4W White Pedestal Combination Bathroom Sink and KOHLER 1<-2359-8-0 Archer Pedestal Bathroom Sink. We hope that our review of the best pedestal sinks for small bathrooms will definitely help you make the right choice.