Best Led Kitchen Faucets-Fun with Colouring Light
Views:276 ClassificationBlog
Best Led Kitchen Faucets-Fun with Colouring Light
Washing dishes or filling large pots and pans in the kitchen can be a boring, even tiresome task. What if we share with you a secret to solve this problem?
In any case, a kitchen faucet with LED bulbs might be your best choice. These faucets create colorful lights in the water, turning a dull task into a fascinating and enjoyable one.
Therefore, we decided to write this article mentioning five of the best-LED kitchen faucets. Don't be afraid of the prices. They won't break your bank.
Keep scrolling to catch a glimpse of this smart device.
Top-Rated Kitchen Faucets With LED Light
Believe it or not, our product research team has an eagle eye! They have selected five of the absolute best faucets from thousands of faucets that show superior performance. The first is…
1. Qomolangma Pull-Down Kitchen Faucet with LED Light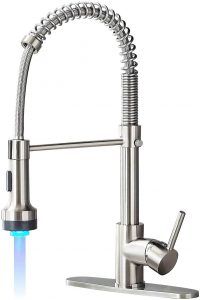 Key Features
Spout Height: 7 Inches
Spout Reach:5 Inches
Material: Stainless Steel
Finish: Brushed Nickel
Flow Rate:8 GPM
This faucet by Qomoangma is a unique and stylish product that is best suited for modern kitchens. It is equipped with an LED light. As a result, this product is not only attractive but often offers safety and security. But how?
Well, the color of the light changes from blue to green to red, representing cold, warm, and hot water respectively. One can easily identify the temperature of the water by this color change. And, it is useful to protect your children from harm. The light is only available for water flow mode.
It is made of stainless steel and is durable enough. Plus, the spring mode offers a fancy look. All in all, this is a wonderful item at a low price.
2. WOTOKOL Kitchen Faucet with LED Light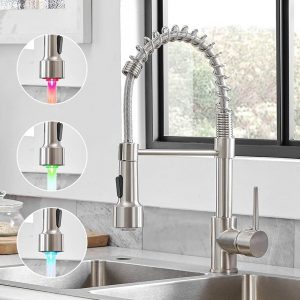 Key Features
Spout Height:9 Inches
Spout Reach:2 Inches
Material: Solid Brass
Finish: Brushed
Flow Rate:8 GPM
Now, we are talking about an innovative, practical and profitable appliance. This faucet is, of course, from a well-known brand, namely WOTOKOL.
It has an impressive water-powered LED light. The light senses the temperature of the water and changes color accordingly. However, when it exceeds 140°F, the red light starts flashing.
A pull-down sprayer is also at hand with a long-reach hose. It allows you to reach every corner of the sink. In addition, it is made of high-quality solid brass material. And, all this comes with a Wotokol 5-year warranty.
Kudos to its manufacturer for bringing this quality product to a low price point.
3. AIMADI Commercial LED Kitchen Faucet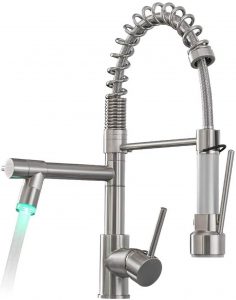 Key Features
Spout Height:4 Inches
Spout Reach: 8 Inches
Material: Metal
Finish: Brushed Nickel
This is a unique faucet that gives your kitchen design a punch. There is a built-in LED bulb that emits light when water comes out. Then, once the water flow stops, the light automatically disappears.
This faucet is sturdy enough for commercial use as well. It's hard to rust and very few minerals will build up inside. Plus, the brushed nickel finish makes it easy to clean. Just wipe it down with a soft cloth and guess what? It looks fresh.
Compared to the other faucets on this list, this one is a bit pricey. If you're on a tight budget, turn your eyes up or down to find a cheaper faucet.
4. OWOFAN LED Pull Down Kitchen Faucet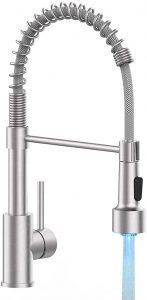 Key Features
Spout Height:34 Inches
Spout Reach:8 Inches
Material: Solid Brass
Finish: Brushed Nickel
Flow Rate:8 GPM
This is a very popular faucet that combines high-quality manufacturing materials, a simple yet stylish design, and a fantastic LED light. Best of all, it has the lowest price of the five faucets on this list.
Its body is made of solid brass. And the spring is made of SUS304 stainless steel, which ensures that it is a healthy lead-free faucet. As a result, it has been providing pure, clean water for decades.
It is a very compact piece. So even if your kitchen is not that big or you have a shelf above the faucet, it will fit gently. Overall, this LED faucet will amaze you when installed.
5. TENLO LED Kitchen Sink Faucet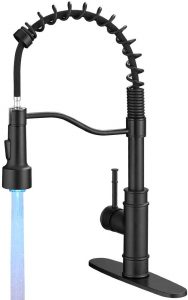 Key Features
Spout Height: 1O Inches
Spout Reach: 7 Inches
Material: Solid Brass
Finish: Matte Black
Flow Rate:8 GPM
If you're a fan of black items in your kitchen, turn to this luxurious Tenlo faucet.
We love its sleek design and rust-resistant matte black finish. In addition, it is adorned with LED lights. An interesting fact is that children love LED faucets. Therefore, you can teach them to develop good habits of washing their hands before eating.
This industry-standard faucet has two modes. Specifically, the spray is used for washing dishes and the stream is used for filling large pots and pans. And, the spout of the faucet is convenient because it can rotate 360 degrees in all directions.
It has everything at hand, making installation easier. You don't need to spend money on a plumber. All in all, this faucet leads the pack in black kitchen faucets with LED lights.
How to Install the LED Kitchen Faucet?
Here there is no difference between installing a modern kitchen faucet d a faucet with LED lights. Because LEDs are water-powered, no further electrical connections are required. The following are common steps for installing a faucet. However, you should follow the instructions for your particular product.
Prepare for installation.
First, gather the required tools (usually a set of wrenches, screwdrivers, etc.).
Pick a new faucet and insert it into the installation hole.
Make sure the faucet is placed in the correct position. Then, tighten it.
Connect the water supply line so that it matches the appropriate hot and cold water supply.
Turn on the water and check for leaks. You should tighten the connections if needed.
Is the LED working? If not, check your water pressure and fix it. You have added an amazing piece above the sink
Buying Guide
This section is intended to guide you before you click the "Check" button to purchase an LED faucet. Check it out before you take the leap! That way you won't regret it afterward.
Power Sources For LED Light Sources
This is probably the first topic about LED bulb faucets. Battery-powered or hydropower? Which is more useful?
Ten years ago, LED faucets were commonly powered by batteries. Nowadays, these types of faucets are not very common in the market.
Water-powered. Today's market has brought modern faucets that do not require any batteries or electrical connections. Water-powered faucets are more convenient. You don't need to worry about replacing batteries or connecting wires. Therefore, when choosing an LED faucet, make sure that it can simply run through water pressure.
That's all about LEDs. You're ready to go. Good for you!
But a faucet is a long-term deal, even for life. So, there is a commonly pronounced term for durability.
And the way it's fixed is…
Construction Materials And Finishes
Brass, stainless steel, metal and zinc alloys are among the most commonly used elements for kitchen faucets. However, when it comes to sturdiness, brass is the strongest.
And, in terms of finishes, you can choose from brushed nickel, matte black, chrome, etc. Here, brushed nickel stands out from the rest.
Number Of Handles
It's up to you. Do you prefer a two-handle faucet or a single-handle faucet? We recommend the latter because you can control both hot and cold water with one hand, simply by turning the handle to the right or to the left. In any case, you can control the temperature more precisely with a two-handle faucet.
Installation
Finally, sometimes an LED faucet may require extra effort to install. Don't go r that. Instead, look for faucets that are marked as easy to install.
Frequently Asked Questions
What if you still have questions about this smart faucet? Well! Below we will answer some frequently asked questions about this item.
How does the hydrodynamic LED faucet light work?
A tiny turbine is placed inside the aerator. As water flows through it, the high water pressure causes the turbine's blades to operate. Eventually, it generates electricity that is used to run the colorful lights. Most of the time, they also have kitchen faucets with touch sensors.
Do the colors of the lights change depending on the temperature?
Yes. Typically, LEDs emit blue light in cold water (0-35°C). Green for the warm water (35-45°C) and red for hot water (45-55°C). When the water is too hot, the red color will flash.
What factors can be a trader for LED fancy kitchen faucets?
These faucets are aesthetically pleasing
Shows water temperature
Makes it easier to clean in the dark
Do LED lights increase the price of faucets?
Apparently not. At the time of writing this review of LED kitchen faucets, we didn't notice that the LED lights caused an increase in the price of the faucet.
In conclusion
Which kitchen faucet is best for me? This is a tricky question that is rather impossible to answer correctly. However, this article has shown you the five best-LED kitchen faucets on the market. So, give them a chance!
We can guarantee that none of them will hurt you with the worst performance. They don't cost much either. On the other hand, visitors to your kitchen will be fascinated by the incredible color of the water!
So, why not enjoy LED water blends?