Best Laundry Room Sink Reviews and Buying Guide
Views:268 ClassificationBlog
Best Laundry Room Sink Reviews and Buying Guide
Among all the sinks in the world, the best laundry room sink is one of the hardest to find. And you were absolutely right to look it up because even e smallest detail can make a difference. And you also have your personalized requirements. Considering all of these factors for the best laundry room sink and scouring the market for the best one is not going to be easy.
That's where we come in. We have gone through every product for the requirement and selected the best ones for you. Now you just have to pick the one that matches your budget and move forward in your life.
Reviews Of Best Laundry Room Sink
Modena Undermount Utility Laundry Room Sink, 16- Gauge Stainless Steel (23-lnch Extra Deep)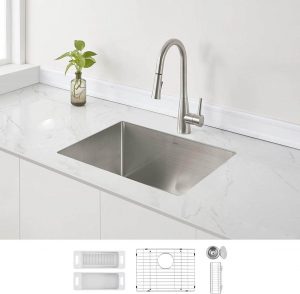 Features:
INCLUDES 2 Colander Sets, Sponge Box, Scratch Resistant Grate, Drain Strainer
LIFETIME WARRANTY SINK 23 X 18, Bowl 21 X 16, 12″ Deep Basin, Minimum Cabinet 27
CHEF GRADE SINK SET Cook, clean and entertain like a pro with food-safe accessories that eliminate clutter and provide workstation functionality; 10-second gentle wipe keeps sink sparkling and sanitary forever
INDESTRUCTIBLE, RUST-RESISTANT T304 STAINLESS STEEL Throw away heavy iron castings or hot pans without worrying about dents or damage; uniform 16 gauge from top to bottom with 40% more steel per sink – not thick decks and thin basins
THE WORLD'S QUIETEST SINK 2.5 times quieter than other brands and insulated to eliminate noise and vibration; protects your expensive cabinets when you rinse ice or defrost frozen food
BLENDS WITH MODERN DÉCOR Same premium brushed stainless steel as high-end appliances; R10 small radius corners for sleek aesthetics and easy maintenance; angled base drains quickly without tipping cups
THE SAFEST CHOICE CERTIFIED to U.S. and Canadian regulations with lead-free components and daily product support from our U.S. call center; we are a BBB A+ rated and lncSOOO fastest-growing U.S. owned and operated brand.
Does It Scratch?
Any stainless steel sink, regardless of brand, is susceptible to scratches. Use a scratch protector bottom grill (included) to minimize this. Scratches end up with the grain of the sink and fade naturally over time. You can choose to polish in the direction of the grain to "quickly fade" these marks. The Zuhne sink is not only a piece of jewelry in your kitchen but also a heavy-duty piece of restaurant-grade work equipment. We invite you to use it in such a way as to give you complete peace of mind.
Does It Drain Fast Enough?
Our sinks feature recessed or angled bases to speed up the drainage of water and debris. Please make sure the sink is installed flat and that the pipe trap/pipe is not clogged.
Is This A True #16 Sink?
Unlike 99% of the brands on Amazon, Zuhne is listed directly with third-party certifiers in the US and Canada. We use a uniform 16 gauge from top to bottom, inside and out. Most brands advertise a thick deck to hide a thin body. And we are not.
Why Zuchne?
Zuhne is an award-winning American company. We're also one of the fastest-growing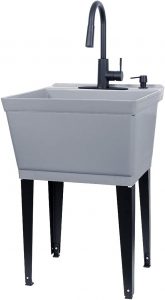 kitchen sink brands in North America (CBP data 2015-2019). Zuhne sinks have outperformed traditional brands in every blind test. From the moment you unpack our world-class packaging to finding your sink still sparkling after 20 years of use, the Zuhne experience is like no other.
Grey Utility Sink Laundry Tub With High Arc Black Kitchen Faucet By VETTA – Pull Down Sprayer Spout, Heavy Duty Slop Sinks For Washing Room, Basement, Garage, or Shop, Free Standing Tubs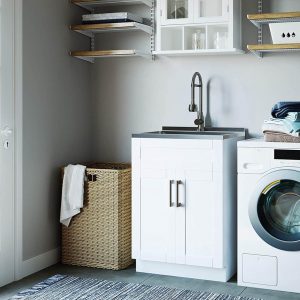 Features:
BRING PRACTICALITY AND CONVENIENCE INTO YOUR LAUNDRY ROOM with this complete, upgraded gray VETTA freestanding utility bin set; now made of durable metal and plastic for long-lasting use. Updated and improved black combination material faucet. High-end pull-down kitchen faucets offer more style and function than regular laundry room faucets. Includes supply line and drain.
HIGHLY CURVED BLACK KITCHEN FAUCET WITH PULL-DOWN SPOUT. The tall, graceful arc of the tall faucet gives you plenty of room to clean all your oversized items. No need to bypass the faucet to clean them easily. Simply press the button to switch between a steady stream of water and a powerful spray. Made from a combination of both metal and plastic, this faucet is the perfect combination of longevity and practicality.
THE HIGH QUALITY GRAY THERMOPLASTIC TUB IS VIRTUALLY INDESTRUCTIBLE. It has a deep 19-gallon capacity for all your laundry room needs. Soak, rinse and scrub with ease in the large sink with attached drain plug. Metal legs keep the tub stable, even when it's full of water. Level the tub on bumpy or uneven surfaces by adjusting the foot adjuster to the perfect height. Perfect for unfinished basements or garages.
KIT INCLUDES EVERYTHING YOU NEED TO INSTALL YOUR SINK: Kit includes sink, metal legs, feet for stability, black high arc faucet, integrated water supply line, drain, plugs and all hardware needed to install your new sink. Illustrated step-by-step instructions take the guesswork out of the assembly process. Dimensions. 33 314 inches high (with legs) X 22 7/8 inches wide X 23 318 inches deep. One-year limited warranty. Manufacturer part 040 JS6507GRY.
WE ARE HERE TO HELP. If you have any questions, concerns or complaints, please contact us. We are proud of the quality products we offer and the care we provide to our customers.
Grey Sink Laundry Basin, High Arc Black Kitchen Faucet, VETTA – Pull downspout, heavy-duty mop sink for laundry room, basement, garage or store, separate tub. Bring practicality and convenience to your laundry room, utility room or washroom with this complete utility tub set from VETTA.
The large 19-gallon sink is made of high-quality, durable thermoplastic for all your scrubbing and soaking needs. Use the pull-out nozzle on the black kitchen-grade faucet to direct the water where you want it to go, or move the spout completely out of the way so you can easily wash your large items.
Everything you need for most standard installations is included in the box, including stainless steel supply lines for connecting hot and cold water, plastic drain kit (P-trap, nut and washer), rubber stopper, metal faucet, tub, legs with level, extra thread sealing tape and easy-to-follow installation instructions.
SIMPLIHOME Hennessy Contemporary 24 inch Deluxe Laundry Cabinet with Faucet and Stainless Steel Sink with 1 Storage Compartment, for the laundry room, Utility room, Contemporary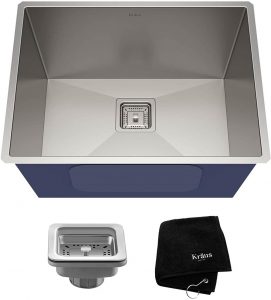 Features:
Plain White Construction made of PB MDF and stainless steel
High arch faucet with articulated movable neck and on/off spray head
Includes plumbing components for hot and cold water
20 gauge welded stainless steel sink measures 24″ W x 35 7″ H x 19 7″ D
Two (2) cradle style doors that open for plenty of storage Brushed nickel hardware
If you want to create a modern style in your laundry room, the Hennessy Stainless Steel Laundry Closet will meet all your needs, featuring shaker style doors, welded stainless steel sinks, high arc faucets and brushed nickel door pulls to bring a beautiful design to a functional space.
Efforts are made to reproduce accurate colors, variations in color may occur due to computer monitors and photography Efforts are made to reproduce accurate colors, variations in color may occur due to computer monitors and photography.
KRAUS Pax 24-inch 18 Gauge Undermount Single Bowl Stainless Steel Laundry and Utility Sink, KHU24L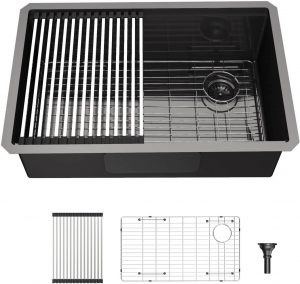 Features.
STURDY CONSTRUCTION: Dent-resistant T304 stainless steel, solid 18 gauge thickness for strength and durability.
COMMERCIAL GRADE SATIN FINISH: resilient, easy to clean, corrosion and rust resistant; compatible with most kitchen appliances.
QUIETEST SINK. NoiseDefend soundproofing technology with non-toxic SoundGuard undercoating and extra-thick pads that cover more than 80% of the sink.
SINK EXTERIOR DIMENSIONS. 24 "L x 18 1/2" W x 12 "D. Minimum cabinet size: 27″; Extra large utility sink accommodates large items that won't fit in the dishwasher. The sink is so big, you can even give your dog a bath. The length of the bowl is 22.5″ and the width of the bowl is 17".
Upgrade your kitchen or laundry room with the sleek, modern look of the KRAUS Pax Series multi-purpose kitchen sink. Wash large items, rinse gardening tools, or even give your dog a bath This versatile deep water sink is ideal for utility rooms, workshops or greenhouses.
KABCO K-SSLA30-PKG 30 Inch Stainless Steel Utility Laundry Sink Undermount Single Bowl 30″ X 18″ X 12″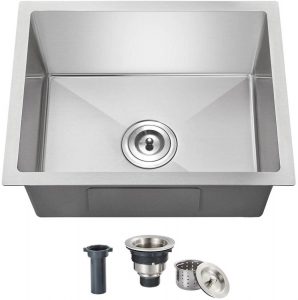 Features
Rugged Construction – 304 stainless steel 16 gauge material provides a durable rust/corrosion resistant environment. The finish is brushed satin and matches other stainless steel appliances in most cases. Dimensions. 30″ X 18″ and an impressive 12″ deep bowl for multiple uses.
Acoustic Mat – Our added insulated mat and thick rubber base provide several features. It reduces sound when placing dishes in the sink, quieting the garbage disposal. And the insulated sink allows you to keep the water warm while washing dishes or enjoy countless ice cubes and refreshing drinks at events.
Accessories – Includes filter basket kit.
Quality and Warranty. 304 stainless steel with thick 16 gauge material provides a rust/corrosion resistant ability to withstand any potential wear and tear. Limited lifetime warranty against manufacturing defects prior to the date of installation. We are here to provide you with the best support and customer service as we strive to provide a better product with the best quality.
Laundry Room Sink – Lordear 21″ x 18″ x 12″ Undercounter Sink Single Bowl 16 Gauge Stainless Steel Deep Laundry Room Sink Kitchen Sink
Features
This laundry room sink is made of T304 16 gauge durable stainless steel The panel is 1.5mm thick with a commercial grade brushed finish that resists dents and scratches, making it very durable and long-lasting.
This undercounter sink has an angled bottom and X-drawer design trough for complete drainage.
This stainless steel laundry room sink comes with a heavy-duty soundproof pad and undercoating to prevent noise from dishwashing and garbage disposal.
Stainless steel sink dimensions and accessories- 21*18*12 inches; what's on the box. Includes a 23-inch deep single bowl sink base, 304 stainless steel utensil grid, strainer in basket, stainless steel drying rack.
Warranty- Limited lifetime warranty, any questions, please feel free to contact us.
Choose Lordear, choose beautiful life.
12″ deep bowl sink – perfect as a laundry room or utility sink
Handcrafted from T304 16 gauge durable stainless steel, the superior quality of this sink ensures durability and no rust, protecting your kitchen sink from daily wear and tear.
Features a commercial-grade brushed satin finish that adds to the beauty and style of the sink.
Eliminate noise with the 3mm rubber sound deadening pad and enjoy a simple and modern lifestyle.
The sloped bottom and X-shaped drain at the bottom of the sink direct water to the drain to prevent water from pooling at the bottom of the basin.
Can be connected to garbage disposal to easily solve clogging problems in the kitchen.