Best Kitchen Sink under $200, $300, $400
Views:264 ClassificationBlog
Best Kitchen Sink under $200, $300, $400
For the best kitchen sinks under $200, $300, $400, there are hundreds, if not thousands, of competitors. You don't have to go looking for any inferior products. If you can filter hard enough, you'll find budget kitchen sinks with flagship quality.
But you need a starting point to begin the filtering process. And here, our products are a very good measure, if not the best on the market.
However, we will recommend them as they have been filtered from several online sites. You can pick any kitchen sink that fits your budget here.
Nevertheless, you can always do your own research.
Best Kitchen Sink Under $200
Ideas don't need to cost a lot. And the technology that comes from those ideas can give you greater value at a minimal cost. That's what we're focusing on here, giving you the most value with cost-effective technology.
Also, all of the sinks on this list are major kitchen sinks. We don't cheat you like other kitchen sink websites.
1. Kraus KGD-441BLACK Quarza 25- lnch Drop- In Granite Kitchen Sink
Did you imagine getting a granite sink for under $200?
Look at this brand again. It's from Kraus. we won't even mention the reviews. They are great.
80% of the sink is natural quartz. These stone-like materials are naturally hygienic and resistant to dirt and grime. Available in four rich colors, protected by UV stabilized materials. These colors are –
The sink floor is well optimized for angels. You can choose between bottom mounting or top mounting of the sink.
If you can consider a 27″ sink, the Krauss KGD-441 Quarza is your best choice.

2. Ruvati 28- lnch Undermount Stainless Steel Kitchen Sink- RVH7250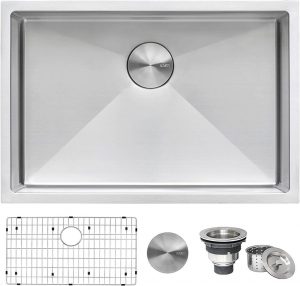 Out of these 13 sizes, 28 inches is in our price range. However, it has received a lot of recognition from consumers because it has all the qualities of a quality stainless steel sink.
Its material is 16 gauge thick T-304 grade stainless steel. On top of that, you will have a commercial-grade brushed finish. It will also have acoustic undercoating and a thick rubber mat.
Notches, ramps, and Unique Ruvati 1Omm corners all make it effortless to use. In addition, you will have the following accessories –
Basket strainer

Bottom rinse grid

Cutout template

Installation Guide

Mounting clips
Finally, the sink will come with a lifetime warranty and excellent customer service. At under $200, what more could you ask for?

3. APPASO 30- lnch Undermount Kitchen Sink- HS3018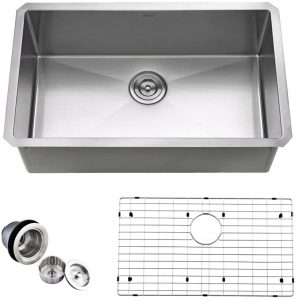 As far as size is concerned, this is probably your best option. Most of the low-cost sinks are smaller. But you can get this up to 32 inches.
In the 18/10 chrome and nickel range, you will have a TRU 16 gauge thick T-304 grade stainless steel construction. Apasso also includes their soundproofing technology with heavy-duty coating and thick rubber pads. It reduces vibration as well as wear and tear.
However, no lead or any other toxic material is used in the production of the kitchen sink. the ISO standard proves this. In addition, UPC, cUPC, ANSI and IAPMO also certify sinks.
Like most high-priced sinks, it comes with a large bowl. Finally, you'll have a five-year limited warranty.

Best Kitchen Sink Under $300
Under the 300 dollar range, the choices get even more competitive. Because this is the median zone for kitchen sink prices. So, here is the fruit from the tallest tree.
1. Kraus KHU100- 30 Kitchen Sink, 30 Inch, Stainless Steel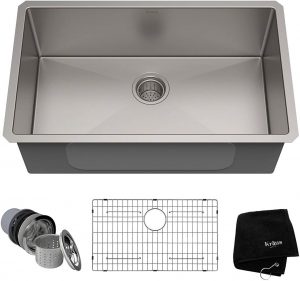 The KHU100-30 is the largest of the eight sizes and matches well with almost any countertop. It is made of T-304 grade stainless steel and has a superior TRU16 gauge thickness.
Best of all, you'll have a commercial-grade brushed finish that protects against
rust and corrosion. It's also noise-proof with a thick liner that covers 80% of the sink.
As with any top-of-the-line kitchen sink, this undercounter sink has the following accessories –
Three-piece basket style strainer

Kitchen towels

Dish grids

Mounting hardware

Cutout template
The basin is large enough to comfortably hold days worth of dirty dishes.
To back it all up, there's a limited lifetime warranty and great customer service.

2. Ruvati Low-Divide Undermount 50/50 Double Bowl Kitchen Sink – RVH7411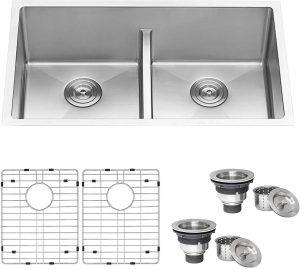 Unlike most double bowl kitchen sinks, this sink has a sleek and rich look. It is made of T-304 grade 16 gauge stainless steel kitchen with a chrome and nickel content range of 18/10.
The bowls are separated by a divider that is four inches lower than the wall. And each bowl has an angled floor to clear everything. And the bowls are all the same size. ruvati also includes their signature 1Omm tight radius curve for effortless use.
The following accessories will be included in the box –
Bottom rinse grid

Mounting clips

Cutout template

Installation guide
Finally, there is a limited lifetime warranty. And the product is also supported by excellent customer care.

3. Sarlai 30 Inch Stainless Steel Drop-In Kitchen Sink With Workstation Sink Basin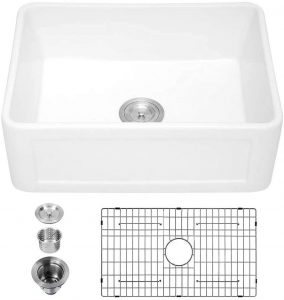 Workstation Kitchens Are Mostly Way Over 300 Dollars. However, The Engineers Of Sarlai Created A Sink That Serves You With All The Benefits Of Workstation Sinks In A Cost-Effective Way.
Sarlai also follows the market leader in using TRU16 specification T-304 stainless steel. Like other workstation sinks, it has a sill on the back and front. The bottom is a slightly angled X-shaped recess.
It will have the following accessories for workstation kitchen sinks –
Flushing grid

Drain spout assembly

Sapele mahogany cutting board

Mixer

Tumbler rack
Last but not least, you have the Sarlai kitchen sink three-month return policy.

Best Kitchen Sink Under $400
The four hundred dollar cap is certainly not the highest price. There are sinks that are more than double their price. So it's still a challenge to find a good deal. But the stakes are higher this time.
1. BLANCO, 440195 DIAMOND SILGRANIT Super Single Drop- In Or Undermount Kitchen Sink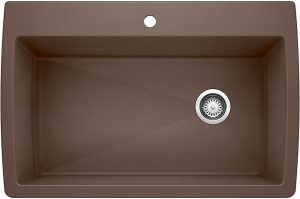 The Diamond Silgranit kitchen sink is a granite composite kitchen sink. It is available in three sizes and nine premium style colors. As a dual mount sink, you can use it as an inset sink or an undermount sink.
This stone kitchen sink is completely impervious to scratches and stains. It is also heat resistant. Moreover, it is easy to clean. Moreover, the non-porous material is naturally hygienic.
Together with the sink, you will have the following accessories –
Sink grids

Cutting board

Basket strainer

Flow cover
Finally, there is a limited lifetime warranty, and excellent customer service from Banco.

2. Ruvati 30-inch Workstation Ledge Undermount Kitchen Sink – RVH8310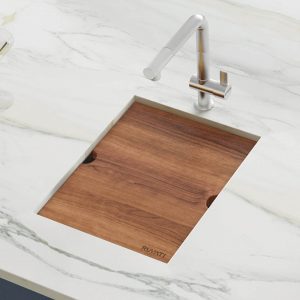 Workstation's kitchen sinks have a reputation for having a high price tag. But from a brand like Ruvati, a price tag of less than $400 is completely understandable.
It comes in six sizes, each of which is a single-wall sink design. All of them are made of 16-gauge thick T-304 stainless steel with a chromium and nickel content in the 18-10 range. There is a commercial grade brushed finish that is very easy to clean.
Under the finish you will also have a sound-protecting undercoating and a thick rubber mat. As with other workstations, you will have the following accessories –
Flushing grid

Basket strainer

Cutting plates

Cutout templates

Mounting clips

Installation Guide
Finally, it will also help you with a lifetime warranty.

3. BOCCHI 1138-001- 0120 Classico Apron Front Fireclay 30 In. Single Bowl Kitchen Sink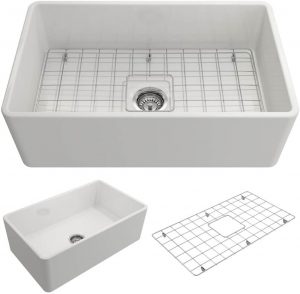 The last sink on our list is the apron sink or farmhouse sink. As the type defines them, they are large, deep and durable. This sink is made of all-natural clay to give you the best of timeless elegance. This material is non-porous and completely safe for food.
Fireclay is naturally durable. It can also withstand temperatures of up to 2000 degrees Fahrenheit. The smooth fireclay also makes it stain-resistant.
In addition, Bocchi's Clean plus technology makes the sink very smooth and shiny. Bocchi says it is 19 times smoother than a regular glaze, but we haven't done the math. A lifetime of use without any discoloration or chipping.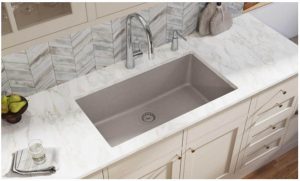 Buying Guide For The Best Kitchen Sink In My Budget
Please follow the tips below. They will help you find the best kitchen sink in your budget.
Know Your Budget And Requirements
First, decide on the range you are willing to spend. You must also decide on some basic features such as cabinet size, bowl depth, sink style, installation method, faucet holes, etc.
Materials
In case of low budget, you should choose T-304 type of stainless steel, 16
great thickness. If you are buying sinks made of other materials, make sure they do not include any harmful chemicals. The material should always be resistant to discoloration and chipping.
Choosing Finishes And Colors
When buying stainless steel and similar sinks, make sure you get a high-quality finish that resists stains and discoloration. The color should also match the interior of your kitchen. You can also expect to use thick rubber gaskets and other coatings in almost all budget segments.
Soundproofing
Stainless steel sinks should have a coating to eliminate vibrations and thus reduce noise levels.
Summing Up
These are short reviews that highlight the key features of the best kitchen sinks under $200, $300, and $400. You can click on the product links for more information. However, the information here certainly gives you 80% of the product description.
Hope we could help you.
2 Thoughts On "Best Kitchen Sink Under $200, $300, $400"