Best Kitchen Sink Strainer Stoppers
Views:132 ClassificationBlog
Of all the sinks in the world, the best kitchen sink strainer stoppers are one of the most difficult to find. And you're absolutely right to look it up because even the smallest details make a difference. And you also have your own individual requirements. Considering all these factors of kitchen sink strainer plugs and looking for the best one in the market is not easy.
That's where we come in. We have gone through the requirements of each product and have selected the best one for you. Now you just need to pick the one that matches your budget and move forward in your life.
Best Kitchen Sink Strainer Stoppers List
OXO Good Grips 2-in-1 Sink Strainer Stopper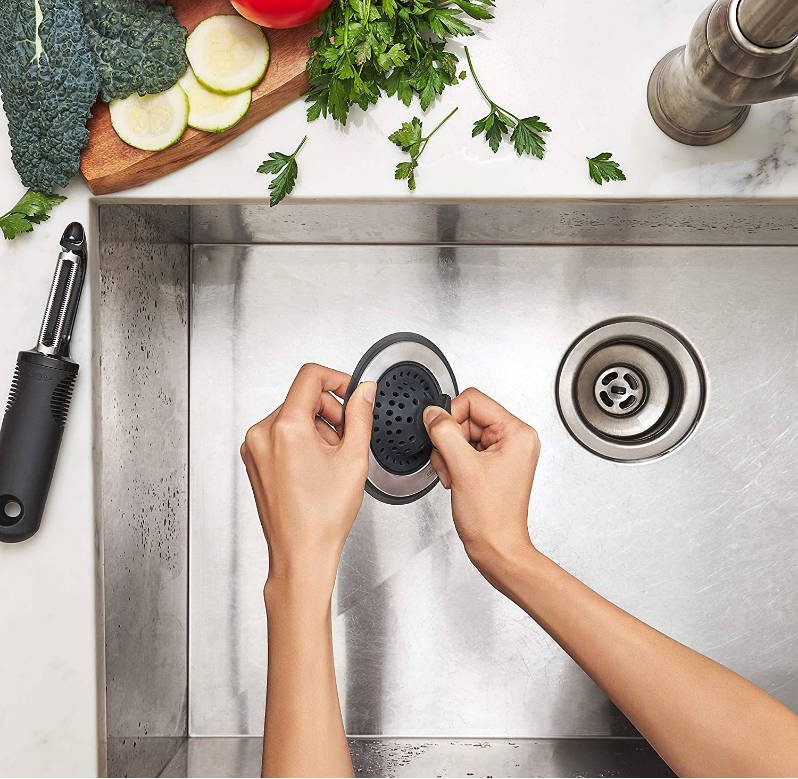 Features.
THE OXO GOOD GRIPS 2-IN-1 SINK STRAINER & STOPPER can be used as a strainer to capture food scraps or as a stopper to fill the sink with water.
TWIST THE TAB to engage the stopper to hand wash dishes, and twist again to quickly drain the sink.
TOUGH STAINLESS STEEL holds up to large amounts of dishes without staining, while the soft silicone bottom won't scratch the sink.
DURABLE SILICONE BASKET can be turned inside out for thorough cleaning
BPA AND PVC FREE
OXO IS BETTER. If you have a problem with your OXO product, please contact us for a repair or replacement. We appreciate the opportunity to learn from your experience and we will make it better.
OXO is built on the concept of universal design, which means designing products that can be used by as many people as possible. Today, OXO offers more than 1,000 products covering many areas of the home, all created with this principle in mind.
The company is recognized globally as an example of how a good universal design philosophy can not only create products that are beneficial to the end-user, but also as a smart business model.
AFANTY 2PCS Kitchen Sink Strainer Plug 2 In 1, Spring Clamp Plunger, Replacement For Standard Drain (3-1/2 Inch), Chrome Plated Stainless Steel Body With Rubber Plug.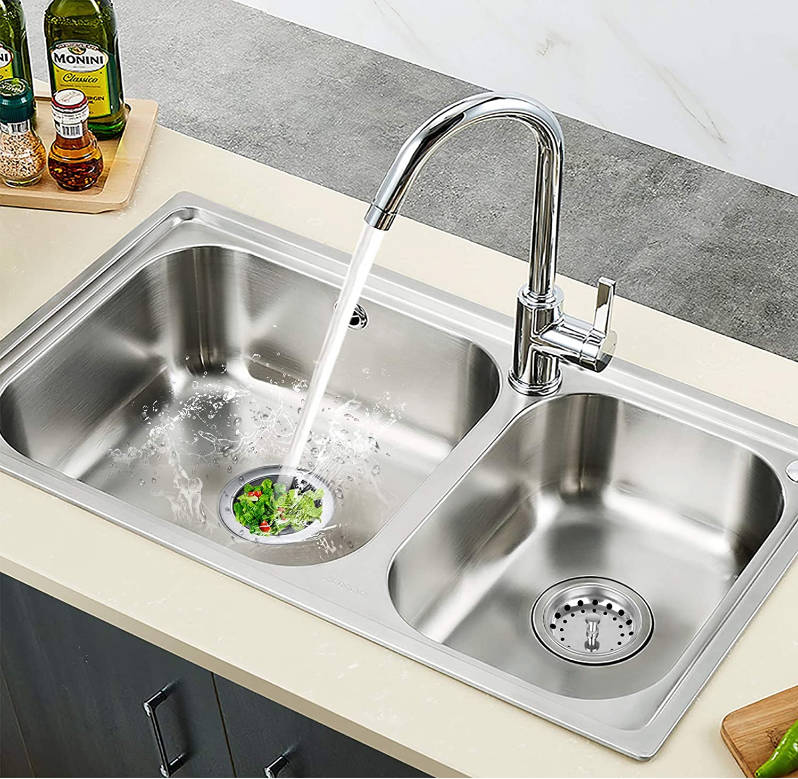 Features:
STRAINER/STRAINER: AFANTY Sink Strainer Stopper is a 2-in-1 model that works as a kitchen sink stopper or sink strainer, push it down or pull it out a little!
SPRING CLAMP PLUNGER: Compared to the stem-and-piece sink stopper, the spring-clamp construction makes it easier to transform from a sink stopper to a strainer. Push it to the bottom and it's a stopper, pull it out a little and it's a strainer.
FITS STANDARD DRAINS: This kitchen sink drain is 3.19 inches in diameter and it fits most standard sink drains with a narrow rectangular hole in the middle.
CHROME PLATED FINISH AND DURABILITY: This kitchen drain stopper is made of sturdy stainless steel construction that's built to last! The chrome-plated finish makes it highly corrosion resistant. The chrome-plated finish gives a sophisticated metallic look that perfectly matches the style of your sink.
ANTL-CLOGGER & DRAINING WATER EASILY: This kitchen sink drain catcher captures food debris, prevents sink clogs and easily drains water through the 32 bar holes in the basket.
3. 2 Pack – Kitchen Sink Stra iner and Stopper Combo Basket Replacement for Standard 3-1/2 inch Drain, Stainless Steel Basket with Plastic Knob, Rubber Stopper Bottom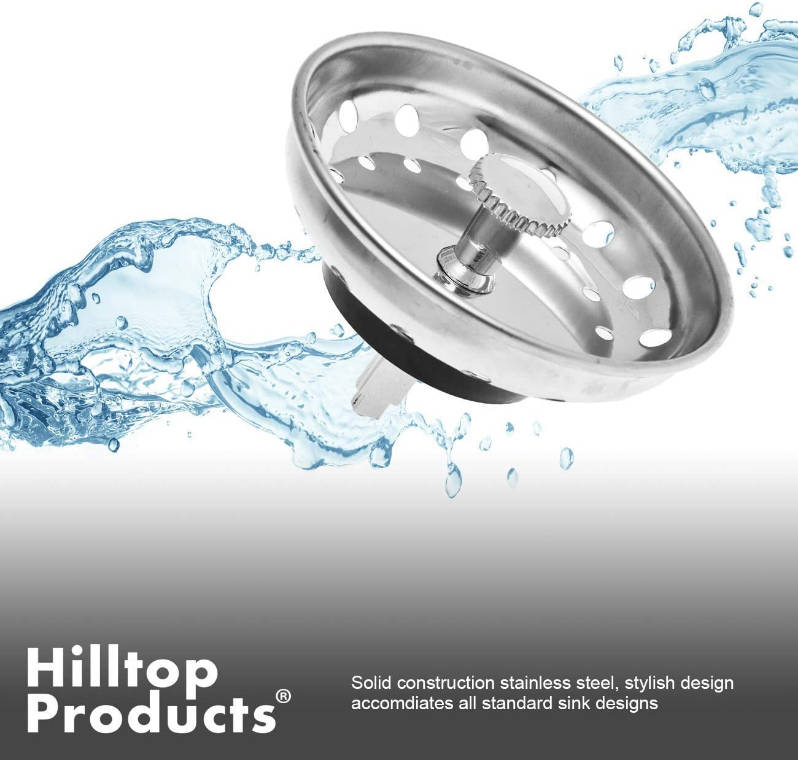 Features:
A SET OF 2 KITCHEN BASKET STRAINER AND STOPPER COMBO effectively traps food, waste, and scraps to prevent them from entering the drain and clogging the kitchen pipes. Use the stopper to fill the sink with water for cleaning and soaking. The basket has 32 holes for smooth and fast drainage.
KITCHEN SINK STRAINER AND STOPPER COMBO BASKET fits most standard 3-1/2 inch kitchen sink drains in the U.S. – Note: Double-check the size/diameter of the sink drain before purchasing the product.
SIMPLE POST-MOUNTED SINK STRAINER/BASKET with simple push-pull installation and operation; this strainer requires a narrow rectangular center-hole sink for installation
DURABLE AND CORROSION RESISTANT FOR LONG TERM USE; made of stainless steel and chrome-plated material with high-quality plastic knobs for durability; simple design does not hinder matching with any style of sink No stains, easy to clean by removing the basket emptying through the grip attached in the middle; sink strainer is dishwasher safe
Hilltop products' basket strainer and stopper combination effectively trap food, waste and scraps, preventing them from flowing down the drain and clogging kitchen plumbing. Use the stopper to fill the sink with water for cleaning and soaking.
The basket has 32 holes for smooth, fast drainage. Kitchen sink strainer and stopper combination basket replacement fits most standard 3-1/2 inch kitchen sink drains in the United States. Note: Please check the size/diameter of the sink drain carefully before purchasing the product. Simple sink strainer/basket with simple push-pull installation; this strainer requires a narrow rectangular center hole type sink for installation.
Durable and corrosion-resistant for long term use; made of stainless steel and chrome for durability; simple design does not prevent matching with any style of sink No stain, easy to clean, the basket can be removed and emptied with the grip attached in the middle; sink strainer is dishwasher safe.
4. 6 Pack Of Kitchen Sink Stopper Strainers Carrying 360 Degree Anti-Clog Stainless Steel Sink Disposal Stopper, Perforated Basket Drain Filter Screen Or Keep Water Out Of Kitchen Sink Drain
Features:
[SAFETY DESIGN] This sink strainer stopper is made of stainless steel metal with wrapped edges around it so that it can better protect your hands from sharp edges that can cut your hands. The basket at the back is easy to clean, just empty it.
[EFFICIENT ANTI-CLOGGING] The Carry360 kitchen sink drain cover has 2mm diameter holes to allow fine particles to pass through. The highly effective anti-clogging shield allows liquids to flow seamlessly into the drain while blocking food particles. Protects your pipes from damage or clogged sinks by catching any large food particles or eating utensils that get stuck in the sewer.
[FITS] Sink stopper plugs and sink strainers fit most standard sinks: universal size fits most 3-1/2 inch kitchen sinks drain or old US sink filters such as Kohler, Waste King disposals and garbage disposals.
[RUSTPROOF] The sink stopper is metal rustproof for your daily life and will keep the water in the sink for as long as you want to wash dishes.
[PERFECT] Perfectly prevents the loss of water and the flow of dirt. It prevents long-term clogging.
5. Seatery 4PCS Kitchen Sink Strainer Plug Kit, Universal Silicone Sink Drain Plug Cover, Drain Plug, 4.5 Inch Stainless Steel Sink Drain Strainer, Food Residue Catcher For Kitchen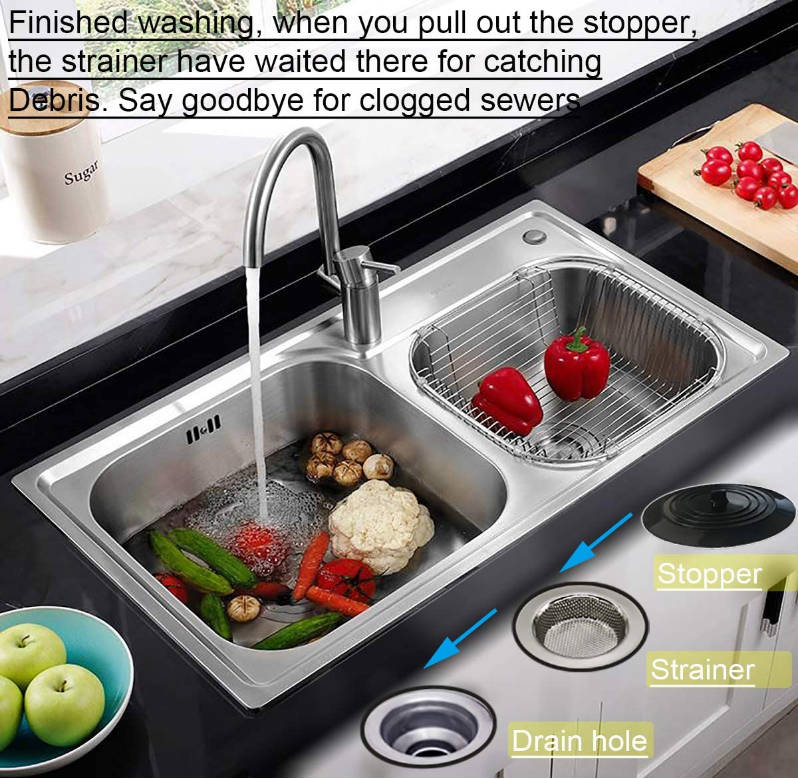 Features.
[SIZE] Sink strainer stopper: 6-inch diameter with large round wide edge to cover all drain holes. Sink drain strainer. 4.5 x 2.9 x 0.9 inch, 0.08-inch drain hole with a large basket to collect food particles and debris.
[PREMIUM MATERIAL] Sink drain cover. Made of food-grade silicone, non-toxic, soft, deformable, with super absorbent power to effectively prevent water leakage. Kitchen sink strainer. Made of 304 stainless steel, no rust, thicker overall, more robust and durable, no deformation.
[EASY TO CLEAN] The stopper and strainer are mirrored, have no oil stains, easy to clean with just water.
[PERFECT COMBINATION] Our kitchen sink stopper strainer set perfectly solves the problem of sink water storage and food particles and debris, effectively preventing sewer clogging. They are a must-have pair of kitchen accessories.
[SAVE MONEY AND THE ENVIRONMENT] A plumber's visit can cost hundreds of dollars. Drain snakes and liquid drain cleaners are a pain to use and don't always work, not to mention the damage they cause to the environment and pipes.
6. Highcraft 97353 Kitchen Sink Basket Strainer Replacement Kohler Style Drain Stainless Steel Stopper (Available In 2 Styles)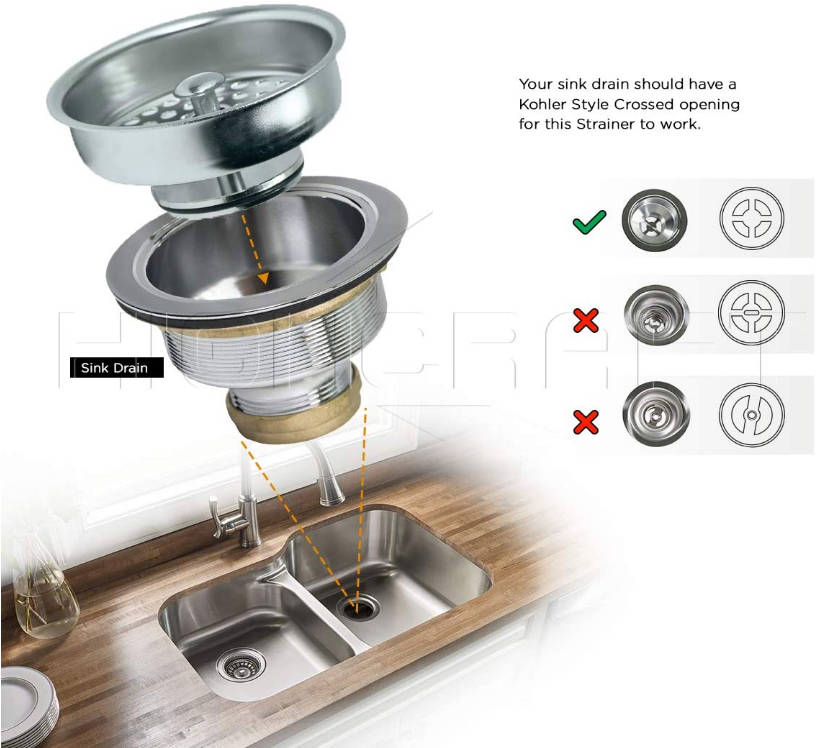 Features.
HIGHLY DURABLE: Everflow sink strainers are made of stainless steel construction for durability! And a stylish look to match your kitchen
CLOG RESISTANT: Traps food debris to prevent sink clogging, and the basket has many holes for easy drainage.
STAIN RESISTANT: Super easy to clean! Simply remove the basket and empty it. Dishwasher safe
STRAINER/STOPPER: Can be used as a strainer and stopper depending on how you turn it.
FITS STANDARD DRAINAGE SYSTEMS: (3-1/2″) Replacement basket is quick and easy to install. It works great for both!
This is an overflow-supplied stainless steel basket designed to replace the basket of KOHLER style filter 75131, specifically one of the heavy-duty filters with product code 75131. To close the drain, the basket has a rubber plug that is being operated with a spring steel closure. Offering an excellent selection of quality basket strainers in colors and metal finishes matching almost any decor.
This replacement sink strainer is all metal and is of excellent quality. The threaded strainer stopper works great and the stainless steel product is dishwasher safe. Whether you are looking for something quick and easy to install. An extra-deep strainer for your fireclay or granite sink, or a tool to help you out with the removal and installation.
7. Serene Valley 3-1/2 Inch Kitchen Sink Strainer Kit With Strainer Stopper For Matching Granite Or Fireclay Sink Color (Black).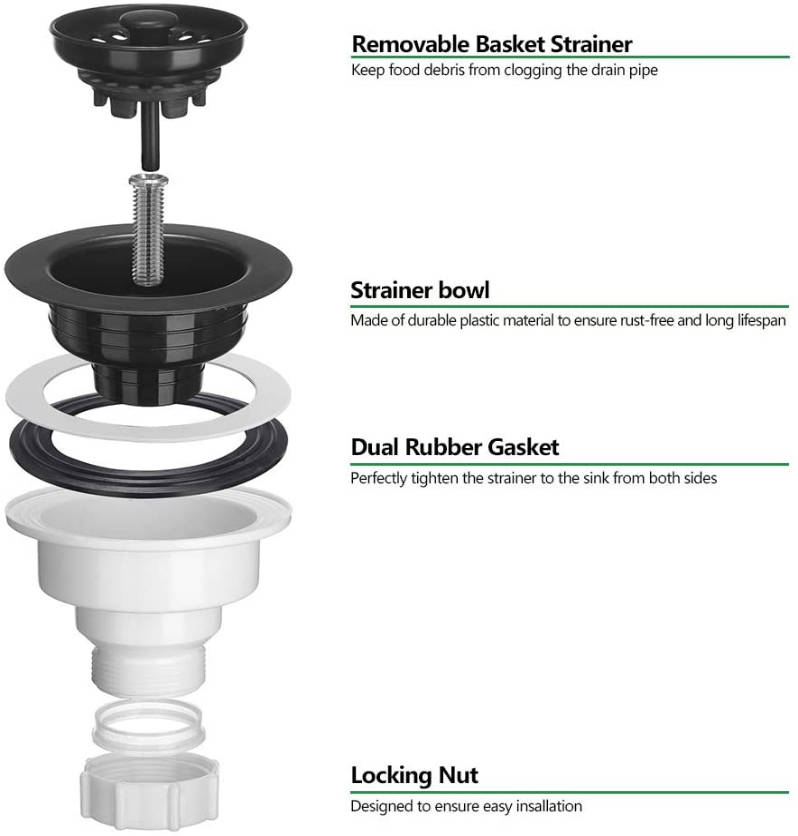 Features.
DURABLE PP MATERIAL that matches the color of your granite, fireclay and copper sinks and ensures no rusting. Having a mix of strainers is definitely a must for your sink investment.
MOST CLASSIC DESIGNS have proven to be the most practical strainer designs.
IT FITS A 3 1/2 INCH DRAIN and fits most kitchen sinks in American homes.
SPECIAL EXTRA LONG 304 STAINLESS STEEL screws make it especially suitable for heavy granite, fireclay or copper kitchen sinks on the market.
LIMITED LIFE GUARANTEE. This product can be returned for any reason. No questions asked.