Best Ceramic Kitchen Sinks for Decorating Modern Kitchens
Views:259 ClassificationBlog
Best Ceramic Kitchen Sinks for Decorating Modern Kitchens
What can you add to your kitchen to give a new and shiny look? Replacing a traditional stainless steel sink with a ceramic sink can be the first step in a kitchen redo.
But sinks run the risk of breakage, right? When you choose a sink from our top five best ceramic kitchen sinks, you get a warranty. We've researched and found the best choices based on quality, practicality and design.
If you don't want odors in your kitchen, a ceramic kitchen sink is the best choice. The in-depth analysis of all ceramic kitchen sinks in the article will be your guide to choosing the best sink.
How To Clean A Ceramic Kitchen Sink In Your Kitchen
Ceramic kitchen sinks are easy to maintain. You can clean it with detergent, a sponge and a microfiber cloth. Once in a while, you have to take good care of the sink by the right process.
Apply detergent to a soft sponge. Rub the sponge around the kitchen sink and squeeze it. Let the detergent disperse. Move the sponge in a circular motion to avoid any bad or permanent scratches. However, a good quality kitchen sink will not be scratched as easily. For the shine and longevity of your ceramic sink, it is recommended to move the sponge in a circular motion.
Top 5 Ceramic Kitchen Sinks on the Market
Accurate and reliable product information is the main influencing factor in the electronic buying process. The market is full of various ceramic kitchen sinks. In this section of the article, we will review the 5 sinks that dominate the market.
Lordear 33-lnch Farmhouse Single Bowl Ceramic Kitchen Sink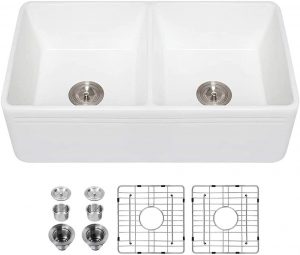 Key Features
Style: Farmhouse
Material: Fireclay, Ceramic
Installation method: Farmhouse-Apron-Front
Size: 33″ x 21″ x 1O"
This single bowl kitchen sink is made of fireclay and ceramic. The farmhouse style gives the sink a spacious shape.
The sink is available in apron style or farmhouse style. Such features help you not to get spilled while washing dishes. As for the manufacturing material, the sink is made of fire clay.
The clay adds a bright white look to the kitchen. Moreover, the sink comes with the value of fire clay's anti-bacterial properties. This material is food grade and prevents bacteria as well as fire.
In a farmhouse sink, 33 inches is the ideal size for a home. Its 3.5-inch drain is a convenient place to clear clogs. Along with the ceramic sink, you get a garbage disposal.
As a single bowl ceramic kitchen sink, every feature supports it is a good purchase.
Logmey 32-Inch Farmhouse Double Bowl Ceramic Sink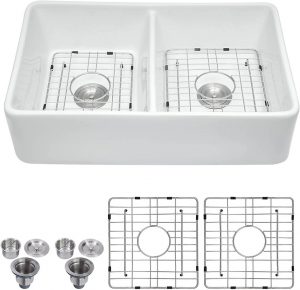 Key Features
Style: Farmhouse
Material: Porcelain and stainless steel
Installation method: Undermount and Farmhouse-apron-front
Size: 32″ x 20″-2
Fireclay is the main material of the sink. This material makes it resistant to fire and bacteria. To make the sink, designers followed the farmhouse style, giving it a sleek and modern look.
Its apron style double bowl design is the standard sink choice for most homes and houses. The sink's build quality provides a sustainable and scratch-resistant feature for long-term use.
For drainage, the sink is equipped with a 3.5-inch hole and drainage system. The hole is made of stainless steel for long-term durability.
If you are considering the pros and cons of ceramic kitchen sinks to decide which one to pick, this sink will win by having the pros. Rogemi's kitchen sinks are made of porcelain and stainless steel to provide long-lasting durability.
Deervalley DV-1K116 Farmhouse Single Bowl Ceramic Porcelain Sink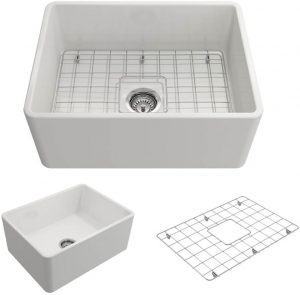 Key Features
Style: Traditional
Material: Porcelain and Fireclay
Installation method: Farmhouse apron installation
Size: 23.SX1 SX7.5 in
Fireclay, porcelain and ceramic are the basic elements used to make this product. It is a single bowl ceramic sink with a length of 24 inches. The relatively small size of the DeerValley DV- 1K116 compared to other ceramic sinks makes it a great product that is easy to clean. The bottom mounting makes it suitable for everyday use.
Among all the single bowl ceramic kitchen sinks, this one has a spill prevention system to avoid water dripping down.
You get the trapezoidal design of the sink. For modern kitchens, this design is very appropriate. This product is both scratch-resistant and heat-resistant. In addition, the ceramic sink is combined with three materials to prevent it from breaking easily.
It is a completely white sink with a 3.5-inch drain hole. It is a lightweight product that weighs 44.09 pounds. This kitchen is a good choice for long-term use.
Koozzo 30-lnch Farmhouse Ceramic Kitchen Sink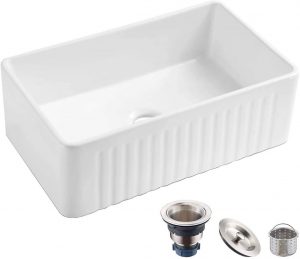 Key Features
Style: Farmhouse
Material: Ceramic
Installation method: Undermount, Farmhouse-Apron-Front
Size: 30-1/8″ x 18″x 1O"
Koozzo's 30-inch ceramic sink features a multi-layer glaze. You'll need to install it just like a kitchen ceramic sink. The sink has a strainer inside.
Thanks to the glazing technology, the sink is stain resistant. The sink is a single bowl farmhouse style. The replaceable apron front is another new feature added to the kitchen sink.
The kitchen sink is rectangular in shape and has a height of 10 inches and a length of 30 inches, which fits perfectly in most modern kitchens. The ceramic surface makes the sink fireproof and extremely heat resistant.
The 3.5-inch drain hole is made of high-quality stainless steel to prevent it from becoming contaminated or clogged.
In short, you can consider this as a long-term investment because it is scratch resistant, heat resistant and durable.
Miyili 24 Inch Farmhouse Kitchen Sink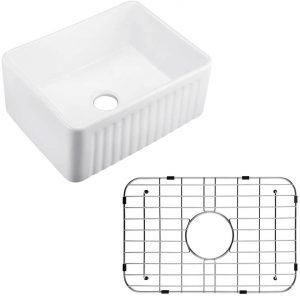 Key Features
Style: Contemporary
Material: Porcelain
Installation method: Under-mount
Size: 24″ x 18″ x 1O"
Another small-sized, heavy-duty ceramic sink is listed for its features. Fireclay porcelain is the base material for this sink. The model is a single-bowl sink with a 3.5-inch drain hole. The smooth, multi-layered surface protects it from scratches and high temperatures. The sink is equipped with an easy-to-clean surface material to keep it from getting dirty.
Contemporary farmhouse style kitchen sinks in white porcelain are available in a variety of installation methods.
Thanks to the use of porcelain, the sink provides the user with extreme durability and strength. The package contains a steel lattice, which is made of stainless steel. The curved rounded corners are another feature of the product's appearance.
Things to Consider For Buying the Most Suitable Ceramic Sink for Your Kitchen


When you are seeking for the best ceramic sink, you need to fulfill a complete checklist. A buying guide will solve this problem and you can get the most suitable one from the market. The selection process will be made easier by understanding the options and features of ceramic sinks.
Materials
You may think that there is only one type of ceramic sink. But there are many types of ceramic sinks. Among them, the two most popular types are –
If you are going to be in the kitchen for a long time, then choose fire clay. Because it doesn't stain or crack easily. But these can also be expensive. For a cheaper option, go for porcelain.
Installation Features
To get a ceramic sink that fits your kitchen, decide on the desired installation features. There are several options. Let's take a look at them.
Undercounter sink. Undercounter ceramic sinks are suitable for kitchens with permanent countertops.
Flush mount sinks. For sturdy worktops, choose a flush-mounted sink. It has a modern and sleek design.
Countertop sinks. If the sink is set on a worktop, it is called a countertop. Choose a countertop ceramic sink only if you have a properly installed drainage system.
Choose from these options depending on the type of worktop and your requirements.
Size
The size of the sink must match the size of the kitchen. A large kitchen with a 24″ single bowl ceramic sink may look dull. On the other hand, a small kitchen with a sink of the same size will look elegant. For this reason, the choice of size is crucial.
Types Of Bowls
Single bowl and double bowl kitchen sinks are the most available types. You should choose the type of bowl based on your dinnerware and kitchen materials. The right choice will lead to the right kitchen setup.
Shape
Of course, the shape of a ceramic sink is always a favorable factor in buying a kitchen. You can choose from different shapes. There are round, oval, rectangular, trapezoidal, hexagonal and other shapes available in the market.
Choose the right shape of the ceramic sink for your kitchen worktop.
If you follow the above buying guide, you will end up buying a compatible, perfect and suitable kitchen sink with white ceramic.
Frequently Asked Questions (FAQs)
After reading the whole article, it is natural to ask some questions. These are some of the questions we often encounter.
Is ceramic good for the kitchen sink?
The answer is. Yes, ceramic sinks can handle sturdy dishwashing jobs. And, they are stylish enough for modern kitchen architecture. These are key reasons to consider ceramically suitable for kitchen sinks.
Do ceramic sinks get dirty easily?
The answer is yes. One of the main benefits of using a ceramic sink is its stain resistance. If there are any type of marks, household cleaning tools are sufficient to remove them.
Can I use bleach on a ceramic sink?
A: No. No. Bleach can damage the surface and its clean finish. 4.
How do I clean a clogged water hole in a ceramic sink?
Answer: No. Once a month, you should clean the water holes of your ceramic sink. Use a thin stick to clean the inside of the pipe. Also, using some boiling water to soften the clogged water holes works very well.
Final Thoughts
Ceramic sinks are convenient, stylish and practical. It's time to replace that extra stainless steel kitchen sink with a ceramic sink. A little maintenance and you'll have a sink that will last for years. One of the best ceramic kitchen sinks will stay fresh for a long time.
If you consider the right material, size, color and style, you can find the right sink on your own. Pick a suitable ceramic sink from the list and install it. Enjoy the long-lasting experience of a ceramic kitchen sink.