Reviews Of The 5 Best Bathroom Vanity Sinks
Views:175 ClassificationBlog
There is an interesting statistic on Statista that describes the upgrades Americans are making to their major third bathroom fixtures in 2020. It shows that 74-76% of respondents have upgraded their sinks and vanity cabinets in the last year. So you can see that finding the best bathroom vanity sinks isn't (can't) be taken for granted!
The combination of a sink and wrap-around storage structure is probably the most attractive fixture in any bathroom. When you add a mirror and your smile to this beautiful setup, the composition becomes even more Zen!
It's not just a matter of washing your hands or face in the sink, it's also a matter of aesthetics and storage factors. These vanity units allow you to organize your bathroom essentials in the most attractive way possible. And you won't mind taking a look at some of the best options we have for you. Let's go!
Reviews Of The 5 Best Bathroom Vanity Sinks
Friho Undercounter Sink

– Best Modern And Rectangular

Eclife Bathroom Basin

– Best Grey Cabinets

Modway Render Vanity With Sink

– Best Walnut White

Runfine Vanity With Sink

– Best White Finish

Vanity Art

– Best 72″ Double Sink
What is the best bathroom vanity sinks with vanities to choose from? Well, there are thousands!
So, there's a good chance you'll get it wrong! But you can relax because we've narrowed down the choices right here.
Pick -1: Friho Undermount Vanity Sink – Best Modern & Rectangular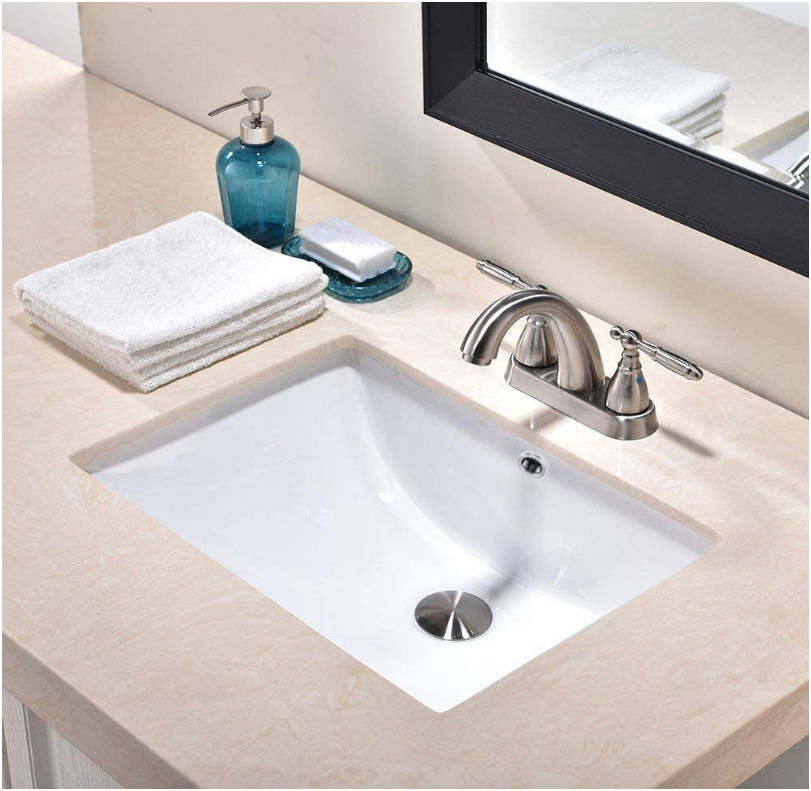 Key Features
13.8″ W x 18.5″ L x 7.9″ H
Ceramic construction with crystal glaze
Under counter installation
Porcelain finish
We assume you have a great cabinet that can only be completed with the best under-counter bathroom sink. the Friho under-counter vanity sink is a great choice for any bathroom vanity.
It is an inexpensive vanity sink with a modern and sleek design. If you have managed to make the perfect DIV furniture vanity for your bathroom, this is the one for you.
It comes with quality ceramic construction, so there is no need to worry about scratches and stains. On top of this, the porcelain top is easier to clean and maintain.
The sink has a good depth so water doesn't splash. It comes with a simple under-counter installation. Maintenance is fairly simple, which is why some people prefer it to a top-mounted lavatory sink.
Its overflow drain does not seem to be centrally located or in an ideal position. But this is not a big problem!
Pick – 2: Eclife Bathroom Vanity Sink – Best Suited To Grey Cabinets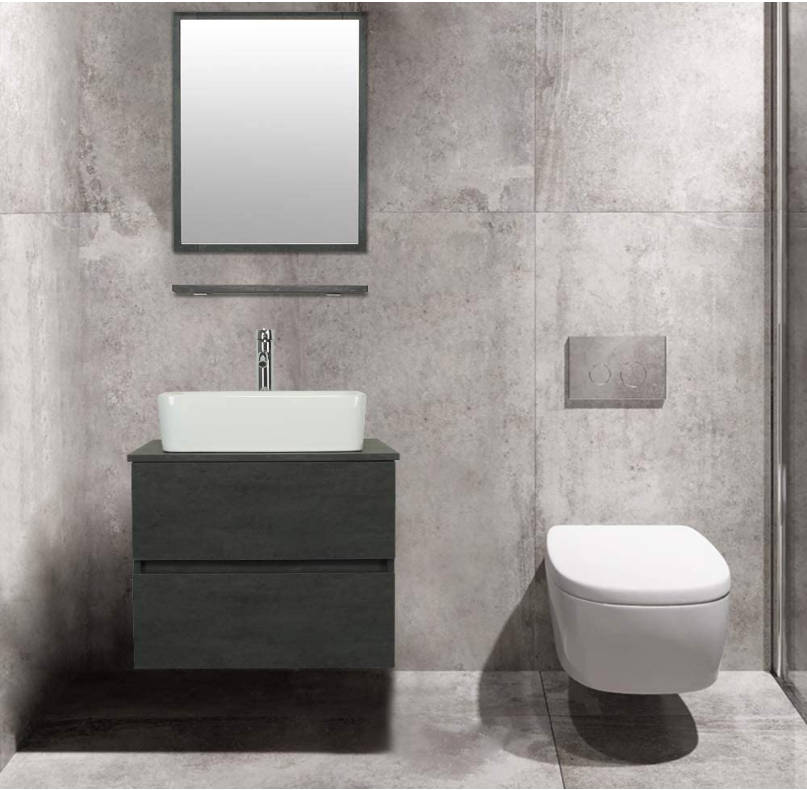 Key Features
24″ W x 20″ L x 19.7″ H
Ceramic coated tempered glass sink construction
Eco-friendly MDF wood cabinet
Wall-mounted installation
Wall-mounted units bring the perfect touch of Zen to any bathroom décor, especially floating bathroom basins. the Eclife bathroom vanity sink is one of the best choices in this category.
This vanity sink is elegant and stays that way with its scratch and stain-resistant surface. The concrete grey wood construction complements its quality white finish.
This wall-mounted vanity sink is so elusive that you will feel like you have more space in your small bathroom. The structure includes a portable wooden shelf with high-quality drawer glides. It also includes soft-closing doors with 304 stainless steel hinges.
You will also get a mirror, a pop-up drain and a tap to complete the set. The tap and pop-up drain save up to 30% of water. It is also designed and installed to make cleaning and maintenance easier.
It requires self-assembly, which can take time and a little skill
Piece 3: Modway Render Bathroom Cabinet With Sink – Best Walnut White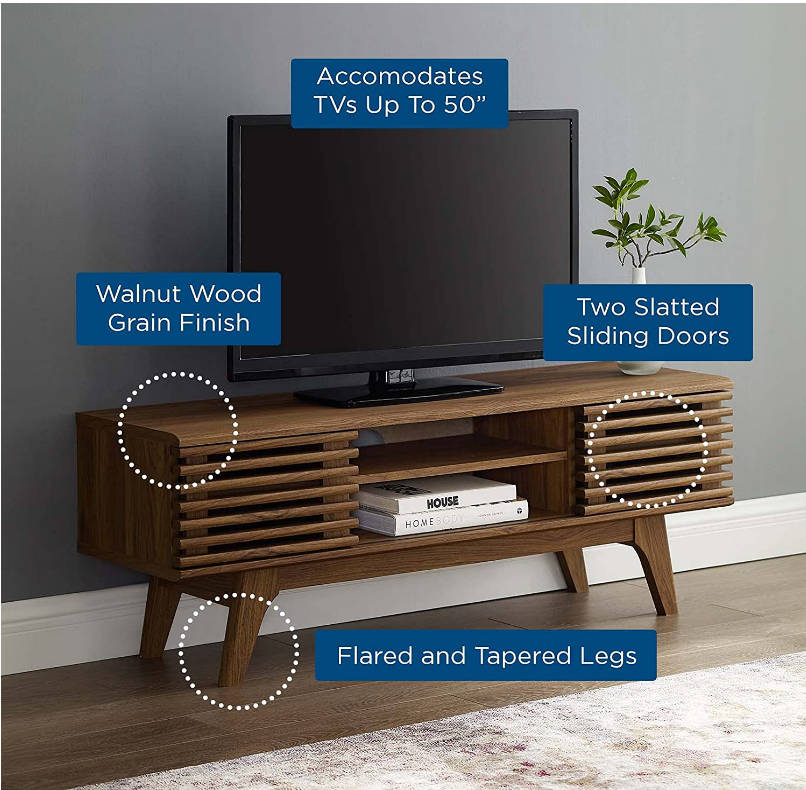 Key Features
Overall dimensions. 24″ W x 18. 5″ L x 32. 5″ H
Mid-century design
Ceramic basin
Cabinet made of particle board and walnut grain laminate
People are more obsessed with mid-century modern decor than ever before! The Modway Render bathroom basin brings the mid-century aesthetic back to your bathroom, something that family members (especially the wife) are obsessed with!
Something to obsess over!
The Render washbasin features a durable frame with a smooth laminate. It also includes four beautifully tapered legs and an adjustable shelf with plenty of space for your bathroom essentials. Two soft-closing hinged doors make the cabinet easy to use.
It includes a curved basin with a quality ceramic coating to enhance the overall interior space. The integrated worktop with three tap holes (8″ centers) gives a refreshing look and a practical design to suit your needs.
This vanity unit requires self-assembly, which is something you may not like!
Pick – 4: RunFine Vanity (with Sink) – Best White Finish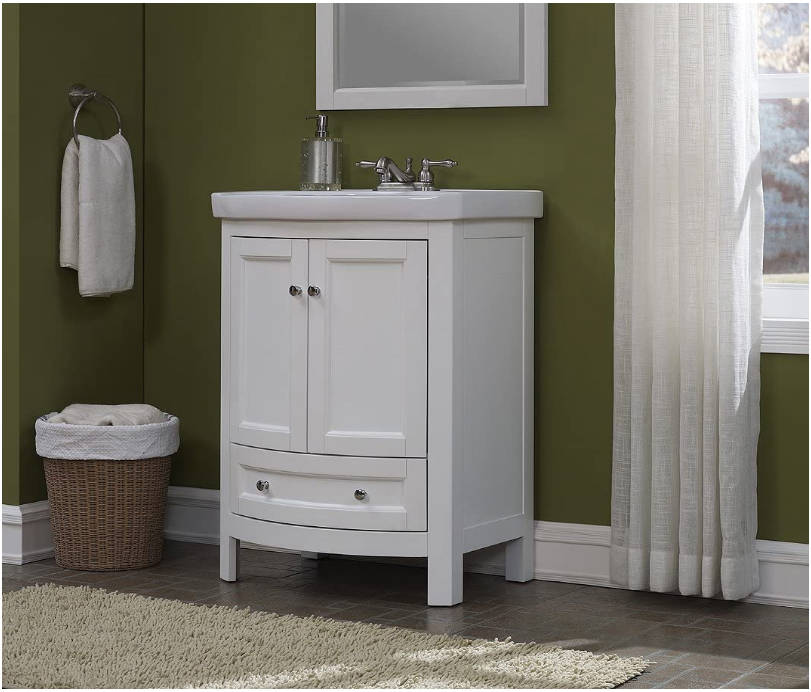 Key Features
Overall dimensions: 24.6″ W x 19″ L x 34″ H
Made of enamel
Deep sink vanity
Fully assembled
RunFine Vanity makes the best fully assembled bathroom vanities and sinks. It's the perfect choice for those who find it too much trouble to assemble themselves.
With the RunFine freestanding vanity unit, you don't have to worry about installation. Just place it in the right place and enjoy its elegant, modern look and functionality. It has a bright, easy-to-clean white finish. You can also get it in a walnut and grey finish.
This dressing table is made of solid all-wood construction. The wooden frame with soft closing doors gives you a perfect storage experience. The drawers are sleek and look classic with premium chrome knobs.
The basin is deep enough not to splash. It also includes an overflowing drain. This vanity unit is perfect for a small children's or guest bathroom.
However, it is not an ideal vanity size for the main bathroom.
Pick -5: Vanity Art – Best 72″ Double Sink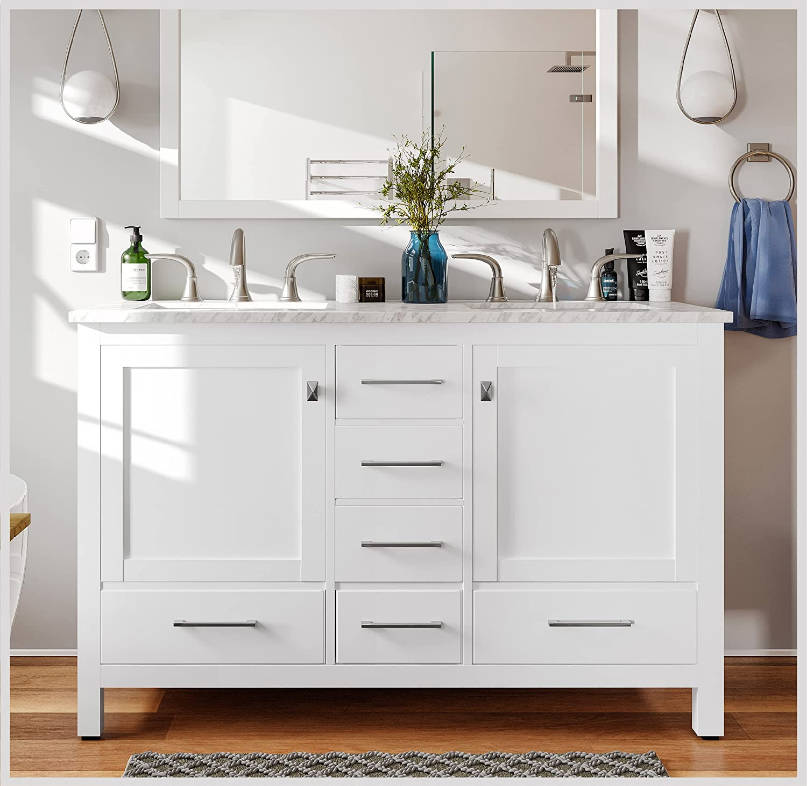 Key Features
Overall dimensions: 72″ W x 22″ L x 36″ H
Double vanity sink
Countertop features Super Phoenix stone construction
The vanity top is made of oak and plywood
Vanity Art double sinks make the best double vanity bathroom sinks for us. It's a great option to double your storage space, minimize bickering between couples or siblings, or personalize the space.
It has a solid neutral surface and two quality white sinks. The high-quality, moisture-resistant material makes it highly durable.
The vanity unit includes four soft-closing cabinet doors with adjustable hinges for smooth and quiet operation. You also get five functional dovetail slot drawers with brushed nickel handles.
The complete set includes the cabinet, the worktop, two sinks, the backsplash and a mirror. Its solid finish makes it easy to clean and maintain. You can
Get this double vanity sink in different colors and sizes. 1e only concern is the top drawer, which feels a little small!
A Buying Guide To Finding The Best Vanity Sink
Choosing the best bathroom vanity sink can be tricky, especially when you have so many styles and finishes out there. But we've laid out some
selection criteria that can help you find the right bathroom vanity and sink for your style! Let's take a look at these criteria. Let's take a look at these criteria.
Size And Dimensions
Remember that you need the sink to fit into your space. Take some measurements to get a better idea of your space.
The most common dimensions for a single vanity unit to fit a standard sink are 36 inches wide, 21 inches long and 31 inches high. For smaller or larger bathrooms, you can get some optimized options.
Type Of Installation
How you intend to install your sink also determines which bathroom vanity and sink you should choose. For existing vanity cabinets or where installation is easy, a floor-mounted sink is the best option. However, many people prefer wall-mounted vanities or floating vanities because of their space-saving features and stylish design.
Top-mounted vanities or vessel sink bathroom vanities are also popular for their tactical benefits. They are also known as above vanities or sinks and are one of the easiest to install.
When choosing a vanity unit, make sure that your vanity unit is the ideal above counter 3 room sink vanity unit. There is also another counter version of the 'above vanity' – a vanity sink installed underneath that hides the edge of the sink and creates a sleek look in your bathroom.
Materials
Although metal sinks are available, you are most likely to choose a clay-based ceramic material such as porcelain, enamel, or fireclay for your bathroom sink. These materials offer a brighter surface and are also easy to clean.
For vanity or cabinet materials, MDF and oak are the best choices as they have a lovely wood grain, are durable and reasonably priced.
Style Of Sink
You can choose from different styles for your bathroom, including modern vanity sinks, traditional vanity sinks, and antique or rustic vanity sinks.
Modern sinks come in different varieties, including smooth, straight-sided and round or bowl-shaped. Traditional sinks offer a timeless design that matches perfectly with wooden vanity units. And rustic or antique style sinks include curved and ornate designs that combine with organic, natural tones of wooden vanities.
Vanity Cabinets
The cabinet you want to combine with your sink is an important factor. Make sure it is sturdy and has an organized shelf with one or more drawers. Remember that storage is important, so be aware of the dimensions. So, consider the doors, drawers and overall organization.
Frequently Asked Questions
Not everyone is interested in lavatory sinks. That's why you can't get some answers from your neighbors. That's why you'll be reading this section.
Q: Do I need a bathroom vanity unit?    
A: Yes, unless you want to keep the bathroom clutter out of sight.
Q: Which type of vanity sink is the easiest to clean?
A: Porcelain vanity units are the easiest to clean. However, other ceramic bathroom sinks are also easy to clean due to their non-porous finish.
Q: Why do bathroom sinks have overflow holes?     
A: Unlike bath or kitchen sinks, bathroom sinks have overflow holes to allow water to flow down more quickly and prevent spillage.
Q: Should I choose a bowl-shaped sink for a bathroom with a washbasin?
A: Probably yes, as bowl-shaped or oval vessel sinks are the most stylish and can be matched with modern vanity cabinets. They will continue to develop into different modern bespoke designs.
Q: What are some of the popular trends in bathroom vanity units?
A: Some popular trends for bathroom vanities are floating or open vanities, under-mounted sinks, vessel or countertop sinks, chrome or used nickel handles or knobs, white or grey finishes, etc.
Final Thoughts
If you're ready for a full renovation, you should do well to consider this list of the best bathroom vanity sinks. We have kept in mind the different styles and tastes and have presented these options.
Now you can make an informed decision on the best bathroom sink to choose, and we bet you won't miss the one that matches your style!