5 Best Cast Iron Farmhouse Sink for A Perfect Kitchen
Views:269 ClassificationBlog
5 Best Cast Iron Farmhouse Sink for A Perfect Kitchen
Is farmhouse sinks out of trend? Monica Waddell (a Realtor with ERA Dream Living Realty in Raleigh) says, "Like subway tiles and schoolhouse lights, farmhouse sinks are classics that just happen to be back in mainstream use." She believes (and we believe) that these sinks will be around for quite some time!".
Also known as apron sinks, these sinks usually have a deeper and wider sink vessel with an open front. They can greatly ease your dishwashing process! It works best when combined with cast iron construction. It is worth hunting for the best-cast iron farmhouse sink for your kitchen remodel.
A good cast iron sink is incredibly durable and will retain its rustic, smooth, shiny finish for years to come. So what are you waiting for? Let's take a look at some of the best options here!
Fireclay vs. Cast Iron Farmhouse Sink
First, let's take a look at the differences between two of the most popular sink materials and see which one excels where (for us, the cast iron material excels in most cases over fireclay).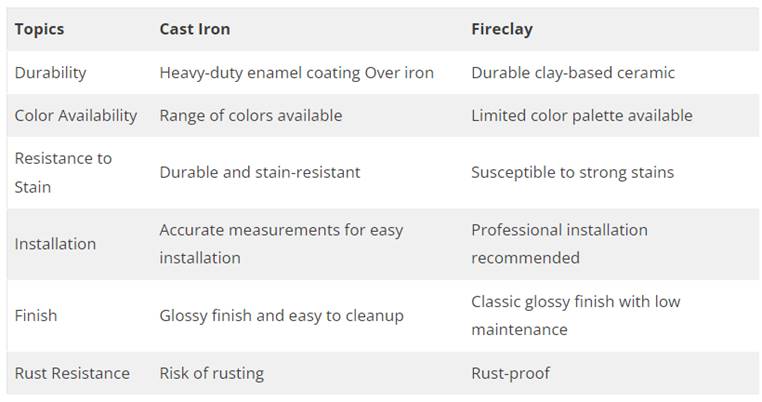 5 Best Cast Iron Farmhouse Sink Reviews
There are many options for cast iron sinks, however, we have narrowed down those options to the 5 best choices you can consider here. Let's take a better look at these below.
KOHLER K-6487-0 Whitehaven  Farmhouse Kitchen Sink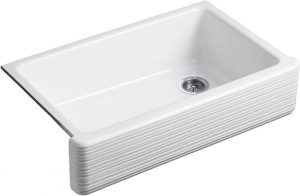 Key Features
Single basin with sloped bottom
Enameled cast iron construction
Fits minimum sink cabinet of 30″
Self-Trimming design
Farmhouse apron-front installation
9″ deep basin and 8-13/16″ tall apron
Kohler brings you the most versatile and streamlined option for your farmhouse sink, and that's the K-6487-0 White Sand Bay kitchen sink.
This 30-inch sink is arguably the best fit for your smaller kitchen and sink base cabinet. However, the single basin is large enough to accommodate all your standard cookware. The offset drain is cleverly placed in the sink to provide you with plenty of space and storage underneath.
It can also be considered the best-enameled cast iron farmhouse sink available. This sink is highly resistant to cracking, chipping, burning, or food-based stains. The heat-resistant material also allows you to soak the hottest things in the sink!
The sloped bottom reduces water buildup and makes cleaning easier. Self-restoring sinks include a tall integrated apron that acts as a drip edge, protecting your cabinets from any water damage. Each sink comes with a countertop and cabinet opening template to make installation a breeze!
KOHLER K-6351-0 Whitehaven Hayridge Single-Bowl Kitchen Sink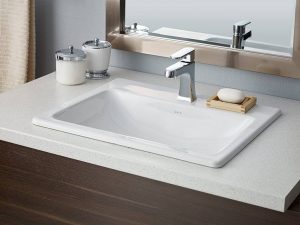 Key Features
A ridged pattern on apron-front
Single enameled cast-iron basin
Fits minimum sink cabinet of 36″
Self-trimming design
Farmhouse style under-mount installation
If you want your kitchen sink to be both beautiful and functional, the Kohler K-6351-0 Whitehaven Hayridge offers the best option for you. This sink features a horizontal ridge pattern on the front of its apron that looks vivid! And it may be the best white cast iron farmhouse sink from Kohler. And it may be the best white cast iron farmhouse sink in Kohler's Whitehaven collection.
The single basin is large enough to hold all your pots and pans, and its sloped bottom is designed for easy drainage and cleanup. Enameled cast iron sinks are highly resistant to staining, cracking, burning and chipping for long-lasting performance. Plus, don't worry about putting those hottest sheets or toaster ovens in this heat-resistant sink.
Self-repairing kitchen sinks are available in standard sizes to fit standard sink cabinets. All you need is a simple rough cut to cover the 1binet for a beautiful stylish look. It has a 9″ high and deep apron that interprets a perfect farmhouse style for your kitchen.
KOHLER K-6489-0 Whitehaven Farmhouse Sink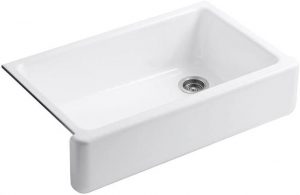 Key Features
Single cast-iron basin
2-degree sloped bottom design
Fits minimum apron-front base cabinet of 36″
Offset drain
Self-trimming design
Farmhouse apron-front installation
A skirted sink is the best version of a farmhouse sink. the KOHLER K-6489-0 Whitehaven Farmhouse Sink is a great example of a sink in this category. It has a deep cutout and exposed front to add a modern look to any kitchen decor.
Kohler specializes in enameled cast iron sinks that are extremely durable. And with this non-porous surface, you don't need to worry about food stains. It's also heat resistant, allowing you to dip even the hottest slices of roast meat in the sink.
This cast iron farmhouse sink drainboard includes a sloped bottom to reduce water pooling, and its offset drain increases both the sink's workspace and storage space underneath. It measures 35-11/16″ x 21-9/16″ with a depth of 9″ and can be installed side-by-side with all standard apron-style sink base cabinets.
Kohler Whitehaven Double-Bowl Kitchen Sink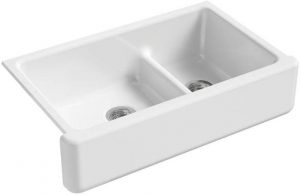 Keywords
Smart divide basins with two compartments
Fits minimum cabinet size of 36″
Enameled cast iron construction
Farmhouse style under-mount installation
Self-trimming design
If you want the benefits of a double and single basin, Kohler has got you covered with the Whitehaven Double Basin Cast Iron Farmhouse Sink. It's a convenient and durable sink for all your kitchen chores.
The smart divide feature comes with a low threshold barrier that divides the sink into two compartments. You can use either the single basin for dishes or the full basin for larger pots and pans.
It's a farmhouse-style sink, deep and wide, its thick face peeking out from the countertop and covering the cabinets. That's the beauty of its self-finishing design and adds a clean and caulk-free style to your kitchen.
It fits standard cabinets, or you can pair it with as many different faucets as you want. The installation process is also a breeze.
American Standard Delancey Cast Iron Kitchen Sink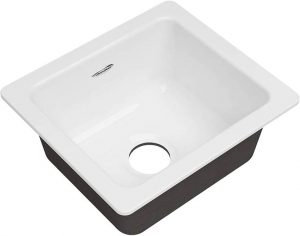 Key Features
Cast iron single bowl design
Under-mount installation
Lead-free construction
Nonporous enamel surface
Fits minimum cabinet size of 33″
Tired of Kohler's cast iron farmhouse sinks? Looking for a different kitchen sink brand this time around? The American Standard Delancey cast iron kitchen sink may well be an option worth considering. This rustic single bowl sink has a smooth, glossy finish that will add every bit of charm to your kitchen decor.
The cast iron construction includes a non-porous enamel surface that resists chips, cracks and stains while also allowing you to clean up easily. It also includes natural, safe and lead-free materials.
The Delancey kitchen sink fits all standard cabinet sizes and allows for a sleek-looking under mount. It also offers a perfect farmhouse style for your kitchen with a deep 8-11/16″ cut. Deeper and wider, that's what we're looking for in our kitchen sinks here!
How to Choose the Best Cast Iron Farmhouse Kitchen Sink
Let's have a breakdown of all the criteria you should consider while choosing a good farmhouse kitchen sink with cast iron construction.
Size
You need to determine the correct size of your kitchen sink. This requires you to consider the width, length and depth of the sink. When you consider a farmhouse kitchen sink, you must invest in a sink that is about 9 inches deep in size.
Materials
You can choose from a wide range of materials, however, there are good reasons why you should go with a cast iron kitchen sink. It can resist chips, dents, burns, heat and stains, providing great durability and longevity.
Front Apron
When it comes to farmhouse sinks, you may go with an exposed front surround for your farmhouse sink. It blends perfectly with any kitchen counter and creates a beautiful focal point. The front baffle also protects your counters or cabinets from water damage as it sticks out a little from the sink's cabinets.
Styles
You can get different styles of cast iron farmhouse sinks with regard to their basin numbers. They are available in single, double and triple basin options, with the single basin design being the most popular.
You can get enough width and depth with a single basin to fit all your large pots and pans. But if you have a larger kitchen and need more working space, you can always choose the double or triple basin option.
Installation
While most farmhouse sinks feature an apron design, you can still get some recessed or under-mount installation options. If you're not going to go with an apron sink, try an undermount sink for easier installation.
Frequently Asked Questions
If you still have some questions about cast iron farmhouse kitchen sinks, the answers below will probably clarify most of them.
Is an apron sink the same as a farmhouse sink?
Farmhouse sinks and apron sinks are both deep cut and are usually called interchangeable. However, a farmhouse sink may or may not have an exposed front, while an apron sink certainly does.
Why are cast iron farmhouse gutters so expensive?
These gutters are expensive due to high construction costs, high demand, extra installation materials, etc.
Do cast iron farmhouse sinks scratch?
No, they are generally highly durable and can resist common scratches and stains.
Will farmhouse sinks add value to your home?
Yes, it can. Due to its sleek and modern design, it is in high demand and can add up to 30% of value to the selling price of a home.
Do farmhouse sinks need special drainage outlets?
In most cases, they don't. Farmhouse sinks typically have a standard 3-1/2 inch drain that can be used in conjunction with a regular stainless steel drain.
Final Thoughts
If you are going through a kitchen renovation and need the best-cast iron farmhouse sink, this article has got you covered.
Whether it's guiding buying tips, clarifying your doubts, or suggesting the best options, it brings you everything you need to adjust
with the farmhouse sink you need. We hope this article has helped you pull down the best fit for your needs.